wildfire on the Department of National Defense (DND) lands in central Richmond has been contained but could burn underground for weeks, months or even years, according to experts in the field.
Firefighters are now saturating the peatland with water in hopes of extinguishing it permanently. 
The fire — one of the biggest in living memory in Richmond — was first reported last Thursday evening and ended up ravaging 12.3 hectares of the 55 hectare forested parcel confined by No. 4 and Shell roads, Alderbridge Way and Westminster Highway.
However, Dr. James Michael Waddington, one of Canada's eminent ecohydrologists, who studies peat bogs, warned that the danger may not yet be over.
In an email interview with the Richmond News, Waddington, of McMaster University in Ontario, said, "…fires can smoulder underground in peat for weeks, months and even years after initial ignition and then reignite the surface."
He added that if peatlands, such as the DND lands, do not get enough water, the organic material — which can be several metres deep — becomes denser and easier to ignite.
"This means it releases more energy when it burns, allowing it to potentially ignite a layer of organic soil below it in the ground, thereby allowing the fire to propagate downwards. These peat fires are very costly and difficult to extinguish," said Waddington.
The drier a bog gets, the easier it is for trees to establish themselves, perpetuating dry conditions, he said.
"This increases fuels for wildfire and increases water losses from the soil through transpiration — both of which make the soil drier and denser and increase burn severity," added Waddington.
Richmond Fire-Rescue's Deputy Fire Chief Kevin Gray echoed Waddington's concerns, saying, "I'd be speculating, but peat fires can burn for years and years and years undetected."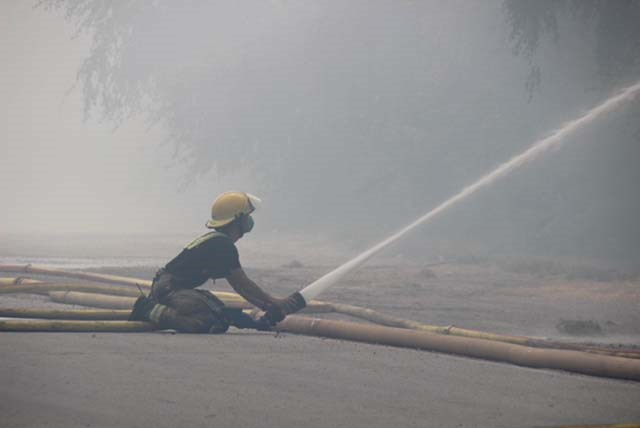 Multiple jurisdictions battled fire
Last Friday, smoke billowed into the air, mixing with smoke from Interior fires, thus leaving a haze across the Lower Mainland.
However, said Gray on Tuesday afternoon, "we're still actively working on a wildfire. So we've secured a perimeter and established a containment line as of Saturday."
Gray said Shell Road, between Alderbridge and Westminster, will remain closed into the weekend as a crew of regional firefighters slowly disbands.
"So that containment line, we're transitioning it to less staffing to operate — so take out the pumps and run on (city water main) pressure. We'll see if that works; I'm confident it will."
Gray said flying ashes posed a risk to nearby homes and parks, but noted the roads acted as an adequate fire break, had it grown any larger.
On Friday, at the peak of the fire, Gray said there were 40 Richmond firefighters on the scene followed by about two dozen members of BC Wildfire Service. 
Military personnel, RCMP, Richmond Fire-Rescue and excavators were all on scene on Friday to help combat the blaze which on-the-ground crews described as "stubborn."
Several float planes were also used to douse the fire from the air as Richmondites bore witness to a rare air brigade.
On Friday, City of Richmond spokesperson Ted Townsend told the News the fire started in the southeast corner of DND property. Townsend explained that smoke could be smelled overnight on Thursday, but the fire could not be located. Fire crews found the fire around 6:30 a.m. on Friday.
"As soon as I got on the scene (Friday morning) and assessed the situation, talked to the two officers that were here, it was escalating quite quickly," said Gray. 
"We knew what we were up against and are very fortunate to have it contained in the DND Lands, because we were really trying to protect the [Richmond] Nature Park as well," added Gray.
As the fire was not close to any water source, crews had to run lengthy hoses to get water to it, including clearcutting a path toward the hot zones.
Gray said Richmond firefighters are not typically equipped to combat wildfires.
"Primarily, Richmond Fire-Rescue is structural firefighting; [that] is what we excel at. So when we get out of the houses and into the bush, our gear is not the right type of equipment. We've transitioned into the right, lighter gear, but some of the damage has already been done to our staff with a lot of blisters and that sort of stuff."
By Tuesday, fire crews from Vancouver, Port Moody and District of North Vancouver continued battling the fire, said Gray.
He said the cause of the fire is undetermined at this point, although BC Wildfire Service has listed the suspected cause as "human."
"We've known there have been encampments in the area, whether it's the Nature Park or the DND Lands, for years," said Gray.
If it was not human-related, Gray speculated the fire could have been smouldering for some time.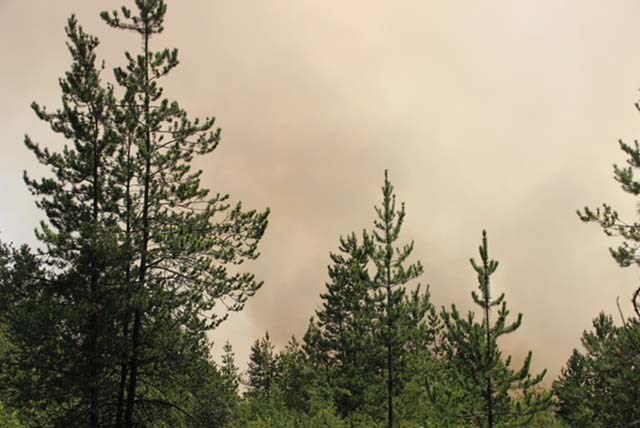 DND lands lacking water
Coun. Harold Steves said part of the reason for the fire is a lack of water naturally reaching the area.
As a result of surrounding residential development and an increasingly efficient municipal water pumping system, water is not saturating the bog throughout the year, as it once did, said Steves, 81, a retired teacher and active farmer.
"We've closed all of Richmond off, got rid of all the flood gates, and put in pump stations. We've covered the ditches, so we suck the water out but there's no way of getting it back in," said Steves.
Now, the bog is effectively hemmed in and dependent on direct rainwater.
The DND lands were previously farmed, prior to the Second World War, said Steves, noting his father once farmed the land. Even in the summer, water would be present at or near the surface, he said.
Steves said a canal is needed to irrigate the Garden City Lands and even the DND lands.
Waddington warns that with climate change and hotter, drier summers, these bog fires — not unlike Delta's 200-hectare Burns Bog fire in 2016 — will be more frequent. 
Steves suggested removing the forest (populated by non-native tree species) and keeping the land mowed, like the Garden City Lands. 
Waddington also said the land should be irrigated and the trees need to be thinned or removed to allow the native sphagnum moss bog to recover.
"It is critical to restore sphagnum mosses to the surface of these drained peatlands to reduce fire risk and the poor air quality that is associated with peat fires," said Waddington.
What's more, he noted, is bogs are dense carbon sinks and peatland fires release carbon into the atmosphere, contributing to global warming. Waddington's research, found in Scientific Reports, argues "that restoration efforts are a necessary measure to mitigate the risk of carbon loss in managed peatlands under climate change."