Steveston-Richmond East MP Joe Peschisolido says he regrets wearing a communist red scarf during a community event last Friday, that included the raising of a Chinese flag at Vancouver City Hall, to celebrate the 67th anniversary of the founding of the People's Republic of China.
"If I had to do it over again, I wouldn't have worn the red scarf," said Peschisolido. "I didn't realize it had the commendations on the Cultural Revolution and persecution that it did."
However, Peschisolido remains steadfast in the belief that celebrating other national independence days in Canada is important for fostering dialogue with those countries and the recent immigrants who came from them, regardless of their internal politics and geopolitical situation.
The event was reportedly organized by the Canadian Alliance of Chinese Associations, whose members told Peschisolido to wear the scarf. The group has been criticized in the past by anti-communist Chinese-Canadians, most recently represented, in part, by Louis Huang of the grassroots group The Alliance of the Guard of Canadian Values.
Huang called the flag-raising a "farce," adding that the "Chinese communist government has successfully expanded their influence in Canada in the last decade, not only in our government organizations, but also in the hundreds of Chinese associations in Canada. Their influence has threatened the foundation of our freedom and democracy, the loyalty to our country and our national security." 
Huang called out a similar celebration in Richmond last month that praised the life of the founder of China's communist regime, Chairman Mao Zedong.
Former COPE mayoral candidate Meena Wong took to Facebook to shame the flag-raising event.
"My family and I suffered greatly under the five-star national flag. During the infamous Chinese Cultural Revolution, the red guards wearing red scarves came to our home and took everything valuable. They abused my aging grandmother and threatened my parents," said Wong, who called for an apology from Vancouver city council.
Peschisolido said it is important to differentiate a national flag from the politics of the government of the day, because "governments change." He said the flag-raising was important for the "fiercely Canadian" ethnic Chinese people who attended the event to "celebrate their background."
He said he's gone to many national celebrations, including an estimated dozen or so, related to China.
Notably, Vancouver has raised other national flags before, to mark special interest groups. Vancouver's acting mayor Kerry Jang said the controversy was steeped in racism.
Peschisolido said he didn't think opposition to the flag ceremony was racist. He acknowledged that Canadian-Sino relations are "very complicated."
When asked to what extent Canada should be dealing with external politics of other nations, Peschisolido said it is better to engage than to not. 
With regards to China, "the issue of geopolitics has a huge play . . . and that spills over on people.
"There are people who say you shouldn't deal with them. I disagree with that notion," said Peschisolido, who claimed he spoke to China's ongoing human rights violations and freedom of speech concerns in his speech at the ceremony.
"The overarching issue is, you can't close your eyes and not deal with it," he added, citing a number of issues whereby Chinese politics is impacting the municipality of Richmond specifically, such as the purchasing of property by Chinese nationals for investment purposes.
"I believe a house is a home," said Peschisolido.
But, "you don't want to stop investment in jobs and the economy," he added.
Notably, China's Consul General in Vancouver, Liu Fei, has openly criticized the provincial government's tax on foreign home buyers.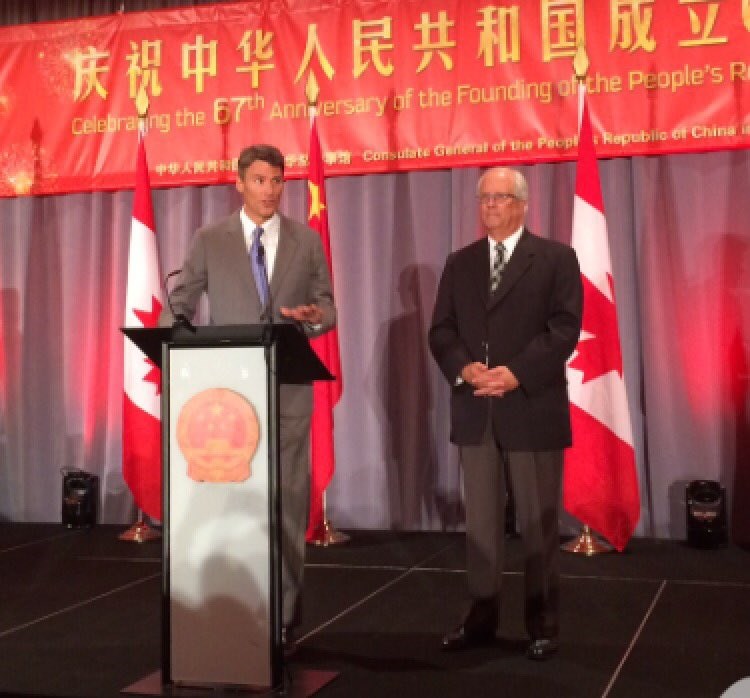 Liu recently hosted Mayor Malcolm Brodie and Vancouver's mayor Gregor Robertson at an event to celebrate Mao's founding of the Republic.
Brodie said it was important to attend such an event, granted the demographics in Richmond.
The City of Richmond raises The Philippines flag annually at the request of a special interest group.
Richmond's policy is generally not to raise special interest flags.