After more than 36 years serving up Italian food in Richmond, Satinder Jaswal will bake his last lasagna al forno on Wednesday, May 18.
Paesano's restaurant, on Bayview Street and Second Avenue in Steveston, is closing its doors after its owner, Jaswal, decided it was time to retire and take his first summer vacation in 50 years.
In its place is going to be a venture called Britannia Brewing, which the News understands could be anything from a restaurant to a brewpub or a microbrewery.
Jaswal said he tested the market back in February and the very next month a deal had been struck with Britannia Brewing for the leasehold to be transferred.
"I want to retire, basically. It's a lot of work and I just want to take it easy now," said Jaswal of the reason for calling it a day after six years in Steveston and 30 before that on No. 3 Road near Alderbridge Way.
"I'm going to take some time off and see what's happening after that."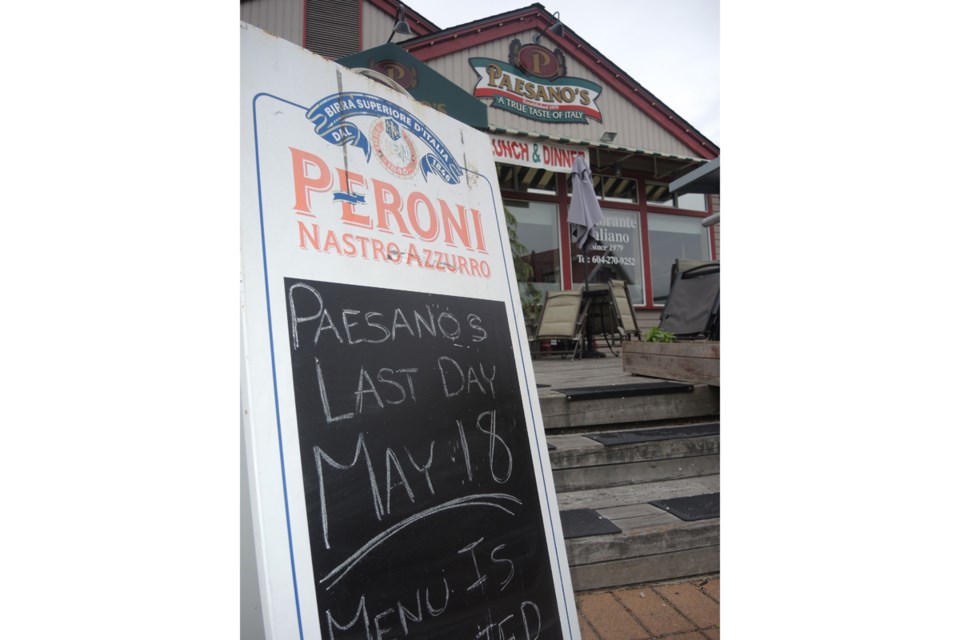 Jaswal, 63 – who is of East Indian ethnicity and first starting working five decades ago as a dishwasher in an Italian restaurant in West Vancouver – said he was "looking forward to a summer vacation for once" and "might finally go to Italy and see what that's like."
Jaswal said the restaurant building is leased. "It's not ours. We are just passing on the leasehold.
"It used to be a gift shop, but we built it into a restaurant from scratch, basically."
Since announcing his decision to close, Jaswal said he's been bombarded with calls from loyal customers asking where he's going to open up next.
"I don't know. I guess, maybe, I haven't closed the door on the idea," he said of the possibility of re-opening somewhere else in Richmond in the future.
"You never know where we might pop back up."
In January, Britannia Brewing Corp applied to the City of Richmond for an industrial/manufacturing use business licence for a unit at 12500 Horseshoe Way in Ironwood.
Whether that licence is being (or is able to be) transferred to the former Paesano's location remains to be seen.
Britannia Brewing has a Twitter account — @britanniabrew — and a website, which is not yet up and running.
It does have a phone number listed, but several calls to that number were not returned by press time.