Chances are you can't afford his $100-per-head annual fundraiser dinner, and if you haven't spoken to him directly since the last election, you can probably be excused for not knowing he'll be bidding to become Richmond's longest-serving mayor come the 2018 municipal election.
Even if he were to be topped at the polls next election, Malcolm Brodie, 67, has carved out one of the most successful careers in B.C. municipal politics, by virtue of his 20 years (and counting) on Richmond city council, 15 of them as its chair.
Should Brodie serve as mayor to at least 2022, he would eclipse former mayor (reeve) Rudy Grauer as the city's longest-standing leader. 
"Part of leadership is to be realistic with people and not just play into their anger or fears," Brodie told the Richmond News this week.
While the New York-born Brodie was addressing his latest thoughts on the United States' chaotic presidential nomination races, he applies such a mantra to issues unfolding in Richmond.
Much like his opinions on the race for the U.S presidency — Donald Trump is "scary," Bernie Sanders is "unrealistic" and he would "probably" vote for Hillary Clinton, although Michael Bloomberg may be a more "moderate, practical person" — Brodie appears to take a centred approach on a number of hot-button issues in Richmond: Shipping jet fuel for the airport up the South Arm of the Fraser River with tankers is not OK, but doing so up the North Arm with barges "might be a better option;" a bylaw requiring an official language on private business signs is contrary to "cultural harmony," but the city will do just that with its own advertising contracts on bus shelters; farmland must be protected, but the push to densify the downtown core should not indirectly impact such preservation efforts; senior government downloading must stop, but $20 million in annual casino revenue given from the province is necessary to fund new civic facilities without increasing municipal taxes; and the city can provide subsidized affordable housing, but advocating for measures to control housing demand, such as caps or restrictions on non-resident purchases, is not in its mandate.
Brodie, a Richmond resident since 1977 whose two children have since moved out of the province, admits freely that Richmond's rapid growth and demographic changes have spelled growing pains for the city.
Brodie noted he is constantly pushing back against senior government downloading.
"It seems like certainly the provincial government, and to a lesser extent the federal government, are imposing on local government costs that used to be borne by them. They've made cuts to various community groups, leaving them in vulnerable positions. So, where do they go? They go to city hall," he noted.
"When I see the provincial government saying they have the number one economy in the country and they're taking away disabled bus passes, it's such a contrast," noted Brodie.
Last year marked an all-time high for construction permits in the city, something Brodie has noted will increase the tax base to pay for expanded municipal services.
With such growth, perhaps no greater of a juggling act is required than with Brodie's insistence that Richmond densify while at the same time maintaining its farmland.
Brodie has taken issue with Port Metro Vancouver's purchase of farmland in east Richmond.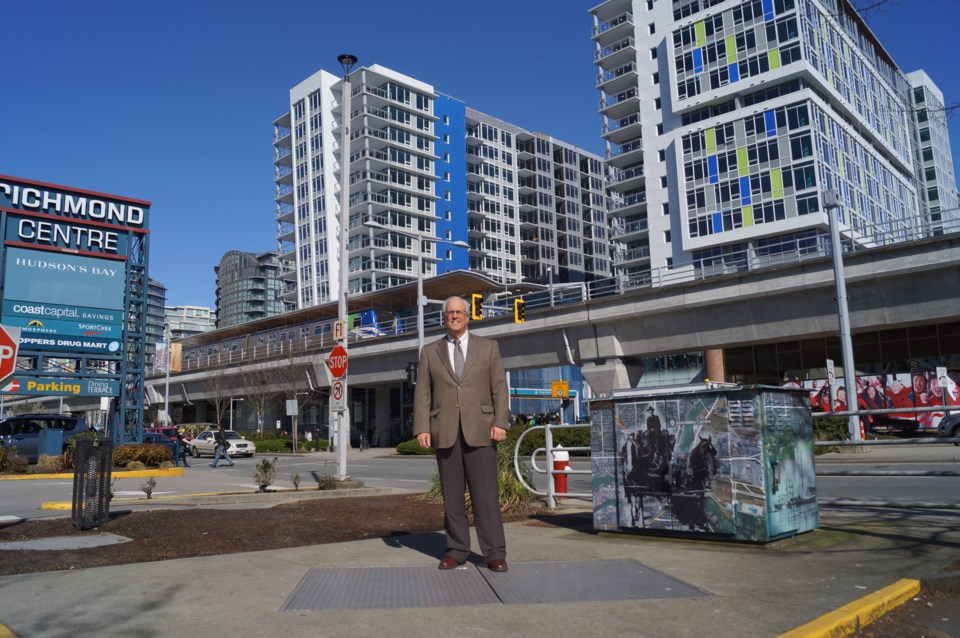 "As long as agricultural land is less expensive than industrial land then there's going to be an incentive on the port to buy (agricultural land)," noted Brodie.
Yet, the port has criticized Richmond for developing industrial land into more valuable residential properties.
When asked if the city has similar incentives to develop land, Brodie stated, "If we were guided only by the economic case, we wouldn't have a farm east of No. 4 Road, or any farms at all."
Protecting farmland is "a strongly held value in Richmond," one he said he will continue fighting for, he noted.
While Richmond city council has written numerous letters to the port and the province to advocate for farmland, there are no such records advocating for affordable market housing, specifically calling on the province to investigate and address housing demand from non-residents.
Brodie said Vancouver has already requested the province look at mechanisms to address rising real estate prices that academics and banks have linked to the influx of foreign money, most of it originating from China.
"So let's see what the province has to say," said Brodie, who noted the city has an "aggressive" strategy to build subsidized units for seniors and low-income people.
Brodie said he is concerned about housing affordability. 
"We think it's important that people of all demographic levels are able to live in our city," he said.
Addressing "cultural harmony" has also been an issue Brodie has had to contend with.
In 2001, when Brodie became mayor, ethnic Chinese people accounted for 39 per cent of the population whereas by 2011 they accounted for 47 per cent, according to Statistics Canada. Meanwhile the total number of Caucasian residents declined despite population growth. When asked if he thinks the city could be divided into two communities as a result of a communications gap, Brodie said "I don't want it to be."
"I go to a lot of Chinese events I go to a lot of non-Chinese community events and a lot of others are a mixture . . . It's up to all of us to live in harmony and live together. It would be very sad if Richmond devolves into two communities, Chinese and the rest," he noted.
And while there have been more recent calls from the Chinese community to have city hall open up lines of communication with Chinese-speaking residents, Brodie has drawn a line, stating there will be no translation services at city council meetings — at least under his watch.