Walking his two dogs close to Richmond's Walmart late on Sunday afternoon, Graham Barrett's attention was diverted to a weird bumping and scraping noise coming from the undergrowth.
It was the hottest day of the year so far and, as Barrett peered through the weeds that had grown next to an under-construction townhouse complex, he was perturbed by what he saw – a double-padlocked, medium-sized suitcase, with its contents moving around.
It was clear that something was alive inside the suitcase, but after an unsuccessful attempt by another person nearby to call out the BC SPCA, Barrett, who didn't have his cellphone on him, decided to gently wheel the case for five minutes to his home around the corner.
He then called Richmond RCMP and, while waiting for them to show up, he managed to bust open one of the locks.
"I was thinking 'I hope this is a domestic animal and nothing more dangerous or sinister, such as a person,'" Barrett told the Richmond News.
"I poked a hole big enough for air to get in. It looked like a dog inside. The police then turned up and helped me open the other lock."
Out of the suitcase, said Barrett, jumped this, initially, very frightened, brown toy poodle.
"My wife immediately scooped him up. We gave him some food. He ate it so fast, it seemed like he hadn't eaten in a week," added Barrett.
"He seemed perfectly fine apart from that, even though it was very hot out there. I then showed police where I found him and they took him to RAPS."
Now in the care of the Richmond Animal Protection Society (RAPS), the little dog, who's estimated to be around six-years-old, has been affectionately named by shelter staff as "Donut."
"He's so loveable and friendly. There is zero wrong with him," said RAPS' CEO Eyal Lichtmann.
"I was disgusted; this is animal cruelty at its worst. This is a healthy, friendly animal. I'm thinking that maybe there has been a dispute between two people and someone has taken it out on the dog.
"It doesn't make any sense, there's no reason for this and yesterday was the hottest day of the year. Whoever did this could just have dropped the dog off at RAPS, no questions asked."
Lichtmann said it's hard to tell how long the dog was locked in the suitcase for.
"At least a few hours, going by the urine and feces in the case," he said.
"We had him groomed and washed and he, remarkably, seems fine."
There is no identification on Donut and RAPS is appealing for information.
"We have contacted the BCSPCA's cruelty division, it's now up to them to look into this," added Lichtmann.
Should no-one come forward to claim Donut, Lichtmann said the dog wouldn't be available for adoption until any BC SPCA investigation is complete.
If and when that happens, Barrett said his 32-year-old daughter is wanting first refusal on taking the brave little dog into her family.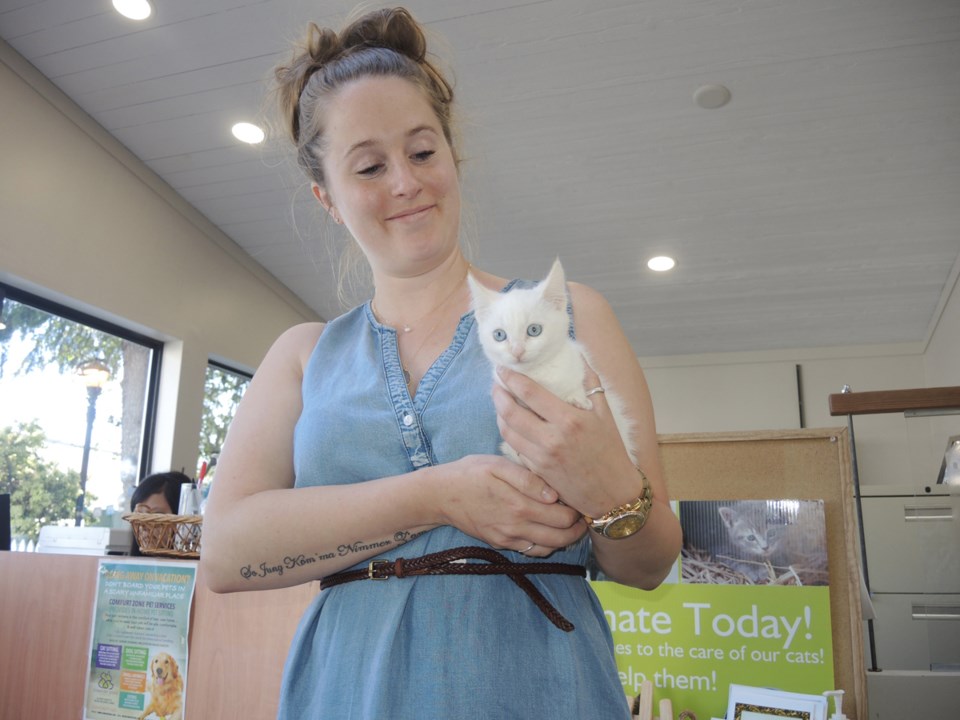 *Meanwhile, RAPS is also the new, temporary home for a white, eight-week-old kitten called Goldie, who was found Monday morning in a Pampers box in Steveston Park.
She's in really good condition, but was very hungry. She is likely to be up for adoption in about a week.