Saturday, May 4 marked a very special anniversary for Richmond's Shala family.
Twenty years ago to the day, the 14-strong Shalas landed in Canada, having fled war-torn Kosovo as refugees.
The family had flown into Canada's military base in Trenton, ON, after being rescued, among thousands of displaced Kosovans, from a refugee camp in neighbouring Macedonia in south-east Europe.
A day later, having shaken hands with the likes of then Prime Minister Jean Chrétien, the Shalas became the first Kosovan refugees to reach B.C. when they flew into Vancouver, by mistake.
"We were asked (by the Canadian government) if we wanted to stay (in Ontario) or go somewhere else?" explained Rame Shala from his Railway Avenue home.
"We had a choice. I had two brothers in Canada. One in Calgary, one in Richmond. My English was not good.
"I thought I was giving the man the number for my brother that lived in Calgary. Then we landed in Vancouver. I had given them the wrong phone number. For that reason only, we are here.
"We knew very little of Canada. We knew nothing about Vancouver. But I can't thank Canada enough, they gave us a new life."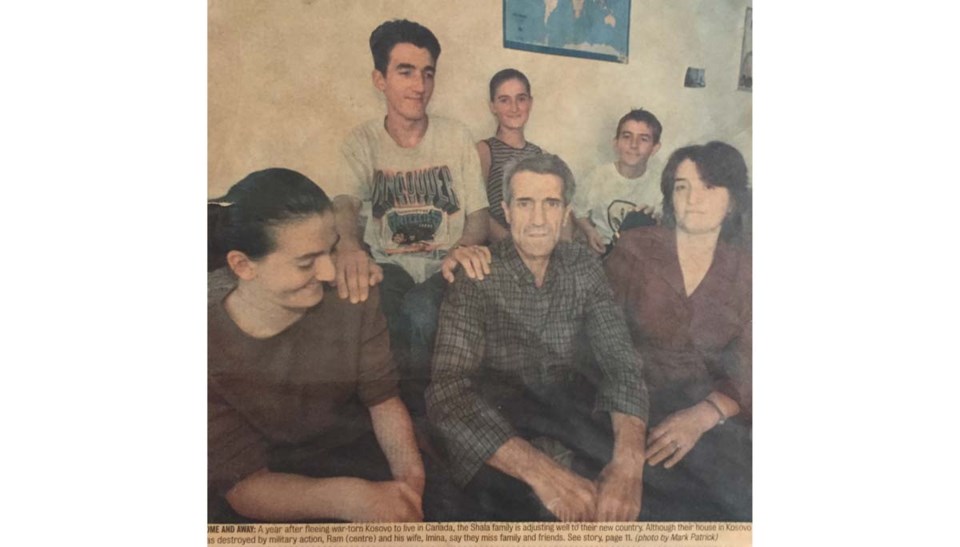 Rame said his unsuspecting brother in Richmond lived in a three-bedroom home on Gilbert Road, close to Steveston Highway, with his wife and three children.
Fourteen new family members – including Rame's parents, his wife, Emina, their four children, his sister, his two brothers and their three children – were about to also call it home.
"We lived with him for two months, 19 people, 19 pairs of shoes outside…in three bedrooms," recalled Rame, who was 46 at the time.
They were all from a small village, near the Kosovan city of Peja (known as Pec in Serbian).
"It was fine. We used to all live in a house with 40 people, it's a tradition," added Rame, an agricultural engineer, who owned his own land before the Kosovo War ignited in 1998.
Miftar Shala, the eldest child of four, was 17 when he landed in Vancouver.
"We knew nothing about this place. Canada was our last option. We wanted to stay closer to home, in case things got better," Miftar told the Richmond News.
"But our village was totally destroyed, it was unlivable, bulldozered."
Looking back at CBC news footage of their arrival in Richmond, Miftar, now 36, said the look on his and his family's faces told the story.
"We were lost, we were blank. I guess we were still in shock from what we saw over there. And to this day, we still live with it. It's hard. It's something you want to forget, but it lives with you."
Miftar and his siblings went to Hugh Boyd secondary in the fall of 1999, having spent the summer learning English from a tutor and from watching Seinfeld.
"(School) wasn't easy. We knew no one, we didn't speak the language," he said.
"I knew nothing about Canada. But they knew absolutely nothing about Kosovo, either."
Asked about any incidents of racism or being bullied, Miftar said "absolutely not."
"We were all welcomed with open arms. I made friends very quickly. I played soccer, did drama and we all delivered the newspapers, that was my job, twice a week."
The family delivered the Richmond News and the Richmond Review, "about 500 of them," proclaimed Rame, "and we wanted to do more."
Miftar worked many jobs in his early years in Canada, including at the Superstore gas station on No. 3 Road and at the PNE in the summer.
After graduating high school, he got a job at United Furniture, on Alderbridge Way, in sales.
He saved hard and, only a year later, in 2002, Miftar bought the five-bedroom, single-family home on Railway Avenue for his family, who were living in their own three-bedroom townhouse in south Richmond at the time.
"I worked hard. I would work all weekend as well. (The house) was under $300,000."
Sitting in his comfortable armchair in his Railway Avenue home, Rame was asked to recall what it was like to be forced to flee the village he grew up in.
He recalled vividly the day he was beaten by rifle-wielding Serbian police.
"We lost everything in one of the many fires. Serbian police burned everything, the whole village. We had cows, chickens, a tractor, a van, a car, a store," said Rame.
"They captured me. They lined up Kalashnikov rifles in front of me. They claim they found them in my store. I say not true. He hit me with the rifle, many times. They took me to (the) police station. Broken teeth, ribs, broken body."
After being released, Rame said his family moved from village to village, and then to the capital Pristina, before ending up in the refugee camp in Macedonia, where conditions were "terrible," added Miftar.
"The people here have been so good. I will never, ever forget that. Thank, you Canada," said Rame.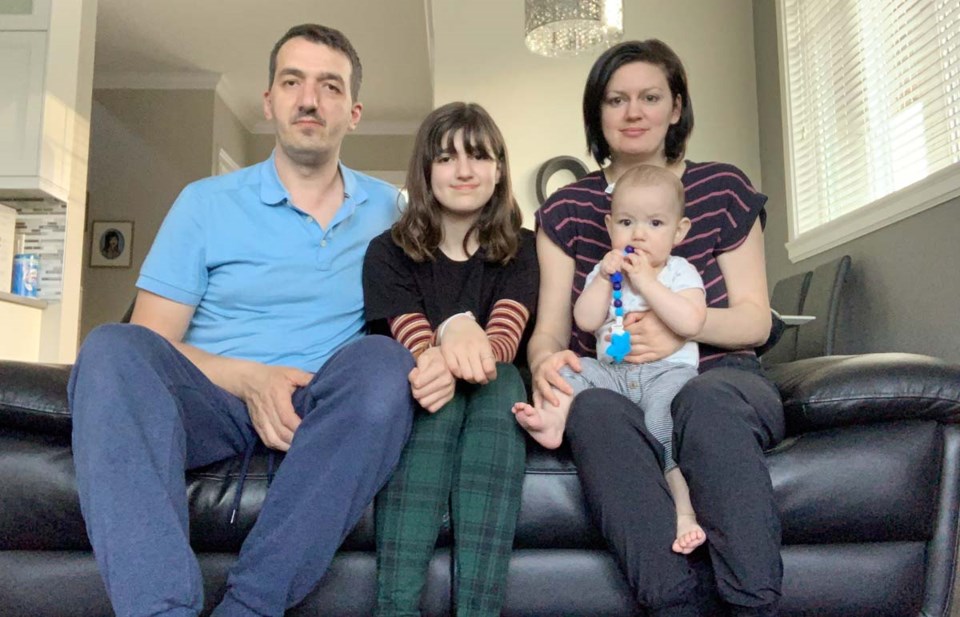 In 2004, Miftar married a Kosovan girl, Valentina, whom he met through her aunt in Canada and runs his own trucking company.
They now have two children, a daughter Erisa, 12, and a seven-month-old baby boy, Dominic and recently moved from a townhouse in Richmond to a single-family home in South Surrey.
"It feels like 20 days," said Miftar of the 20 years he has lived in Richmond and Canada.
"But I'm so glad we all made it here. This is home for me now."