The winner of Wednesday's Lotto 6/49 jackpot could be sitting on a sweet $19 million jackpot.
And it's that kind of good fortune the average Richmondite might just need if he or she is to partake of the more high-end units still on sale at the River Green complex in the shadow of the Olympic oval.
The six towers of River Green's phase one are now complete, and if you're in luck Wednesday, you could slip into one of their jaw-dropping, four-bedroom, river-facing, three-level, 3,650 square-foot villas — complete with 24-feet high, floor-to-ceiling windowed living room and private, water-surrounded gazebo — for a mere $3.58 million.
Or if that's too much legroom, you could downsize to a 1,420 square-foot, two bedroom version for just under $1 million. Some units have their own water-surrounded patios and gazebos.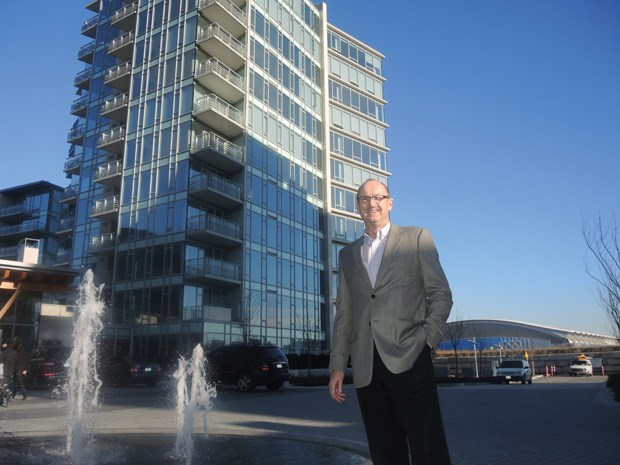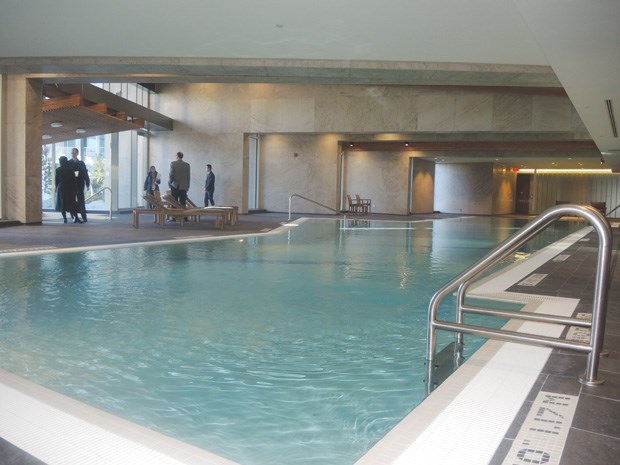 (John Ryan, vice-president of Aspac Development, stands in front of the new River Green complex. The complex also boasts a state-of-the-art pool, amongst other things.)
No matter what you choose, most have luxury Italian fixtures and fittings, from leather sofas to custom kitchens. Even the doorsills are made of marble.
And every owner has access to a 24-hour concierge, complimentary shuttle service to the city centre, a sound-proofed movie room with a 100-inch screen, a virtual golf room, children's indoor play area, adult reading room, three study rooms (some with balconies), a piano room, a billiards room, sauna, steam room and a luxurious 25-metre pool, which would not look out of place in a 7-star Dubai hotel.
Around 100 of the 457 units built in phase one of developer Aspac's River Green are still up for sale.
But Aspac's vice-president of development, John Ryan, has no concerns about shifting them, despite the Lower Mainland housing market's stagnation.
"In my view, there's a certain level of our units that will sell right away," Ryan told the News during a media tour Tuesday morning. "The rest (of the buyers) tend to wait until they can feel and touch the properties."
River Green has "raised the bar" in Richmond, said Ryan, in terms of the level of luxury and attention to detail of the finishes.
"People that are buying are generally moving in," said Ryan, when asked if there were a lot of foreign investment buyers. "Some of them are re-selling, but that's natural with a complex this size."
In 2010, River Green set a real estate sales record for Richmond when 150 units sold out at $145 million in a matter of hours, surpassing the purchase price of the land ($141 million).
That opening weekend also saw four penthouses sold at over $3.4 million each (more than $1,000 per square foot), setting Richmond sales records for single condominium sale price and price per square foot.
The full, 2,600-unit, 28-acre luxury waterfront community is expected to take another 10 years to complete.