A three-minute flight over the Fraser River Tuesday morning will go down in aviation history, according to the plane's developers.
Harbour Air completed its debut test flight of what the Richmond-based company says is the world's first all-electric commercial aircraft.
The bright yellow, six-passenger DCH-2 de Havilland Beaver float plane, retrofitted with a 750 horsepower all-electric magni500 engine, was flown solo by Harbour Air founder and chief executive Greg McDougall.
McDougall spent just moments in the air, flying over the middle arm of the Fraser to Terra Nova before circling back to land, while over one hundred onlookers and media assembled to witness the historic moment.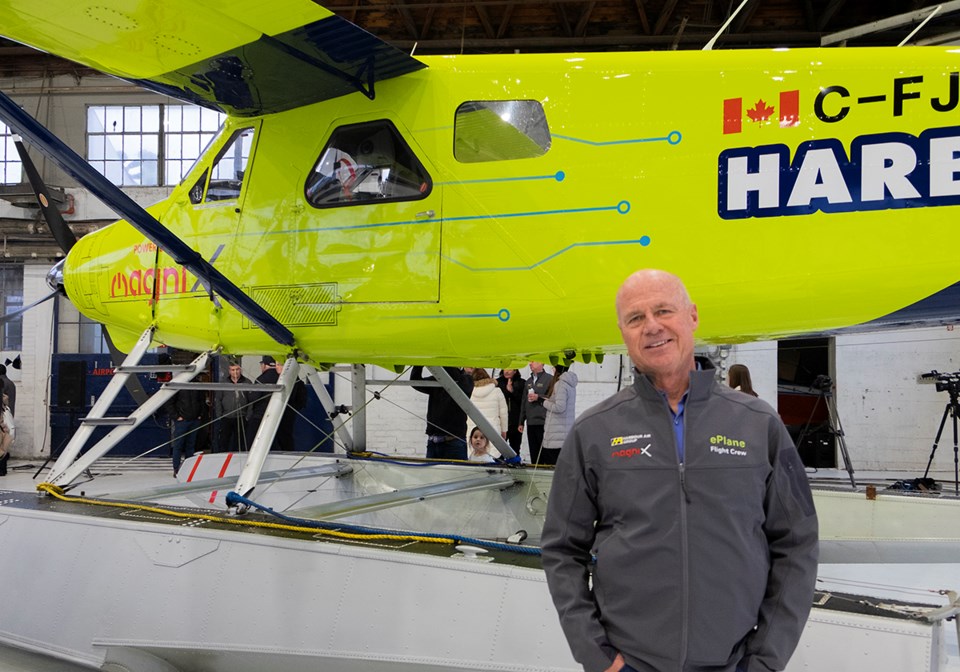 Harbour Air first announced its plan to build the zero-emission electric plane in March, after the company partnered with Seattle-based MagniX, to design the plane's propulsion system, which utilizes a NASA-standard battery – also used in the International Space Station.
Both companies wanted the plane in the air by the end of 2019.
"Eleven months ago, there was nothing," said MagniX chief executive Roei Ganzarski. "That's unheard of in aerospace. And now we have a flying aircraft."
Ganzarski compared the test flight to the Wright brothers' 1903 flight, which launched the aviation age, and the first flight of the Heinkel He 178 jet aircraft in 1939 that propelled the world into the jet age.
Tuesday's flight, said Ganzarski, marks the start of the electric aviation age.
The test flight was originally scheduled for Dec. 11, but was moved forward by one day due to weather.
"It was an amazingly great performance," said McDougall. "We had no way of knowing really exactly how the aircraft was going to perform until we actually flew it and that was the first real time it was flown."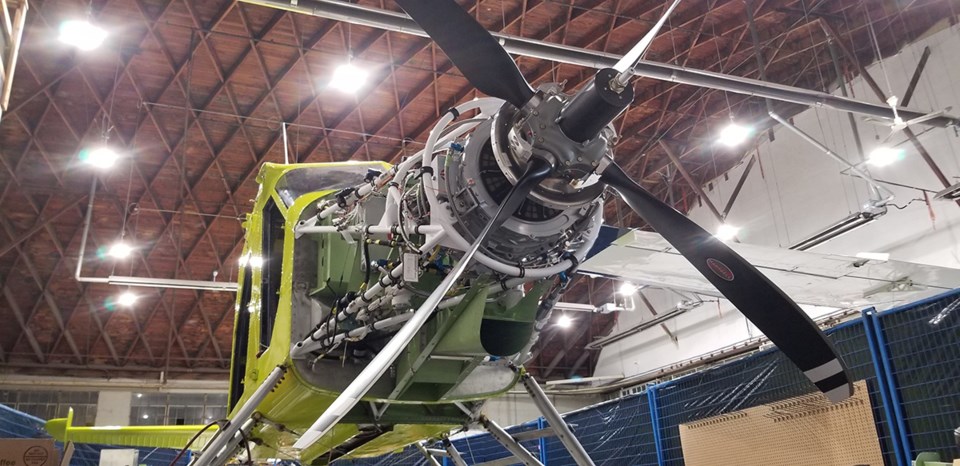 McDougall, who is a Tesla owner, said he was inspired by that company's technology.
"I thought, we've got to put this in an aircraft. It's one thing to have it in a car, but we've got this amazing technology and it would work so well on aircraft," said McDougall, adding that he also knew transportation is evolving into electric.
Harbour Air retrofitted a 62-year-old float plane with MagniX's motor system.
According to McDougall, the Beaver takes well to modification and was previously modified for turbine engines.
The company also employs DCH-3 de Havilland Otter float planes, a larger version of the Beaver, which can seat up to 14 passengers and are also easily modified. 
While Tuesday's test flight is a big step forward to getting the e-plane certified for commercial use, Harbour Air estimates that process will take around two years.
Currently, the e-plane has a range of around 100 miles, so until the technology is further developed longer flights will still require fuel. Ultimately, the company plans on retrofitting all of its 53 aircraft with electric motors after the certification process.
The e-plane will also be more cost effective, according to both McDougall and Ganzarski, as operating costs are between 50 to 80 per cent cheaper per hour than fuel.
According to Harbour Air, the aviation industry currently contributes 12 per cent of all U.S. carbon emissions and 4.9 per cent globally.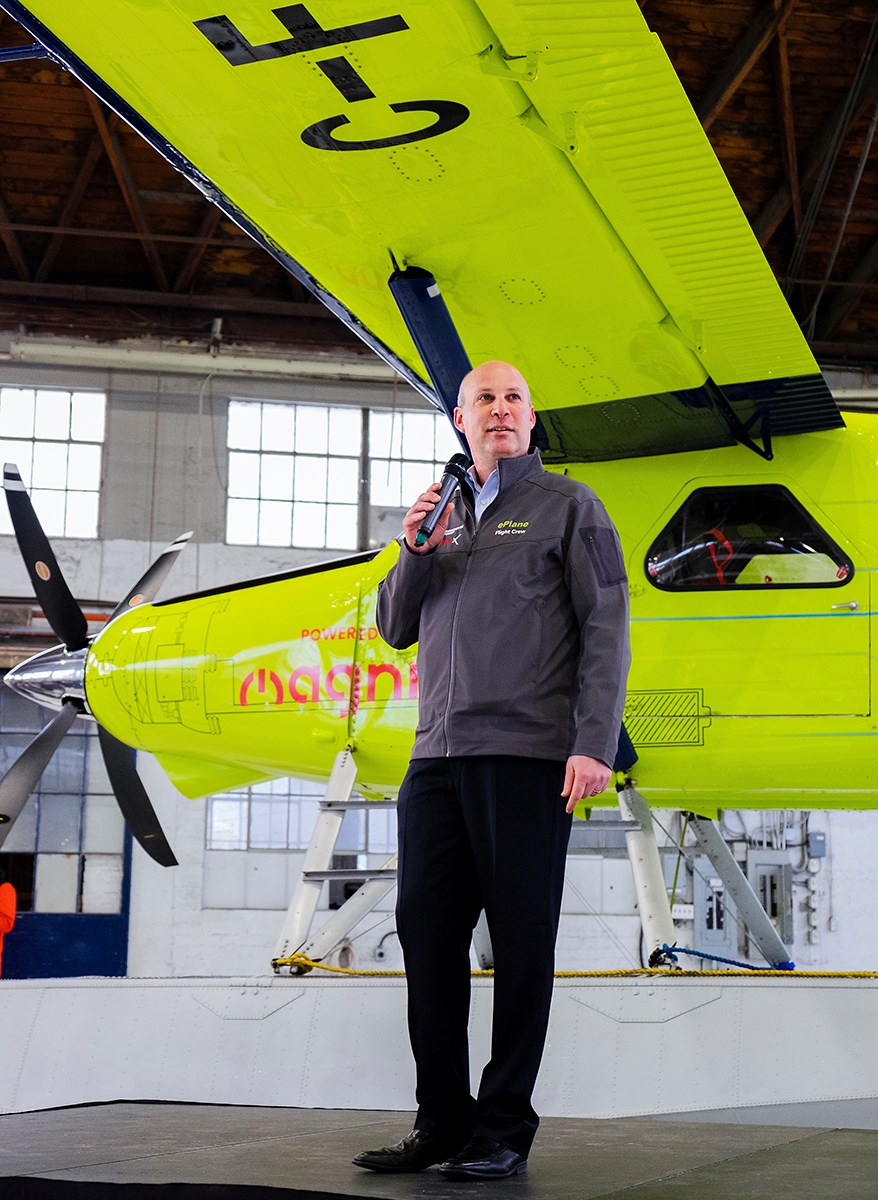 McDougall said he thinks it will be a long time before long haul flights are completely electric. Likely, he said, larger aircraft will first use a hybrid model.
"We're very uniquely positioned to be able to take advantage of (this technology) a lot sooner," said McDougall, referring to the much shorter distances flown by Harbour Air.
Harbour Air isn't the first company to dream of building an electric commercial aircraft.
Eviation Alice, based in Israel, is currently developing an electric commuter plane, but unlike Harbour Air, Eviation is building the aircraft from the ground up. The company unveiled a prototype in June at the Paris Air Show and a test flight is scheduled for early next year.
Rolls Royce is also planning a trial of its electric Accel plane, while Airbus is developing the E-Fan X, a hybrid-electric aircraft. A prototype could be in the air in 2021.
"I think the idea of electric aviation, getting rid of emissions, lowering operating costs, is one that the worldwide community should embrace," said Ganzarski.
"And so the more companies that get into it, the better, but we'll be there right in front leading the way."
Watch LIVE as @HarbourAirLtd #ePlane takes flight, magnified by the magni500 electric propulsion system. Join our live stream for this historic event as the first all-electric commercial aircraft ushers in a new era of aviation. https://t.co/8lkydg9JX7

— magniX (@MagniX) December 10, 2019