Richmond's fire on Department of National Defence lands, near Westminster Highway and Shell Road, has grown to eight hectares in size by Friday evening, the city is reporting.
More than 20 personnel have been battling the blaze since early Friday morning and four fixed-winged airplanes provided by BC Wildfire Services have arrived on scene and are dropping water on the fire. A chopper, reportedly from Hope, was also seen on site helping to fight the blaze. 
DND has also provided over a dozen officers to help combat the blaze and Fire-Rescue has brought in an excavator to create a path to the fire.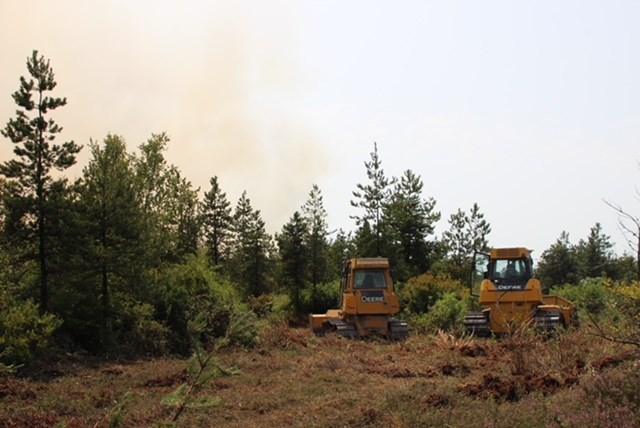 Crews from Richmond-Fire Rescue have been fighting the fire - which is about 1,000 feet into the thick, peat woodland - with extended hoses and are having to chop and saw their way in.
Bog fire in #RichmondBC. Took a few quick photos from my hallway about half an hour ago! I could smell smoke late last night & apparently the fire did start last night but they weren't able to locate it until early this morning. #Richmond #RichmondFire #Vancouver pic.twitter.com/PytfAsIOAx

— Tatum Wulff (@TatumWulff) July 27, 2018
By 11:15 a.m., a thick billow of smoke can still be seen from Garden City Lands and from vantage points as far away as Queen Elizabeth Park in Vancouver.
And a haze has set in on parts of Richmond, even spreading into south Vancouver.
Several road closures have been in effect since Fire-Rescue crews arrived on site early in the morning. 
Currently, Westminster Highway is losed from No. 4 Road to No. 5 Road and Shell Road is closed from Westminster Highway to Alderbridge Way. The city says other roads in the area are heavily congested as crews continue to battle what they described at 9 a.m. as a "small, but stubborn" fire.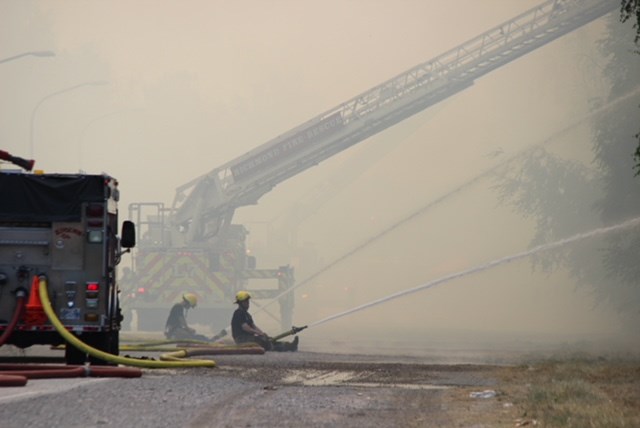 City of Richmond spokesperson Ted Townsend told the Richmond News the fire is on the Department of National Defence lands, in the forested, southeast corner of the property. Townsend explained that smoke could be smelled overnight, but the fire could not be located. Fire crews found the fire around 6:30 a.m.
"It's in quite an isolated area. It's about 1,000 feet away from the closest road and there's no trails going into where the fire is located," Townsend said. "So it was difficult to locate and it's very difficult to fight."
As the fire is not close to any water source, crews have had to run "fairly lengthy hose" to get water to the fire and have had to cut their path to get to the fire.
"They are getting water on the fire now and they do have the upper hand but it's going to be a difficult fire," Townsend said, explaining that the fire is now into the peat.
"What happens when you put water on the fire above ground, the fire just sort of goes down into the peat and it pops up somewhere else. So they'll probably end up having to dig out some of the peat in order to get to all of the fire source and get it out."
This morning, Townsend said fire crews would likely be continuing to fight the fire throughout the day but that, at the time, Richmond Nature Park was not at risk. Even so, the park closed its trails. According to the City of Richmond, the Nature House and picnic and play area will remain open and the gate to the parking lot for the Nature Study Centre will  be closed and posted with appropriate signage. These areas will remain closed until it is safe to allow unsupervised visitors to enter these areas.
While there have been reports of tents set up in the lands, Townsend said it currently does not appear that anyone was camping in the area. 
The cause of the fire is also unknown at this point, but Townsend said this also serves as an important reminder to be extra vigilant during the Lower Mainland's current heat wave.
"We have a lot of problems with fires, particularly from discarded cigarettes. It's going to get even drier here with the forecast for extended hot weather," Townsend said. "We just really urge people to be cautious about discarding smoking or other flammable materials."
Stubborn fire....please stay away from Westminster highway. pic.twitter.com/y9oQyguZ1N

— Tim Wilkinson (@tjgwilkinson) July 27, 2018
It's a hazy start to a hot weekend. Be advised that a fire in #RichmondBC has smoke drifting through #Vancouver's south neighbourhoods. No risk to the public, but the smell is noticeable. @Richmond_BC pic.twitter.com/x7TDYxIacg

— Vancouver Fire (@VanFireRescue) July 27, 2018
FIRE UPDATE / TRAFFIC ALERT: fire crews are attending a wild land fire in #RichmondBC approx. 1,000 ft NW from Shell Rd & Westminster Hwy. It will require a lot of water/soaking therefore Westminster Hwy is closed in the area to accommodate water hoses. https://t.co/nGYrGliPn5

— Richmond, BC Alerts (@RichmondBCAlert) July 27, 2018