Greeting landlubbers at Richmond's Maritime Festival this weekend will be, among others, crew members of the Fraser River's only volunteer search and rescue team that stands on duty 24/7 as auxiliary support to the Canadian Coast Guard. 
Royal Canadian Marine Search and Rescue (RCMSAR) Station 10's crack team has 25 on-call members, who come from all walks of life and various professional backgrounds, and are united in their love for volunteer work and being on the water to help keep a wide range of boaters safe.
The rescuers navigate "some of the most complex waters in B.C." noted coxswain Kevin Robertson, a nine-year member of RCMSAR.
On a tour of the river with the Richmond News, Robertson is asked what makes his station so unique compared to the other 40 stations throughout the province. 
"It's unique because there's such high traffic. You have tugs, huge cargo carriers bringing cars in from Japan. Mix that with the pleasure crafts. It's narrow. There's lots of hazards, lots of deadheads under the surface you can't see. Then there's tides. We've got 15-foot swings in tides so boats can get stuck. And currents. You can get five-knot currents heading down stream. On a windy day like today, you head out to Sandheads and we'll get six-foot standing waves. And you've got Steveston with all the fishing boats," said Robertson, nearly losing his breath.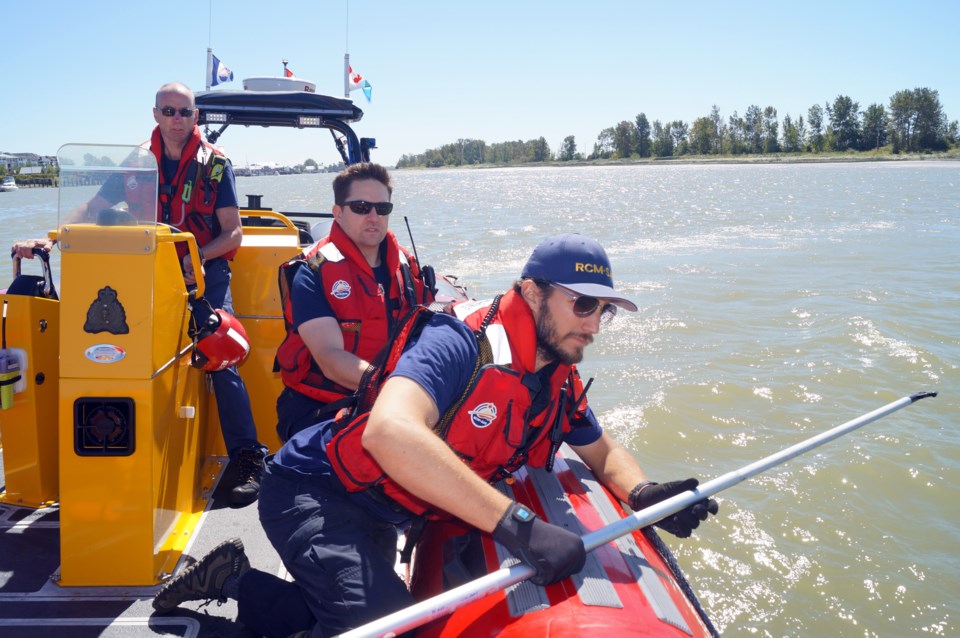 The purpose of the station — one of the busiest on the West Coast — is to augment the coast guard and the search and rescue system on the water, explained Robertson, one of the more seasoned rescuers, who launch rescue operations from two boathouses in Richmond — one in Steveston Harbour and the other on the river's middle arm, near the UBC Boathouse. 
Station 10 provides support to coast guard bases at Saltspring Island (Vancouver Island), Sea Island (the airport) and Kitsilano (Vancouver). Their missions are called in by the Joint Rescue Co-ordination Centre (JRCC) in Victoria. In 2015, Station 10 took on 63 missions, averaging a response time of 15 minutes.
Members have set, on-call days and when a call comes in from the coast guard, via the JRCC, they're expected to be at the docks as quickly as possible. From each base they will launch from either their 27-foot, open-air, rigid-hulled inflatable boat, the Jimmy Ng Titan 249 (named after the fallen Richmond RCMP constable), or their 34-foot, closed-cabin BR Hastings Titan 300 — each capable of reaching cheek-flapping speeds of 72 km/h. Typically, the crew will use the cabin boat in Steveston during the winter, when the middle arm is less busy and they require shelter from the bone-chilling winds and "peasoup" fog on the south arm.
Advanced crew member Jim Heineky, 57, who works in the insurance industry, said it's important to keep a calm demeanour when a call comes in.
"You hear what the call is first, but you don't want to anticipate too much. You don't want to pre-determine what is there because you have to assess it when you get there. If you've made up your mind when you get there, but it turns out to be different, then everything is out of whack," said Heineky, a member of three years.
Key to any mission is a good navigator.
One of the newest crew members is David Poppell, 30, a longtime Richmondite and boat manufacturer.
"As a navigator, you depend on your radar. It shows you what's there. The map just shows you what should be there," said Poppell, pointing to a sailboat 300 metres downstream that's bobbing in and out of his line of sight.
The causes of missions vary, but more common ones include mechanical breakdowns, lost boaters, poor weather and suicide attempts. For serious "critical incident" matters, such as the latter, crew members are provided counselling by the coast guard. For instance, Robertson recalls being shaken by an incident whereby a young girl fell unconscious on a boat. Her dad panicked and quickly handed her over the water to the crew. Luckily, she recovered from her seizure once the rescue boat was able to get her to shore and coordinate an ambulance to Richmond Hospital with JRCC.  
About one in five missions are related to Richmond RCMP or Richmond Fire Rescue calls, while the rest are directed by the coast guard.
The volunteers are thankful that the Kitsilano coast guard base was recently reopened, although the coast guard's unionized workers continue to voice concerns about chronic understaffing and lack of resources. This year, the coast guard's Comox radio station was closed, which has mariners concerned that it could compound existing problems with radio blackouts.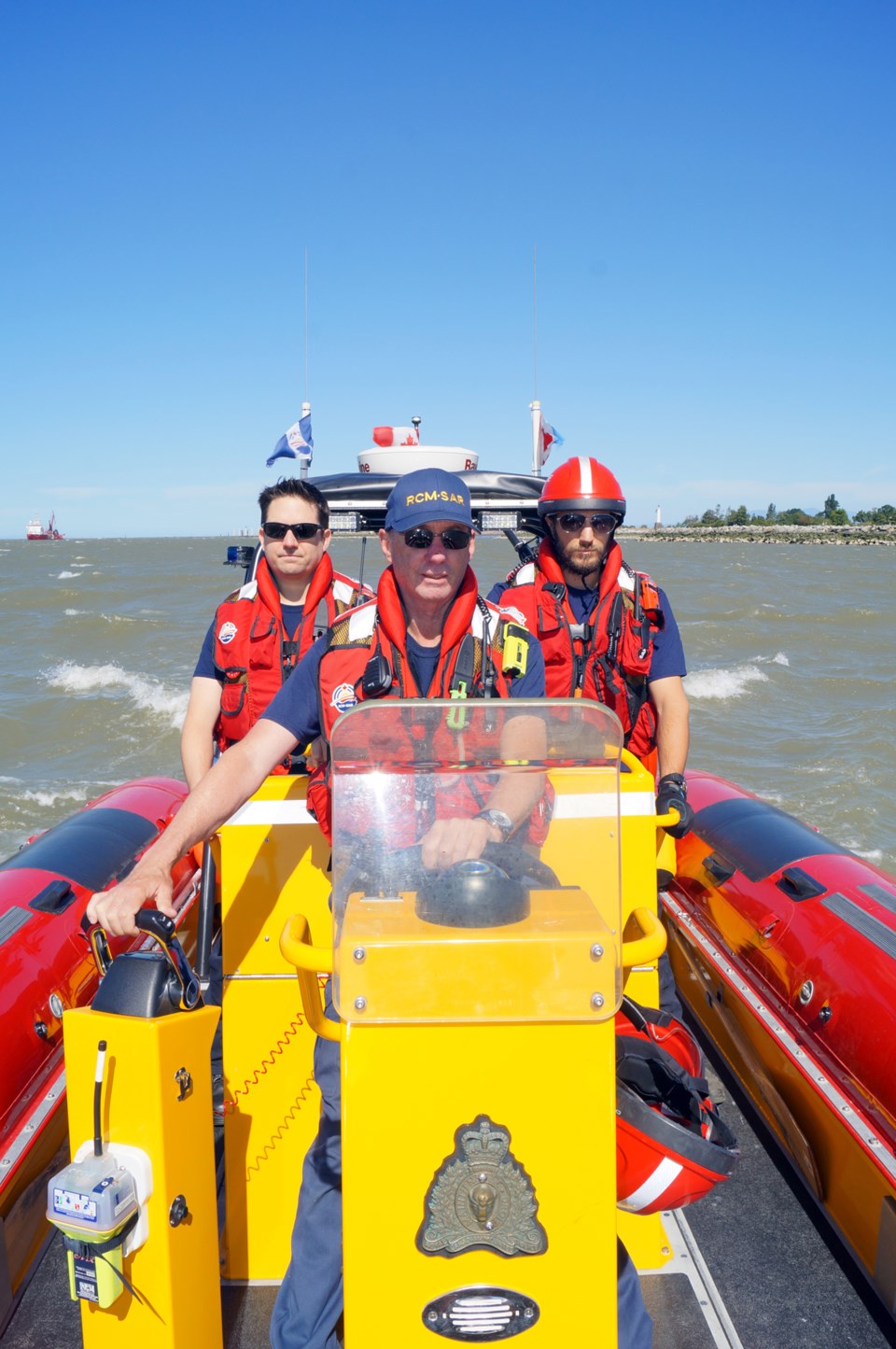 Station 10 picks up where the coast guard cannot and has missions that go as far up river as Maple Ridge. Forty per cent of calls lead the team into the Georgia Strait, as far as Tsawwassen, noted Robertson. But to keep tabs on all of the river's activities, the on-call crew needs to be ready. 
A well-maintained boat is paramount and members spend hundreds of hours combined keeping the boats and gear in safe condition. This year, through fundraising, Station 10 spent $60,000 on a mid-life refit for the Jimmy Ng. That included a new $20,000 GPS system, half of which was paid for by ANAF Local 284 in Steveston.
Robertson said he can't overstate the need for the community to continue to support Station 10 with donations, which is the lifeblood of the operation.
It takes about $60,000 per year to keep Station 10 afloat, said Robertson. That doesn't include major repairs that are needed over time.
The station does get some provincial gaming grant revenue and the coast guard provides a stipend for each rescue mission (essentially covering the gas bill).
Of course, the main resource Station 10 utilizes is volunteer hours, which totalled 3,689 in 2015.
Poppell, for instance, recently had to undergo about four months of part-time classroom training followed by a year on the water. to gather relevant certifications.
A father of two young children, he jokes that Station 10 is his "social time," but the real reason for his commitment to RCMSAR is to give back to the community, as well as to feed his insatiable appetite for being on the water.
"It's a no-brainer to do what we're doing. We're helping people," said Poppell.