For about an hour last Saturday, long-time Richmond resident Meribeth Hardern, and a handful of other volunteers, sat inside the Steveston Interurban Tram house, meticulously peeling and scraping paint off little pieces of the heritage train — the No.1220, which ran between Marpole and the Village, from 1913 to 1958.
"I think it's very interesting that they're restoring the tram, and I thought it would be fun to see what's involved in doing that," said Herdern.
Eventually, however, Herdern's small, patience-testing tasks will be unveiled as part of a complete project — that of a sparkling restored tram that can be wheeled outside of its custom-built house, at No. 1 Road and Moncton Street, on special occasions, such as Canada Day.
"I'll be able to say, I did that one," she says, holding a switch that will be installed in the driver's panel.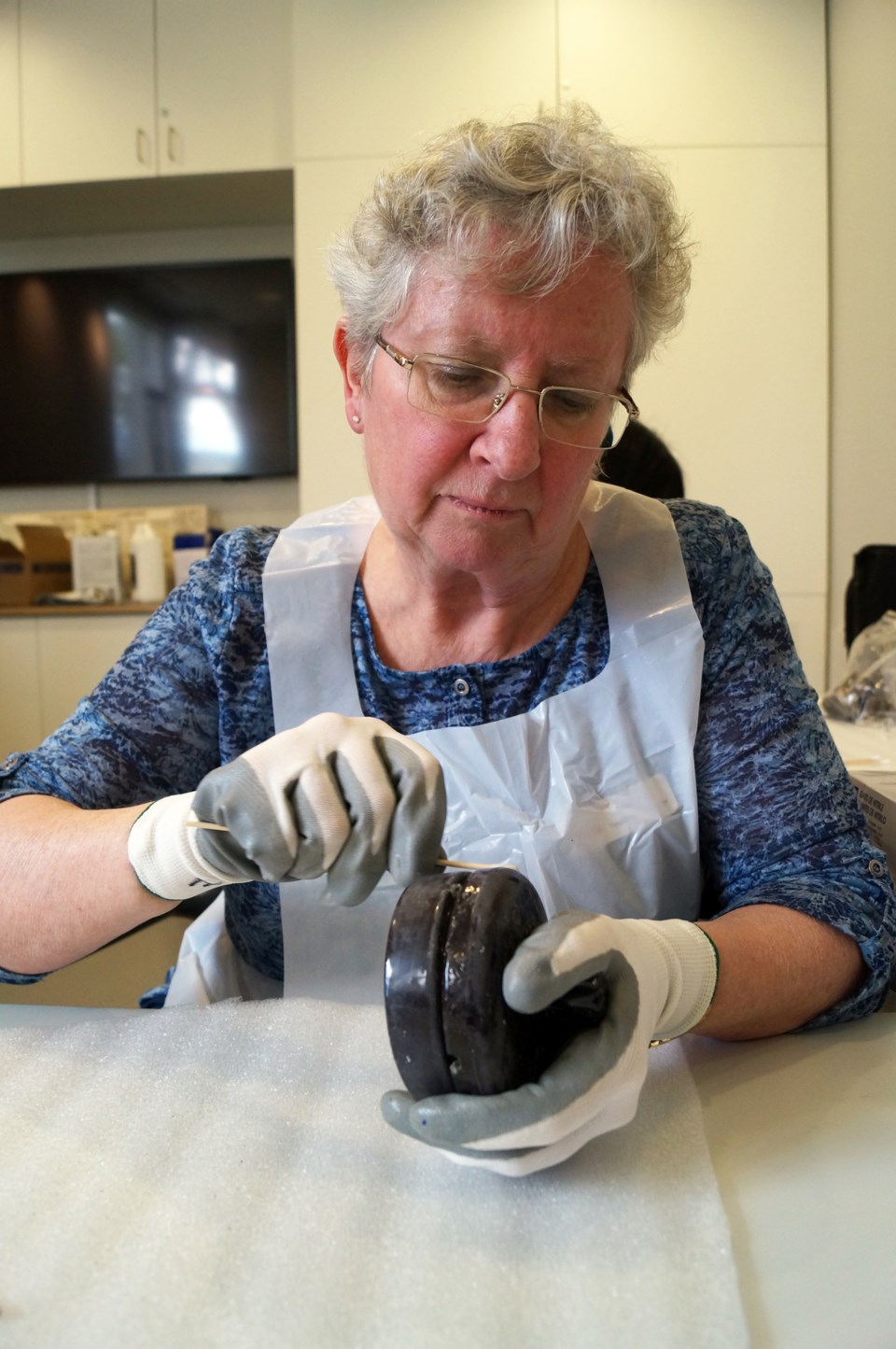 The tram is undergoing a $400,000 renovation, thanks in large part to Mayor Malcolm Brodie's insistence on spending the extra money on what is Richmond's largest historical artefact.
"People appreciate an artefact like that, once it is restored. It's a terrific reminder of our transportation history," said Brodie.
"An item like that deteriorates over time. You preserve it best by keeping it in good shape," he noted.
Leading the restoration work is Rebecca Forrest, curator of collections for City of Richmond Museum and Heritage Services.
"The biggest challenge with the tram car has been two-fold: Finding original parts — and when we can't find original parts, we have reproductions made; and also finding the skill and talent — people who know how the cars were built, in order to restore them," said Forrest.
Steveston's tram is one of 28 1200-class trains commissioned by BC Electric Railway Company in 1912, from a factory in St.Louis, MO. Today, seven exist, with five in B.C., in various states of functionality (No.1225 in Surrey is operated by the Fraser Valley Heritage Railway Society). 
When the trams were decommissioned in the 1950s, many parts were scrapped and the wooden bodies were burned, noted Forrest.
"We've been trying to piece together different information. It's been a real mystery and it's been a fun project to work on," she said.
The restoration work involves building a new, waterproof roof, refurbishing the interior seats and ceilings, restoring original paint and colours to pieces, such as switches, and rust-proofing the undercarriage.
Notably, the ceiling was not historically accurate, so it's been completely stripped.
Finding replacement parts is the first goal. If this cannot be achieved, the team, led by conservator Andrew Todd, will decide on whether or not to build replica parts.
This can be expensive. For example, replacing the rusty steel connector to the electrical guidelines could cost upwards of $5,000, plus labour.
In another example, Forrest said they have about half the vent covers for the interior, but will need to make more.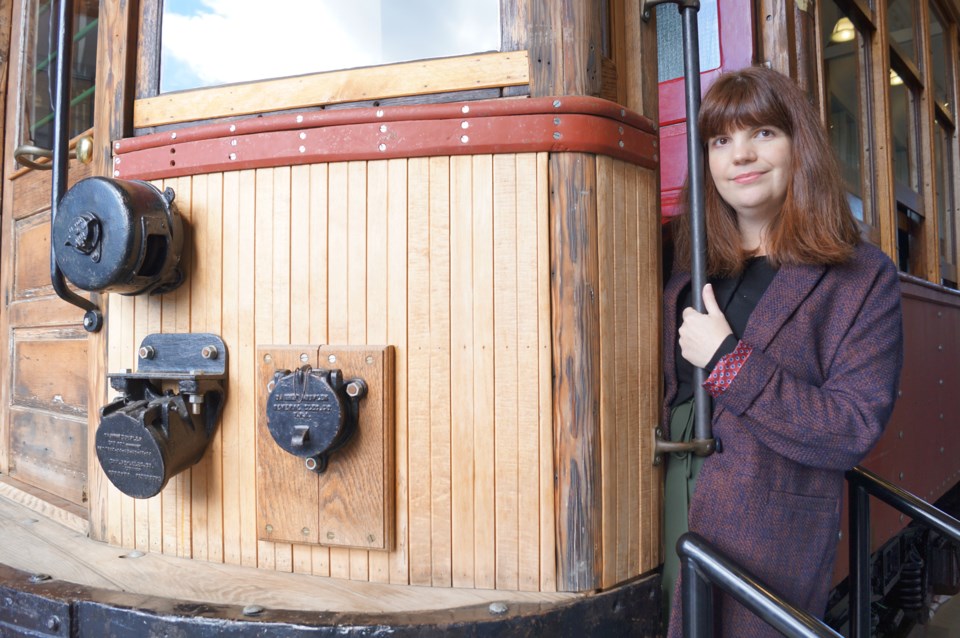 "Looking for parts is a task," she said.
Forrest is attempting to restore the tram to its original appearance, however the way it looked changed over the five decades it operated. As such, when complete, the tram will act as a lengthy time capsule, with pieces from each decade, intertwined with one another, noted Forrest.
Using photos is key in restoring the original parts, said Forrest. It's for this reason that the restored tram will largely resemble its latter years (this, and because older parts are harder to come by).
There is also a bit of guesswork. For example, colour photos are helpful but soot and dirt can hide the true, original colour of the tram roof.
Different pieces tell different stories, as well. There's graffiti, for instance. Or, take the metal grates that were installed after the tram started operating.
"Unfortunately, some tram passengers were sticking their arms out the windows and I have been told there were a few accidents. We do not have any of the original grates left from the No. 1220, but may look into creating reproductions," explained Forrest.
And, one of the tram doors is different than the other.
"The cars, of course, came here in pristine condition, but over the years, like our own vehicles, were in accidents, and things happened to them — but that tells an interesting story," said Forrest.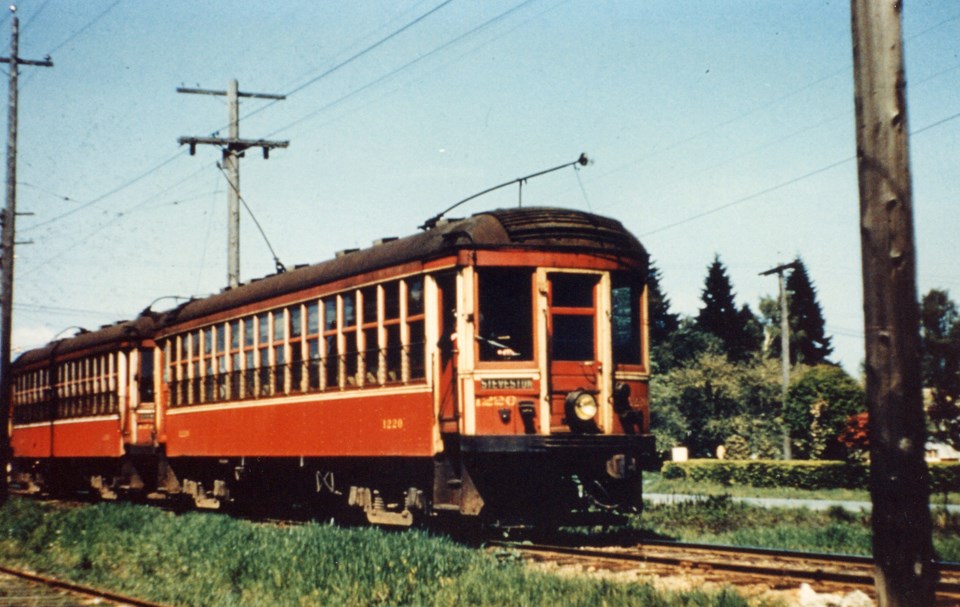 The work is expected to be complete by October, but Forrest is quick to point out this is a soft deadline. By Canada Day, she hopes to roll No.1220 outside and have its lighting system fully operational.
As for it ever running again, say up and down Moncton Street as a fully-functioning transportation system to get people from point-to-point in Steveston, Forrest said it is possible.
"But that would take a lot of effort to rebuild the trucks underneath and implement safety systems. They also ran on overhead electrical systems and we don't have that anymore," she said.
The tram, she said, is a great glimpse into our past — for both good and bad reasons.
"In the Fifties," said Forrest, "there was a campaign called Rails to Rubber, and it was primarily coming out of the United States; car manufacturers were trying to encourage people to purchase a vehicle and they had a lot of weight politically, a lot of money, so across North America, you saw a reassessment of these light-rail systems and a real campaign against them. They were integral to the Lower Mainland's movement of people. It was a shame when they disappeared.
"I think what's the most interesting part of the tram's history is that we, as a people, now, are starting to realize the value of these light-rail systems and moving back towards them, and encourage people to not purchase cars, use transit, and use cars less."

Tram's spirit can return to Railway: Steves
Coun. Harold Steves is hoping to restore the very thing that once made Railway Avenue a namesake.
One day, he wants to see a modern, electric light-rail transit (LRT) system placed along the Railway Corridor, harkening back to the era, between 1913 and 1958, when the Steveston Interurban Tram ran to and from Steveston Village.
"The tram represents not just the past, but hopes for the future. Hopefully we'll run LRT right down Railway to Vancouver," said Steves.
The true impact of the closure of the tram system by BC Electric Railway Company is never lost on Steves, considering it only took 45 minutes to get from Steveston to Downtown Vancouver on it.
"Faster than it is today! That's what's annoying. If you take a bus from Steveston and transfer at Canada Line, it's 10 minutes longer," said Steves, 79.
"We called (the tram) the red rocket. It was the beginning of the space age and it swung and swayed as it went down the Railway; it wasn't really a rocket," he laughed.
So what will it take to get electric rail cars "rocketing" back down Railway?
Steves said a lot of things need to align, but if they do, it could happen in as early as 20 years — in his opinion. First, city council would need to be on board; then, regional transportation planners and authorities. Second, existing regional transportation plans would need to be implemented — a shift away from car culture is important.
Building a bridge to replace the Massey Tunnel will stall this shift, said Steves.
Next, there would need to be buy-in from residents, both in Richmond, and along the Arbutus Corridor, should the system be connected to Vancouver.
Steves noted the regional long-term plan is to use Arbutus as an LRT corridor to connect to Shell Road, in order to service South Surrey one day. This route could theoretically branch off into West Richmond.
Of course, there would also need to be more residents living in the area to financially support an LRT line.
Not everyone shares the optimism of Steves.
Mayor Malcolm Brodie said he sees too many impediments to reviving rail service adjacent to Railway Avenue.
"I would very much like Railway to be a transit corridor; however, I can't see it happening," said Brodie.
He noted there had once been talk about running the tram along Moncton Street (as a micro transit system and tourist attraction for the Village) and even that idea was halted by residents. 
"There was a great backlash against that. People do not want rail corridors in their backyards. So, I have my doubt," said Brodie.
Furthermore, Brodie doesn't see the Railway Corridor densifying more than the townhouses that have been allowed along the street. Although existing apartments and townhouses to the west of the corridor could be redeveloped in the future, Brodie doesn't see this happening any time soon, and certainly not in 20 years.
Furthermore, "You can adequately service the corridor with buses for the foreseeable future. That's more viable," said Brodie.
Looking beyond the foreseeable future, Steves said he opposed a staff proposal last year to designate the Railway Corridor as a park; he wanted to maintain its transportation land-use designation.
"Generations before us had the vision to put in light-rail transit" to Steveston, he said.
City staff told council last year that a light rail line can be built on the corridor, even if it's designated as a park. But Steves said he doesn't want confusion decades after the fact; he wants future residents to know there is potential for an LRT system.
He's also trying to avoid planning snafus that will complicate installing future tracks, such as one made roughly 25 years ago.
Then, Steves and Coun. Doug Sandberg opposed the rezoning of Railway Avenue, south of Garry Street, from rail tracks to single-family homes. Today, that strip of homes could pose a nuisance for LRT.
"We'd have to put the tracks on the road now," said Steves.
Otherwise, north of Garry, the tracks could be placed alongside Railway Avenue, where presently there's a ditch and strip of trees, he noted.
"I objected to the tree planting when the park plan was approved" in 2012, Steves said, pointing to a row of young maple and birch trees. 
"In 20 years they will be heritage trees. Then, everyone will be complaining about cutting down the trees."
Inquire about volunteer opportunities to restore the tram: Email: Interurban1220@Richmond.ca. Phone: 604-238-8081