Richmond resident John Roston wants to charge up the discussion on electric vehicles in Richmond.
"We don't expect everyone to go out and buy an electric car, but when you are considering buying a new car, think electric," said Roston, an adjunct professor at the McGill University Schulich School of Music.
Having recently bought a Nissan Leaf, the Steveston resident said he found it difficult to find information on local electric vehicle (EV) use.
Recently, Roston started a website (PlugInRichmond.ca) to share information about EVs as well as advocate for their use in Richmond; he's hoping to maintain a presence at Richmond City Hall to keep local politicians ever mindful of the benefits of EVs.
Roston notes that because Lulu Island is flat and temperatures are neither too cold in the winter nor too hot in the summer, battery life is bound to be better in Richmond.
Presently, there are 26 charging stations in Richmond noted on the website PlugInBC.ca. Five of those stations are on City of Richmond land and the city pays for the power (although a credit card is required, as usage is monitored by a third party company).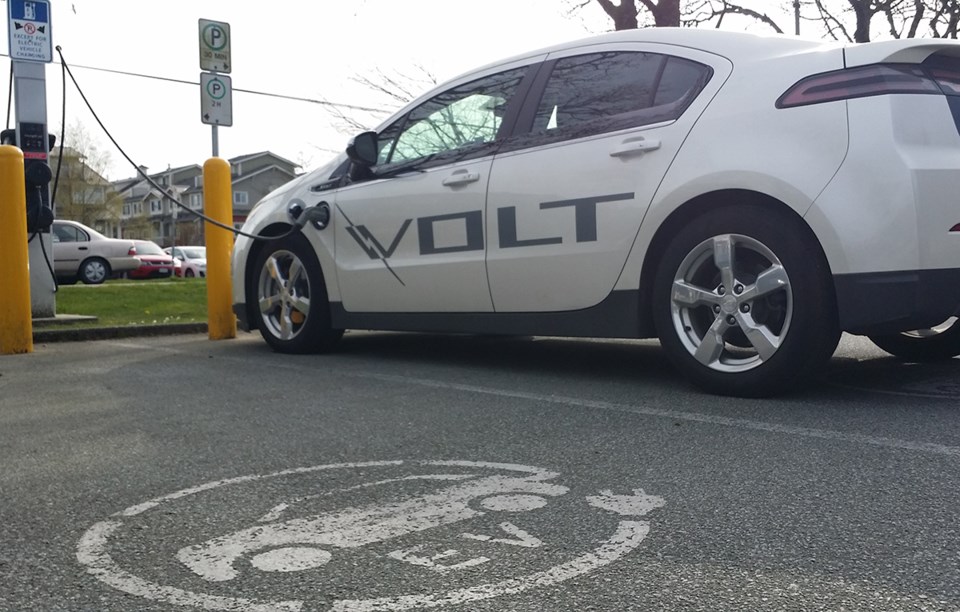 Roston said he hoped to be able to promote his new, grassroots EV advocacy group, Plug in Richmond, with business cards at such stations, however city hall denied his request as it constituted third party advertising.
Roston also inquired about funding from the city's carbon marketplace but was, again, denied (the marketplace uses city money to assist low-carbon community initiatives in exchange for carbon credits).
While EVs are gaining in popularity in Canada, Roston has a way to go before any sort of critical mass of charged up environmentalists are hogging the lanes. According to FleetCarma.com, highway-capable EV sales in Canada reached 6,933 in 2015. 
There were about 2,400 EVs in B.C. as of mid-2015. ICBC notes there were only 76 EVs in Richmond, as of Dec.31, 2014.
However, sales in B.C. jumped after the provincial government re-introduced $7.5 million worth of point-of-sale grants for EV purchases in March 2015.
Earlier this month, the province also announced that EVs would be allowed access to HOV lanes, regardless of how many people are in the car. By 2030, the government estimates there will be 300,000 EVs in B.C.
Gaining in popularity are private charging stations available for public consumption, for a fee. For example, the newest charging station in Richmond is found at the McArthurGlen outlet mall. 
Roston said aside from the reduction in greenhouse gases (93 per cent of power in B.C. is renewable), EVs are "fun" to drive.
"They have great acceleration and they're smooth, there's no vibrations," he said.
Roston's five myths about EVs
Myth 1 – Electric vehicles are expensive. While suggested retail prices for mid-class cars are between $30,000 to $40,000, the B.C. government offers a $2,500 or $5,000 incentive grant and the BC SCRAP-IT program offers an additional $3,250 if you retire a gas vehicle.
Myth 2 – Charging is required at every destination. In fact, one charge from home is enough to make a return trip from Richmond to White Rock. Charging can be done overnight.
Myth 3 – Electric vehicles require a battery every couple of years at a high cost. A typical new electric vehicle warranty guarantees the battery for eight years. While the replacement cost is usually about $7,000, gas savings (including power costs) will more than compensate for it. Furthermore, there is very little additional maintenance such as oil changes.
Myth 4 – The power grid can't handle electric vehicle charging. Most charging can be done at night, when there is little demand for power on the grid.
Myth 5 – I can make a larger contribution to reducing greenhouse gases with other initiatives. B.C. government statistics show that household gas engine vehicle use accounts for 45 per cent of household GHG emissions. Short of taking transit, electric vehicles are your best bet.