As Ken Brodie, a 73 year-old retired mailman and longtime Richmondite, stood outside his house Monday talking about the injuries he sustained in a vicious dog attack, a solemn-looking young man from down the street approached.
"I'm sorry for what happened and I just want to thank you for everything you did for my girlfriend," said Lucas MacNeil, extending his hand to Brodie, outside his home.
MacNeil is also the owner of the dog in question.
"It's OK, it's OK. I'm just glad no one was hurt any more," replied Brodie, who has been widely hailed by the public as a hero after saving two women and a toddler from what police called a "horrific" attack by MacNeil's Rottweiler-Husky cross on Dec. 30. 
Brodie had been tending to his backyard garden, adjacent to Whiteside elementary school, when he heard cries for help from twin sisters Jessi and Kati Mathers, 21, in South Arm Park.
Brodie jumped his seven-foot fence and ran to the rescue, where he attempted to remove the dog from the women, but was subsequently attacked. 
"It was like a killing machine," Brodie told the News following the attack.
He said in all his time as a mailman he's never seen a dog act in such a violent manner.
"(Kati) looked like a pin cushion with all the puncture wounds on her lower extremities."
The 80-pound dog, named Yogi, is now in the custody of the Richmond Animal Protection Society and MacNeil, Kati's boyfriend and roommate, has said he will attempt to prevent his dog's euthanization.
Brodie said he lost a pint of blood from his bite wounds by the time he got to Richmond Hospital. He required eight stitches.
Kati bore the brunt of the attack as she distracted the dog from Jessi and her three-year-old son, who was physically unharmed.
Brodie said the dog ran between both sisters, attacking them both, however it had pinned down Kati when Brodie arrived. After kicking the dog, it turned on Brodie, who needed to leave the scene and call 9-1-1.
Several other Good Samaritans heard the cries and called 9-1-1. Two people also in the park at the time were also reported to have assisted after Brodie intervened.
Richmond RCMP arrived shortly after and shot at the dog, missing it three times as it ran away.
"The dog was momentarily distracted and returned to re-attack the victim and now one of our officers," explained Richmond RCMP's Cpl. Dennis Hwang.
"She was then forced to discharge her service pistol at the dog."
Kati was sent to Vancouver General Hospital after suffering more than 100 bites to her body, a fractured arm and a detached bicep. Police stated she was covered in blood and in critical condition, at the time. She was released the next day.
"She (Kati) was trying to draw the dog away from attacking her three-year-old nephew, the son of her twin sister," said Hwang.
Jessi also sustained multiple lacerations to her body while defending her son from the dog.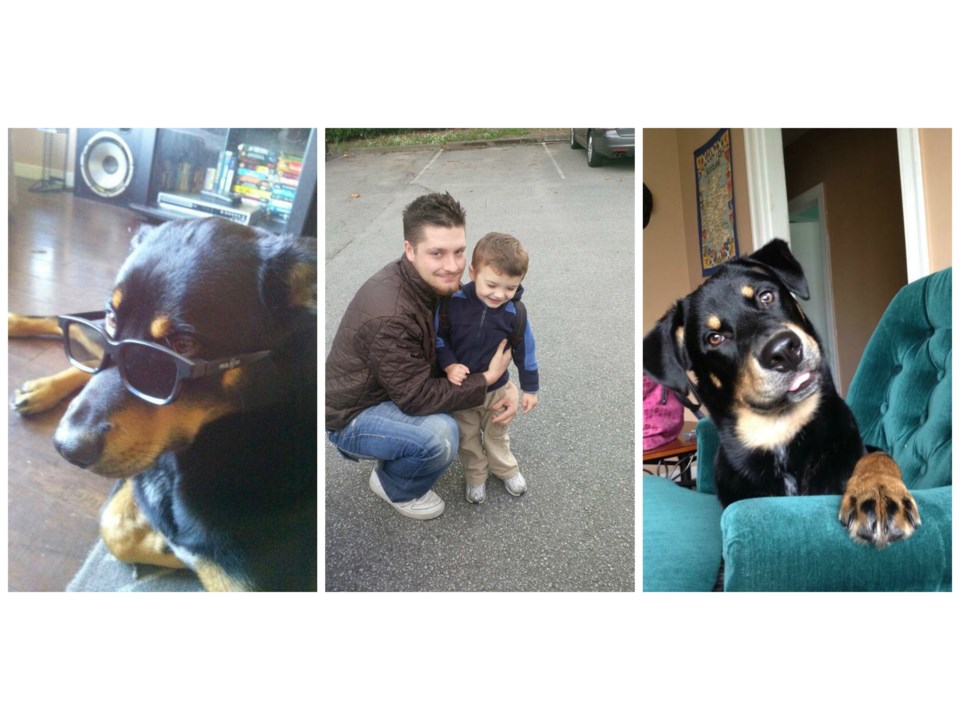 Meanwhile, over the weekend, the toddler's father, Jordan Kelly, told media his son was physically unharmed but having nightmares. Kelly said he had sought RCMP victim services.
 "The boy was luckily unharmed. Their drive to protect the boy was incredibly heroic," added Hwang, who also had high praise for Brodie.
"He unselfishly put himself in harm's way in order to protect a fellow human being," he said.
After the News broke the story on Brodie's heroics most Metro Vancouver news agencies reported on the incident in the week that followed.
The public praised Brodie, however some attention also fell on the Mathers' open use of drugs and alcohol on social media, particularly after Kati identified herself on Facebook as the more serious attack victim.
Family friend Alegria Gomez had initially started a GoFundMe online fundraiser to raise $2,000 as the twins recovered from their injuries, unable to work in the food industry.
But Gomez told the News she subsequently took the fundraiser down after the Mathers experienced public "slander and humiliation" online.
On Monday, Jessi and Kati also visited Brodie to thank him.
Earlier in the day, MacNeil posted on Facebook that the media had "stretched this story to build attention."
However, MacNeil also appeared to take issue with the Mathers taking Yogi outside without him.
"My dog was taken without permission from his home, when I have stated many times not to take my dog without me. He was tied to a tree (and) when untied or provoked he attacked," wrote MacNeil,
"Now he (Yogi) is being held, and his life threatened, before all the facts of the case have been brought to light," said MacNeil, who is calling for a full investigation.
Clinical ethologist, Dr. Rebecca Ledger, said a full investigation would have involved a medical examination — including a toxicology screen — of Yogi immediately after being taken to RAPS.
According to RAPS CEO Eyal Lichtmann such an examination was not called for by the City of Richmond, which will make the decision to euthanize Yogi, or not.
"They may have missed the boat depending on how quickly they got the blood or urine samples," said Ledger, who said the attack was one of the worse she's heard of.
Another aspect of the investigation will involve Yogi's home environment, she said..
"It's very rare for dogs to behave this intensely, this aggressively, for no apparent reason. So what we need to do is understand more about the incident itself," added Ledger.
Possible causes of aggression are: toxic substance ingestion, disease and feeling threatened, noted Ledger.
Lichtmann said Yogi has been in isolation since the incident and only paid staff members are allowed to interact with him.
According to city bylaws, a dog must be declared "dangerous" to be considered for euthanization. A dangerous dog is, among other things, any dog that has "injured" a human, or another domestic animal.
The city can only euthanize such a dog with the owner's permission. Without permission from the owner, it must seek a court order, which the owner can fight.
A similar legal case unfolded in Richmond in 2014. Two Rottweilers were spared their lives after their owners challenged the City of Richmond's court application (the case was resolved before being brought to a trial). However, in that case the extent of any injuries to a human were minor in nature. At the time, it was revealed that RAPS was understaffed and allegations were made that the dogs were not being properly cared for (inadequate exercise).