The Department of Fisheries and Oceans claims 316 crab traps, seized by officials earlier this month during an annual enforcement operation, were set illegally in U.S. waters near Point Roberts.
Art Demsky, conservation and protection detachment supervisor at the DFO's Langley field office, said the operation – coordinated with American counterparts – targeted Canadian commercial crab fishers who cross over the 49th Parallel in Boundary Bay.
The crab season runs from July through the end of November in Canada, but in the U.S., the season starts Nov. 1 – something that can propel the fishers to cross over the border, taking a risk that they won't get caught.  
"Over time, it becomes increasingly more beneficial to fish closer to the border because of course, there's more crab on the U.S. side because the Americans don't start fishing until November," said Demsky.
"It's a very lucrative industry. The more crab you get, the more money you get."
He said that the fishers have GPS on their vessels, meaning "they all know when they're over the line."

The 24-vessel fleet is also electronically monitored, so location data can be reviewed, he added.
Crossing over the border also has the potential to create conflict with Indigenous groups and commercial fishers in the U.S. who rely on those American fisheries, said Demsky.
The smoky conditions over the course of the operation – carried out over Sept. 11, Sept. 12 and Sept. 15 – made it difficult to see the boats, said Demsky.
"Once they find out we're out there with the Americans, seizing gear, other vessels would go out there and try to get their gear back onto the Canadian side."
A total of 24 vessels are licensed to fish for crab in what DFO refers to as Area J, ranging from Peace Arch to Point Roberts. Four of those boats were seized during the operation, along with the traps, while a fifth boat is under investigation.
Demsky estimates that each set of the seized gear – including a trap, float, ropes and radio frequency ID chip – would cost about $500 to replace. All of the crab in the traps was released on site.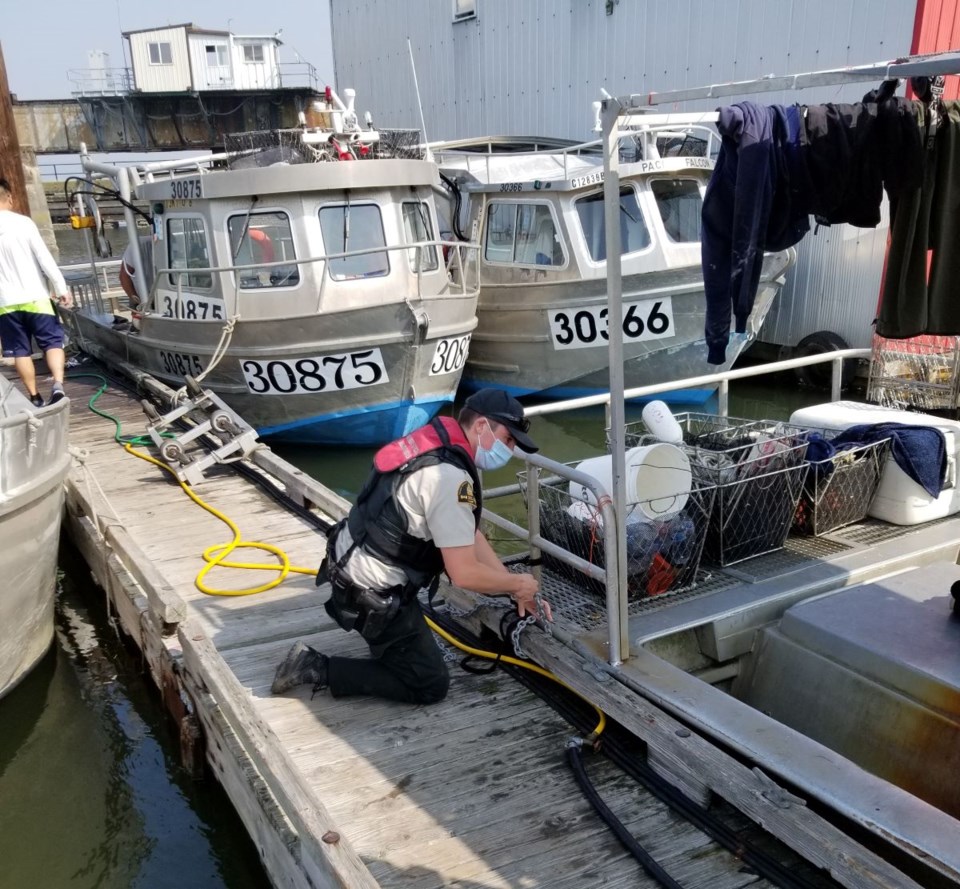 DFO is seeking the forfeiture of all 316, and seek as high a fine as they can, said Demsky. A first-time offender could receive a fine of up to $500,000, and could face jail time.
It isn't unusual to find repeat offenders, said Demsky.
"For them, in some instances, it's just the cost of doing business. 'Yeah, I'll get a fine, yeah, I'll get my traps forfeited, I'll just buy some new ones,'" he said. "(That) kind of indicates how lucrative the industry is."
In some cases, DFO will also seek forfeiture of the boat, which Demsky said could be a "real deterrent," and licenses can also be suspended, either temporarily or permanently.
"We have to send a message, because this is a violation that has the potential to not only impact our fishery resources but our relations with the Americans. It can result in confrontation… We don't want that here," he said.