Mayor Malcolm Brodie was elected for a sixth term as the head of Richmond City Council and he'll be joined by two new councillors after all six incumbents earned an additional four years at city hall.
And while roughly seven out of 10 eligible voters still stayed home, voter turnout was up from 23.4 per cent in 2011 to 32.4 per cent on Saturday. All in all, 9,145 more ballots were cast this time around even though there were 5,730 fewer eligible voters in the city (despite a population increase of about 8,000).
The two new city councillors — small business owner Carol Day and former Olympic snowboarder and chartered accountant Alexa Loo — will soon replace outgoing, retiring councillors Linda Barnes and Evelina Halsey-Brandt, who had 33 years of combined experience on council. 
"I'm feeling really excited actually; thank you to all the people that voted for me and …the people that have been supporting me through this," said Loo, who was joined by MLA Linda Reid and Barnes at her celebration party moments after winning.
Loo said one of her top priorities will be pushing for a competitive 50-metre pool at Minoru.
"There are enough condo and high rise developments with pools; they can take care of the need for smaller pools," said Loo.
Loo also wants to focus on homelessness and mental health issues, adding, "to do that, we need really good community services and community programs to ensure people are taken care of," said Loo.
She said before the election that the city needs better engagement with businesses to solve the Chinese-only signs issue.
Loo campaigned with fellow independent Dave Semple, the city's former parks manager. She said she was surprised to garner more votes than Semple, who finished a disappointing fourteenth in the race for the top eight.
"Dave really knows how to make things work at city hall. You might have an idea, but Dave knows the pieces that need to be in place to make it happen," she said, speculating that his health (recent back surgery) may have been a factor in his placement.
"Just like me last time, when I was eight months pregnant, people said, 'I won't vote for you this time; you don't know how much work the baby will be, but I will next time.'" Said Loo.
Loo also ran on a platform of improving traffic gridlock in the city. During her campaign she cited the No. 5 Road and Steveston Highway area as a priority (statistically, it's one of the worse areas for accidents in the city).
Coincidently, that is also a priority for Day, a former school board trustee who gained a seat on council after two previous failed attempts in 2005 and 2011.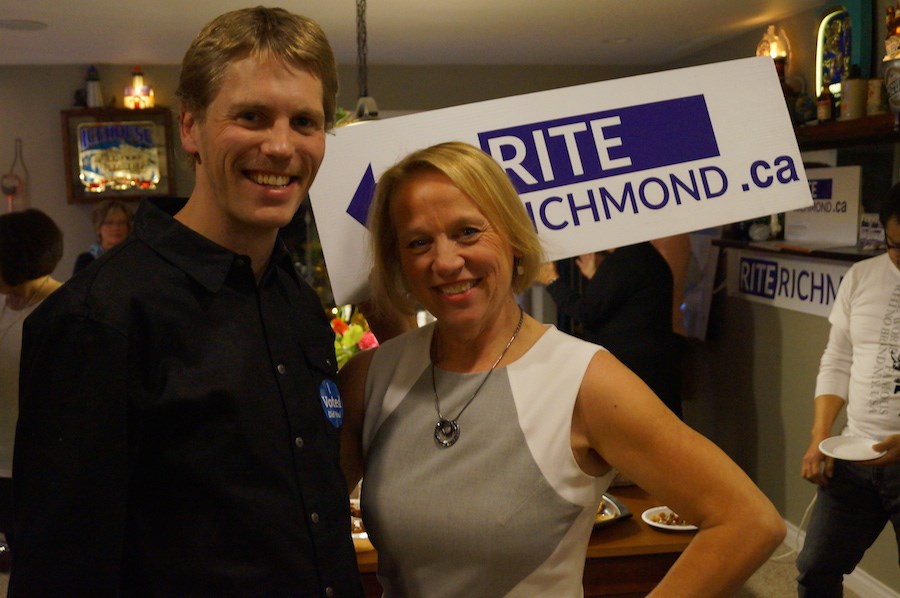 Day was elected running on the RITE Richmond platform, placing sixth overall. Day was narrowly defeated in the 2011 election and she last ran for politics in the provincial election with the BC Conservative Party.
She said citizen engagement is her top priority.
"People in Richmond wanted representation on city council. I've demonstrated over 20 years that's what I am all about," said Day.
She said "building bridges and connections with other city councillors" is going to be her first call of duty within the next six months.
"I probably need to build some friendships. Once I develop those relationships I'll be able to be productive," she said.
Day is a staunch opponent of jet fuel on the Fraser River and made headlines over the past few years as part of the VAPOR group.
Her platform is to build neighbourhood connections and transparency at city hall.
"I'll keep that going as a councillor. I suspect we'll have a lot of coffee meetings with citizens," said Day. 
She is proposing to shake up zoning regulations to improve affordability in the city. She also wants the city to build hyper-local neighbourhood message and meeting centres.
Meanwhile, Brodie has served as Richmond's mayor since being elected to that post in a 2001 by-election. He had previously served as a councillor from 1996 to 2001.
Winning his sixth term, Brodie ran on a platform of maintaining his vision of densifying City Centre while preserving farmland, advocating for more transit services and keeping taxes low while bolstering reserves.
"I think the issue of one per cent (tax hike) to reserves is worthy of debate," said Brodie on Monday.
Asked what he learned from his campaign, he replied:
"A couple of the issues we have to be concerned about is the issue over the animal shelter …because what we have now doesn't seem to be adequate. And secondly, what is the homeless situation …do we need a shelter and who would be partners with us," said Brodie.
Poised to become the third longest standing mayor in the city's history, Brodie said his transportation plan hinges on getting Translink funding for more buses to the Canada Line and increasing train frequency and possibly expanding station platforms to accommodate more trains. As mayor he must advocate for Richmond on the regional level.
Brodie oversaw the creation of the city's Official Community Plan, which is calling for a population increase of about 70,000 more people by 2040. The city's pace of growth and traffic congestion were arguably some of the biggest complaints amongst the electorate.
By about a two-to-one margin, Brodie soundly defeated challenger Richard Lee, who was Brodie's first challenger running with an organized political slate —Richmond Reform.
While Lee criticized Brodie's platform he failed to table alternatives that voters could cling to. Brodie garnered more total votes (27,149) than any mayor in Richmond's history.
Also making history was Coun. Bill McNulty, who obtained a record 17,417 votes for city councillor.
McNulty, a councillor since 1993, is joined by fellow longtime councillor Derek Dang and Coun. Linda McPhail on Richmond First.
Dang and McPhail's share of voters actually dropped precipitously from 51 and 48 per cent respectively to 39 and 37 per cent.
The trio ran on a platform of keeping taxes low, community safety and densifying City Centre whilst maintaining farmland and single-family home neighbourhoods.
Continuing to make history was Coun. Harold Steves, a councillor since 1977. Running on an environmental platform advocating for climate change initiatives, parks and heritage protection, and densifying City Centre, Steves, 77, got 14,417 votes to place fifth as his share of the popular vote went from 43 per cent in 2011 to 36 per cent.
The incumbent who climbed the ladder the most was Coun. Chak Au who garnered 2,376 more votes than in 2011. Au's 15,742 total votes were good for second place and a 39 per cent share of all ballots (although still four per cent less than in 2011).
Au joined the newly formed Richmond Community Coalition, which espoused engagement, transparency and lower taxes as its goals.
His running mate Coun. Ken Johnston actually garnered 191 fewer votes this time around but still placed seventh.
As part of a term limit pledge by the Coalition, Au and Johnston's maximum eight years on council begin this December. 
The Coalition tabled six council candidates in an election flooded with a record 31 in total.
The spike in voter turnout was arguably dispersed mostly amongst new candidates as the incumbents received, for the most part, the same amount of votes this time as they did in 2011.
Retired police officer and former school trustee Andy Hobbs of Richmond First finished ninth, just 582 votes behind Loo.
Behind Hobbs was Michael Wolfe, of RITE Richmond, who failed to convert on his second attempt at council. Wolfe failed to score on the increased voter turnout, gaining 11,765 votes, or just 300 more than in 2011.
First-time Coalition candidates Dan Baxter, Kirby Graeme and Sal Bhullar finished in the top tier of runner-ups.
Grace Tsang finished in eighteenth with only 6,222 votes. She left Richmond First to create Renew Richmond but couldn't carry over many of the 16,580 votes she got in 2011 as a school trustee.
The election was marked by a doubling — from three to six — of organized political slates. Besides a last minute attack, via Chinese media, by Richmond First on Chak Au's apparent flip on tax policy, slates rarely critiqued one another's policies and few traditional news releases were sent out.
Some campaigns breached the social media field, gaining some traction on Facebook and Twitter.
Independent Henry Yao became Richmond's first political candidate to run a Reddit Ask Me Anything forum.