An American artist has walked away from a controversial public art project at the new, but delayed Minoru pool and seniors' centre — and she's taken $50,000 from city hall with her.
In 2015, artist Sheila Klein was offered a $250,000 contract, including parts and labour, to design and install "Multipole," a 20-metre high accessorized, aluminium pole that would signal the entrance and exit to Minoru Park from Granville Avenue, next to the soon-to-open Minoru Centre for Active Living.
However, due to financial considerations, such as a weaker exchange rate, Coun. Carol Day says Klein "bailed" on the City of Richmond and walked away with $50,000 for the concept plan.
Day and Coun. Chak Au were the only council members to vote against Multipole for financial reasons, claiming it to be a questionable use of money.
The pole would have multiple features such as flags, a mirror ball at the top, maypole ribbons, banners, and lights.
Day said the city's contract with Klein allowed her to be paid before completing the project.
"They said that's common contract law. Could this happen again? Unless we change the way we draft our contracts of course it could happen again," said Day.
Now, a new public art piece, with a budget of only $200,000, will be installed.
"So now we have less money for a new piece," explained Day.
The metal sculpture Together, by B.C artists David Jacob Harder, Karl Mattson and Aaron Harder is about five metres high, featuring two human figures, composed of dozens of silhouettes, holding hands. It intends to reflect the meaning of community. LED lighting will illuminate Together at night.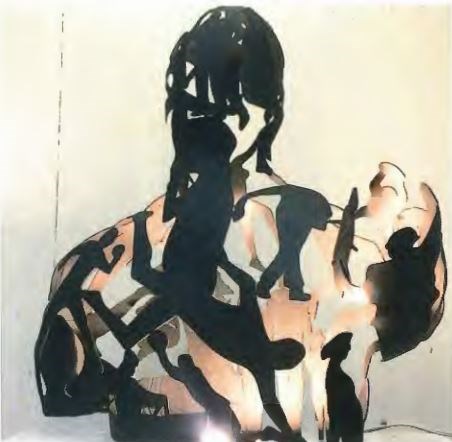 "I think it's a nice piece," said Day.
The public art procurement process begins with a committee of art experts however council has the final say. This has led to some heated discussions between councillors-turned-art experts in the past. In 2015 an art piece featuring ginseng was dismissed by a majority of councillors, for instance.
Several residents also voiced displeasure with Multipole.
When announced in 2014, the 110,000-square-foot, $80 million Minoru Centre for Active Living was intended to open in June 2017. The pool and seniors' centre may now open to the public as late as fall.
The pool portion will also have a thought-provoking art piece dubbed Errant Rain Cloud.
Artists Germaine Koh and Gordon Hicks will design Errant Rain Cloud — a sculpted rain cloud that will be suspended above the leisure pool.
Every few hours, a brief gentle rain shower will fall from the cloud into the pool, bringing a "whimsical element to the pool area" while illustrating the natural cycle of water in our atmosphere, according to the artists.
"The artwork will assist in defining a distinct aesthetic between the meditative, soothing environment of the hot tub/sauna area and the fun, exciting environment designed for children," noted Eric Fiss, the city's art planner.
The News has reached out to Klein for comment.