Richmond city council has decided $5.5 million is the sum developer Onni Group needs to contribute towards community amenities in order to have its Steveston boardwalk site rezoned from mixed maritime use to commercial use.
Council also turned down the company's proposal to donate a portion of that total to local groups as part of the deal.
Councillors, except for Couns. Chak Au, Harold Steves and Carol Day, voted in favour of the proposed amount at the public hearing Monday night.
The $5.5 million is the increased value assessed by consultant Richard Wozny, who was hired by the city and who spoke at the public meeting to support this assessment.
Onni, however, stuck to its $4.75 million offer made at the last public meeting , which is the midpoint of the increased value assessed by the city's and Onni's consultants.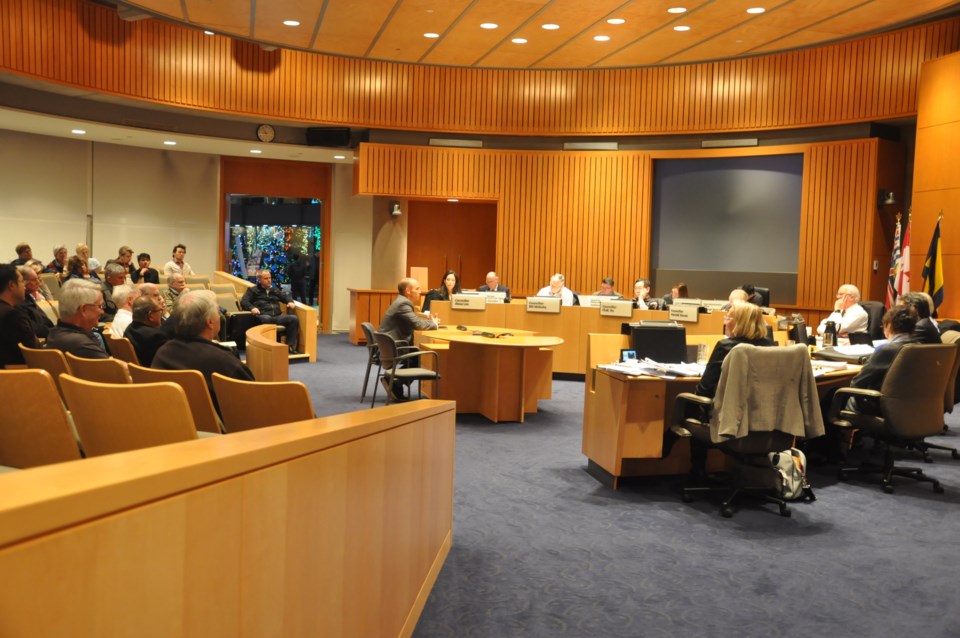 Coun. Bill McNulty, who proposed the amount, said he is pleased with council's decision.
"...we have a consultant who gave this his best shot, analysed it, and he is one of the most recognized consultants in North America; he said that it is fair," said McNulty.
"If we don't make a decision tonight, we will never make a decision. I think we have to do it," he added.
Day, however, said she is very angry about the result.
"It's a joke; it's an embarrassment," said Day.
"The amazing village and community we wanted to see…it's all gone. What have we got? $5.5 million. I think we have short-changed the people of Richmond."
McNulty accuses Onni of embarrassing him
In a letter to council, Onni president Rossano De Cotiis said the company will not offer more than $4.75 million for community amenities but will make a donation of $250,000 each to Richmond Hospital Foundation and the Steveston Historic Society, as part of the deal.
This was strongly opposed by a number of councillors, including McNulty who said bringing third parties into the discussion was "an unethical way to do business."
"When I got your letter, and I was absolutely rocked," said McNulty to Onni's representative, Chris Evans, at the meeting.
"You offer $500,000 more but not to the city. You are trying to embarrass me by going through that rout...to a third party to offer other members of the community money."
Coun. Derek Dang also opposed the idea of bringing third parties in to the conversation about zoning and compensation.
"There are processes and policies set by the city. Now they [Onni] try to change the rules to suit their own needs because they can get a tax benefit from it. It is just wrong," said Dang. (If the $500,000 is claimed as a donation, a significant portion of it would be returned to Onni.)
"And they put pressure on councils. If we don't agree, the third parties don't get those donations, and we look like the bad guy," Dang added.
Evans responded that the company is doing it as a "creative way to improve our application."
"Our proposed amenity contribution of $4.75 million already represents 100 per cent of the agreed increase in value. We struggle to rationalise a further increase above that," said Evans.
"So we tried to come up with a creative way to improve our application, and we felt we did so by adding more donations. If the council doesn't believe in it, that's 100 per cent their problem."
Past chair of Steveston Historical Society, Loren Slye, who spoke in favour of the rezoning in a previous public hearing, told the Richmond News that he had asked Onni to donate funds to the society, but Onni never approached him or tried to buy his support, and his opinion is not affected by the company in any way, but for the community.
"I have asked them to donate funds to our society, as a way for them to give back to the community. But they have not tried to buy me," said Slye.
Resident's suggestion wasn't accepted
Discussions also took place around the exact rental rate Onni is going to charge for tenants after the new zoning, which the assessment is based on. Evans said that can't be known without putting the buildings up for sale.
For that, resident John Roston proposed an idea to calculate the actual value increase in the property values three years later, when most units are filled, and ask Onni to pay the difference. But this suggestion was not taken forward by the council.
Another resident brought up her concerns about the hotel, which according to Onni, will include kitchenettes. She worried it could attract birth tourism, a phenomenon that's already occurring in Richmond.