limbing a stainless steel ladder to get a cat out of a tree may take about 32 seconds. But how long would it take to climb atop Richmond Fire Rescue's corporate ladder? For Richmond's new fire chief, Tim Wilkinson, that took just under 32 years. 
After starting as a firefighter in 1986, and working his way through every rank in the department, Wilkinson is now calling the shots as the city's top extinguisher. 
"Having this job at the City of Richmond, as a firefighter, bringing up children; it was such a wonderful opportunity with the shift work, you're around a lot," said Wilkinson, reflecting on his years juggling two children and a busy career, alongside his wife.
"A lot of the highlights are just the ability to serve. I was fortunate enough to serve with the International Association of Firefighters. I became president here with our local union. That was really exciting. I was fortunate to work with a collaborative group," said Wilkinson, standing outside a nearly-complete Brighouse Fire Hall No. 1 — scheduled to open in late June.
The $23 million facility is the last of six new fire halls completed in the past decade — all post-emergency ready.
Wilkinson credits council members, city planners and past fire chiefs for putting the department in a favourable position with world-class infrastructure and equipment.
"The city has been really fortunate with the chiefs we have had. Chief (Ted) Lorenz had a great vision of being an inclusive, diverse department. He saw the demographics were starting to change. Chief (Jim) Hancock pushed that along and saw the stations needed to be upgraded. They needed to be resilient against earthquakes."
Now it is Wilkinson's time to set a course.
"We put a lot of effort into our things.

"Now we need to put a lot of effort into our staff engagement and ability to leverage all of their skills and imagination."
Wilkinson said among some of the regrets over the past few decades has been a sense the department wasn't fully part of the community. 
Some of that feeling fomented with a high-profile gender discrimination case against the department in 2006, which Wilkinson oversaw as the union president.
And as most fire departments deal with better inclusion policies for women, Richmond will also have to address recruiting more Chinese-speaking staff (all while ensuring it hires the person most able to combat fires and save lives).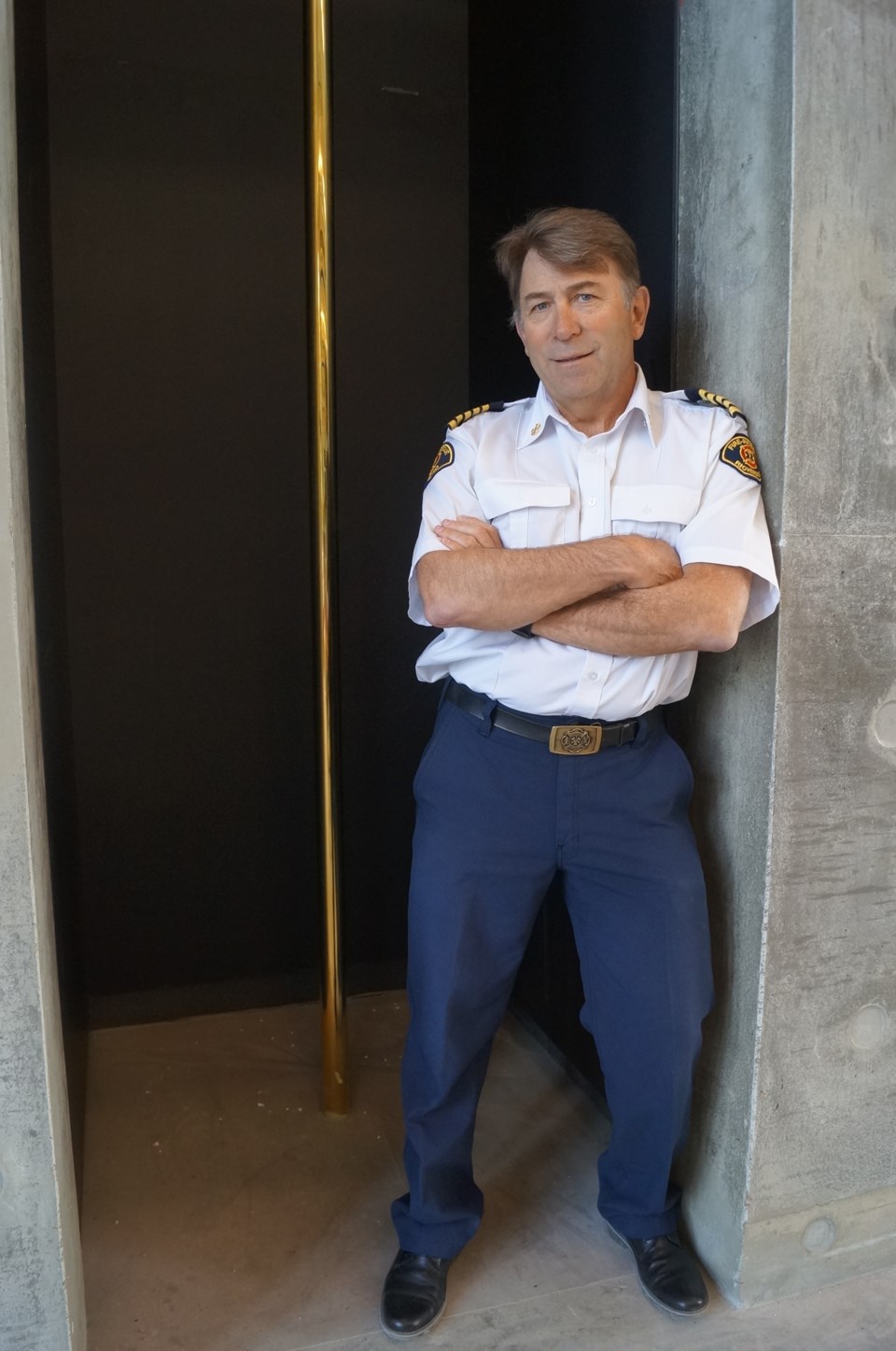 "That's one of the visionary things we have to concentrate on. Who are we going to serve? And how are we going to serve these people? The demographics have changed so fast. So a diverse, inclusive workforce is important to us."
In so many ways, the rapid changes that have occurred in Richmond have affected Wilkinson's job. Consider that 20 years ago there were only a handful of highrises.
Today, several dozen speckle the skyline.
But with top-notch building standards and inspection routines, highrise fires aren't top of concern for him.
Instead, it is cigarette butts.
"In terms of fires, Richmond is a really high incident area for smoking, discarding smoking materials. It's unbelievable. Through the summer we will literally have hundreds of fires."
Kitchen fires are his second day-to-day concern, said Wilkinson. As such, public education is a big focus of his.
Wilkinson grew up in the Broadmoor neighbourhood and now calls Steveston home. Name a street in Richmond and a blindfolded Wilkinson can drop a pin on a map. 
He graduated Steveston High in 1976 and was a prominent rugby player in his early adulthood, while also working across northern B.C. as a pipefitter.
"Right around 1984 is the first time I thought about (becoming a firefighter).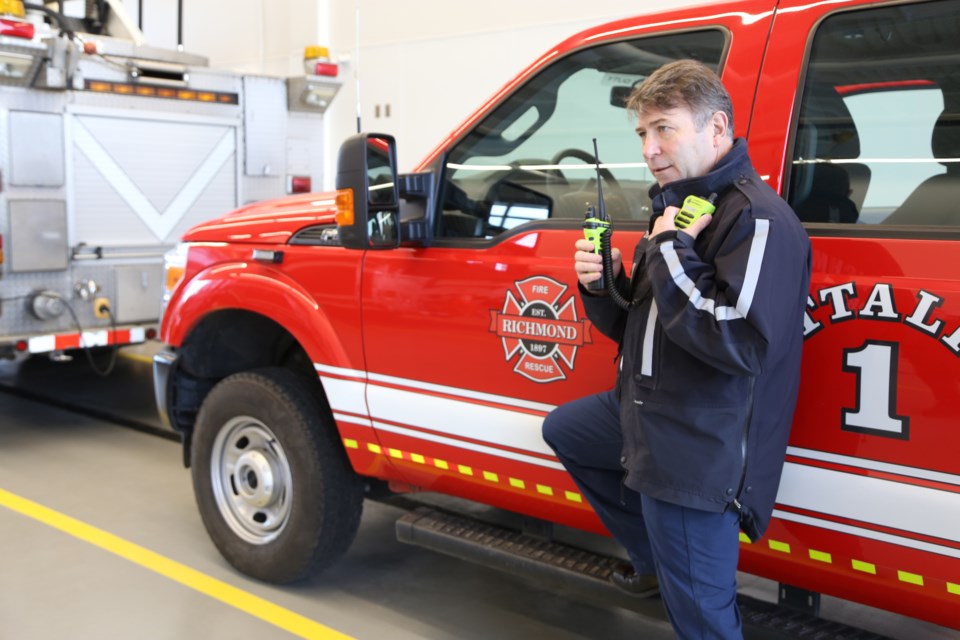 "I had enough of moving around. I had friends in the fire department and knew rugby friends. They thought I might really enjoy the work and enjoy the atmosphere. And I was ready for a change and to do something that would help people. It is fulfilling that way; it's nice," said Wilkinson.
Of course, being a fire chief has some drawbacks.
"I think the toughest part of the job is the responsibility around assigning people to do really dangerous work. Knowing we create plans that to the best of our ability are perfect; but we're people and we're not perfect."
Earlier this month, a man died in a fire in Steveston — a reminder of the fire dangers that exist today, no matter how well prepared we think we may be.
"It's the difficult end of the role, and the work. Our staff do have to see a lot of misery. You know there is family at the end of that death. It's not a statistic, it's a real thing. Our staff feel it and it stays with them," said Wilkinson.
Much of the department's duties are medical responses, ahead of BC Ambulance Services. Those are expected to grow 3.5 per cent each year over the next five years, said Wilkinson.
Meanwhile, fires are more dangerous these days due to there being more chemicals in products.
"Not everything is made of wood anymore," he said.
To keep "Richmond's Bravest" safer, the new Brighouse hall has an entering and exit procedure to keep chemical-stained clothing outside. After a blaze, firefighters first enter a shower area, then another room to dispose of laundry and then a third room to get new clothes, until finally entering the main hall.
"Everything dirty stays outside. We would come back 30 years ago from a fire; we were tired and dirty and just walk in and track all the chemicals around the hall," he said.
Wilkinson is ecstatic to have the new hall and particularly fond of his four, European-designed accordion-style doors that open left-to-right, not up and down. In a major emergency, his kitchen and living quarters can be turned into an operation centre.
At age 59, Wilkinson's tenure as chief may not be for too long, with mandatory retirement at age 60 the norm. But he and the city are negotiating alternative terms.
If he's not in his office, you may spot Wilkinson on his power boat between the Middle Arm and the Gulf Islands, having two adult children left the roost.
"Now it's a nice time for everything."