The impending closures of Richmond's Target and Sears stores does not have Mayor Malcolm Brodie worried that the city's retail window is shrinking.
"Over time I have no doubt we will make up for that," said Brodie, whose government approved, in 2013, a large retail shopping centre anchored by Walmart on Garden City Road.
Brodie commented on the closures during his annual address to the business community at the Richmond Chamber of Commerce. He outlined the policies he's overseen since becoming mayor in 2001 that have led to unprecedented growth in City Centre while largely preserving the municipality's rich farmland.
Since 2010 Brodie said Richmond has seen $3 billion worth of development, largely focused in the City Centre node, including the emerging Richmond Olympic Oval neighbourhood of luxury condominiums.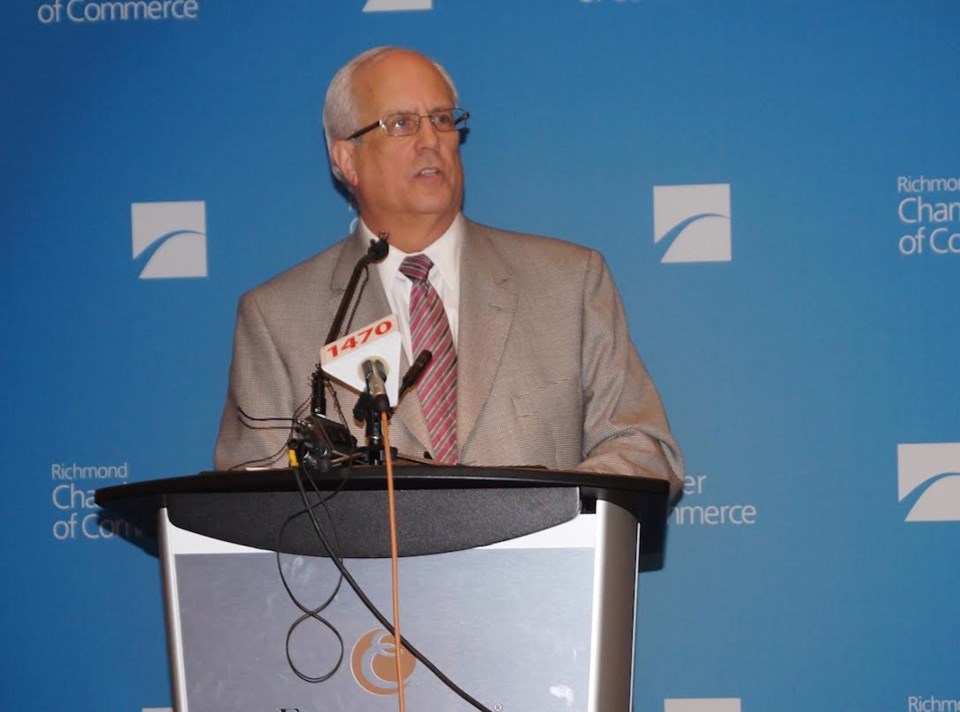 Brodie underlined the importance of transportation and the movement of goods, stating 70 per cent of commerce is linked to Vancouver International Airport, which as an entity unto its own accounts for one in five jobs in the city.
As such he said he would try to ensure a new bridge at the George Massey Tunnel crossing simply doesn't just move the bottleneck to the Oak Street Bridge.
"We want to minimize the loss of farmland and industrial land," with the bridge, said Brodie.
He said the public approving an upcoming transit tax via referendum is critical to the region's growth and economy.
Locally, the tax should bring more frequent bus and Canada Line services.
Brodie noted a "ring road network" around City Centre will be expanded with additions to Lansdowne and Ackroyd roads.
Having recently voted for a three per cent increase to property taxes, Brodie said bolstering the city's reserves is critical to making sure the city has enough facilities to accommodate 70,000 more people within the next 25 years.