Double decker test buses have been running longer haul commuter routes in Metro Vancouver since November, and now TransLink confirms they'll be bringing on 32 double deckers to their fleet by 2019.
The pair of test buses were provided to TransLink for trial at no charge from British bus manufacturer Alexander Dennis.
During the double decker testing phase–which is still happening–TransLink has been capturing reactions from riders, and the experiences have been favourable.
The double decker buses have been running on routes like the 301, 311, 351, 354, and 555, and probably the most frequent of late, the 620 (from Bridgeport to the Tsawwassen Ferry Terminal).
The appeal of the double decker buses is their capacity; each of the two test buses has its own seating configuration, with one allowing 80 riders seated, and the other 85. Overall the buses offer about double the capacity as the coaches and other buses being used on these longer routes.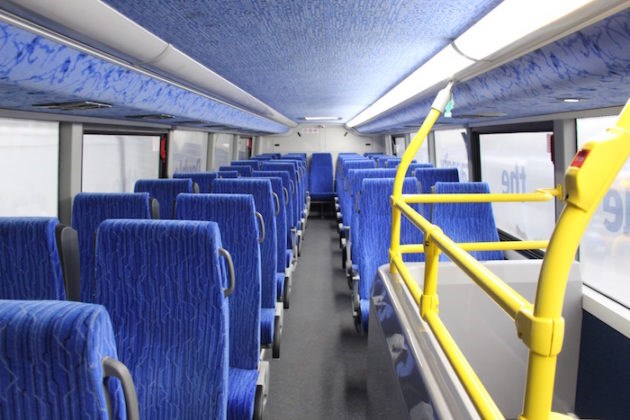 One drawback passengers have pointed out repeatedly is the exterior wrap of the test buses that obscure the view from the side windows–hopefully when the buses are dressed up like regular TransLink fleet members this won't be necessary.
On the operational side, plans to run the double decker buses on routes like the 601 through South Delta have been put aside for now, as it has not proven feasible to raise all of the power lines for clearance.
The double decker buses can match the speed and handling of the other buses being used on these commuter routes, too, though riders during the testing phase may note that as drivers learn the new equipment, they are being a bit cautious.
If you are still hoping to hop on board you can find out where the double decker test buses are running by checking in with TransLink via Twitter, or you can look more immediately for where they are via this cool real-time bus map–the double deckers are fleet numbers 1008 and 1009.