Sitting on the sunny patio of a north Richmond coffee shop, Jill Raymond has some big ideas brewing for the arts community in her adopted city.
Whether Richmond's palate is ready to sample the delights that multi-talented actor/producer/instructor Raymond has in store is quite another matter.
Having left behind an unfulfilling life in London, England in 2013 – where she found herself working full-time in unfamiliar territory as a real estate agent – Raymond is loving life in Richmond and is making ripples in the city's growing arts scene.
She was one of the first artists to work and live in the purpose-built arts village, on the first floor of the Concord Gardens Development at Sexsmith and Patterson roads.
Now Raymond teaches the City of Richmond's musical theatre and drama programs, as well as instructing at Bright Stars in Vancouver and running her own PR company for touring artists.
And in the works is the latest offering of "Hysteria" a production from her progressive (and now registered non-profit) Direct Theatre Collective, a show which last year depicted how future technology mitigated hysteria towards the #MeToo movement.
Leaning forward in her patio seat, an excited Raymond said she would consider testing "Hysteria 2.0" (its working title) on a traditionally conservative Richmond audience.
"I would like to do a couple of smaller performances (of Hysteria 2.0), as I get the sense there are less companies pushing those boundaries in Richmond," said Raymond.
"The mandate of Direct Theatre Collective is to evoke and provoke reaction and to ask questions and look into societal change through theatre. I haven't seen anything in Richmond that's doing that. It's quite a conservative city.
"We were going through the (Hysteria) script to basically build on it, improve it and add more feedback on new characters.
"It has to evolve to keep up with the discussion. It was changing so rapidly, but a few months ago, everything went quiet. Now we have the anti-abortion movement front and centre.
"But it's a balance. You have to think about getting bums on seats, but there's also a responsibility to challenge people's ideas. I don't think (Hysteria is) too offensive or too wildly out there for Richmond."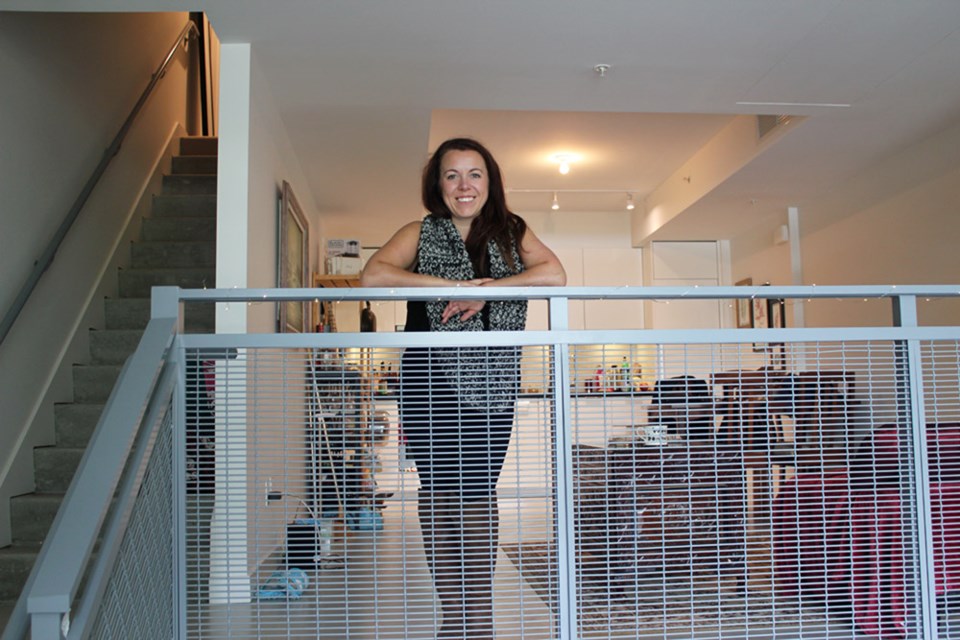 Raymond said she's an entertainer and an artist, who wants people to come to the theatre and "have a good time. But I want them to go away with something to think about.
"The dream for me is performing art that grows ideas outside. Art can make people have those conversations in ways that nothing else can."
Before Raymond – a native of Newcastle, England, who has dual citizenship through her Canadian father - came to Vancouver in 2013, she was having, what she called, a "crisis of conscience."
"I was actually working in real estate. I decided art was a bit of a pipe dream. I was working three jobs that I hated," she confessed.
"I just kind of lost my drive. I thought I would have time to do my music on the side. But I was miserable, because I had no time to do anything on the side.
"Then I found myself without a job in London in 2012 and thought, 'what am I doing with my life? Why am I headed in this direction? I never wanted to be an estate agent (realtor), what's that about?'
"So I realized there was no reason to stay in London. And I've always felt an infinity with Vancouver. I love the coast, coming from Newcastle."
Unfortunately for Raymond, the lion's share of theatre work in Vancouver is unpaid, unlike in Toronto.
"I'd no idea if I was going to be here for six months or what. But things started falling into place really quickly," she added.
"I was walking along Broadway, handing out my CVs (resume) to bars and restaurants. A car pulled up in front of me, which had information on it about a drama school for kids in Vancouver.
"I was taking down the information, but this woman got out the car, she was the owner of the company and I spoke to her. Her instructor was moving to L.A. in two weeks. Within two weeks, I was working there."
Raymond said she was also working at Starbucks for a little while, before getting the current gig with the City of Richmond.
"The balance tipped where I had enough teaching work that I didn't have enough time for Starbucks," laughed Raymond.
"All my work links back into either nurturing young artists or helping established artists. I feel very good about where I am right now."
As for the performing art studio/apartment she now calls home in Capstan Village, Raymond said she's beginning to see the green shoots of an artists' village among the high rises that the city envisaged a few years ago, when planning permission was given to the developer.
"There is still a lot of construction, but the artists are all still working together, helping each other out," she said.
"We're trying to organize something like a car-free day, so we can close off the streets and have an exhibition of everything we have to offer.
"I don't think people living there really know what's going on yet. There's still a lot of construction and another tower is being created.
"And we can't put up notices or advertise within our building because of the strata rules. There is maybe a little bit of detachment from what the city wanted us to be doing there and what the strata will allow.
"But I think people are interested, so it's a little bit of a shame we're not able to showcase ourselves more."
The demographics, language barriers and many suspected vacant apartments are also challenges being faced by the resident artists.
"Some things take time. And I think this is one of them."