"I tell you I've got to paint.
I can't help myself.
When a man falls into water it doesn't matter how he swims, well or badly:
he's got to get out or else he'll drown."
-- The Moon and Sixpence
This is what the main character of the classic novel The Moon and Sixpence said made him give up everything in life to become a painter – it is also a statement agrees with Richmond resident Pierre Vassura.
Vassura, 83, retired early 30 years ago after a career as a ceramic engineer and decided to pursue his long-time inner passion for painting full-time in his little home studio, until today.
Having created thousands of paintings and statues, Vassura has barely shown his work to people other than his wife, until they were recently discovered by two local curators.
Now his first solo exhibition, Pierre Vassura: New Work 1983 – 2018, is on display at Richmond Art Gallery until Jan. 20, 2019. Admission is free.
"I hope people can try to understand it, to appreciate the work of a human being, the work which has been done relentlessly without any commercial or economical push – which has been done freely for so many years," Vassura told the Richmond News.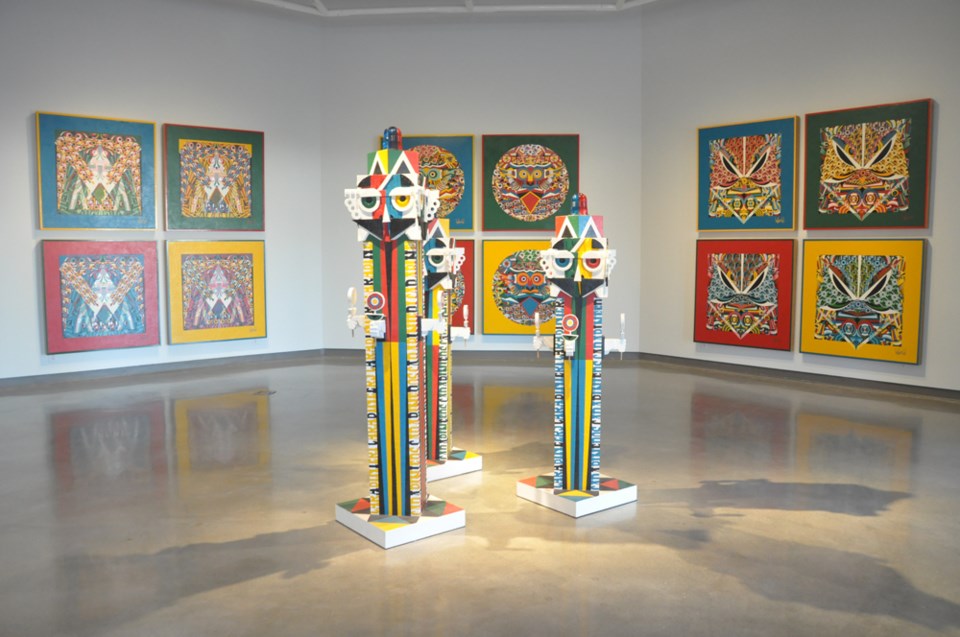 Vassura describes his work as analogical formalism, which grabs people's attention easily with the vibrant use of colour and a strong graphic style.
"I like bright colours, because it gives life. The world is grey, it should be more colourful, that's my way of seeing things," he said..
Vassura said every piece is an analog of the other one, because he found that everything – human groups, ethnicity, cultures – are all analogs, similar but different.
"They (the paintings) all have a sense of gravity in the centre, then it develops; it explodes," he said.
"What is this sense of gravity? It is empty. When it's empty, it is beauty."
Vassura grew up in a small town in Italy and has lived in multiple cities in Europe before moving to Richmond in 1980. He likes to revive characters and stories from ancient tales in his paintings giving his own interpretation and imagination. 
One of his painting series in the display has 10 pieces and each represents a book from The Divine Comedy, a long narrative poem and milestone of Italian literature written by Dante Alighieri in the 1300s. Another painting series come from the famous Aesop's Fables.
"We are living in a technological world, and we are forgetting the humanism of the world...We've been treated as machines and used as machines," said Vassura, who doesn't use a cellphone or computer.
"The histories and tales of the ancients are forgotten. Why not bring them to life again? I try my small part to do this."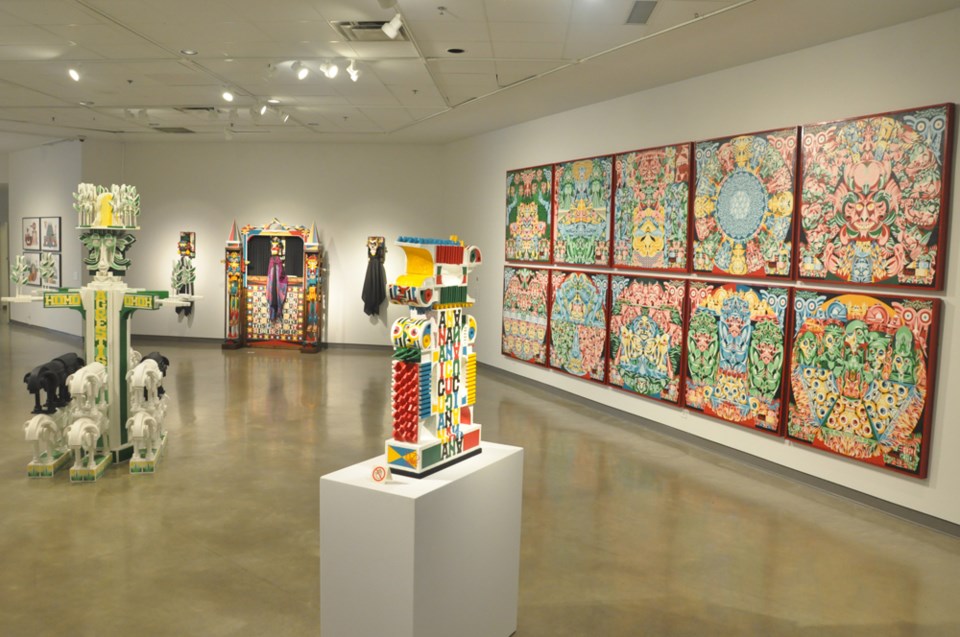 The exhibition also includes sculptures and a dozen puppets created by Vassura, recalling the memory of his childhood when he would sit for hours in a park near his grandpa's house, watching a street puppet show.
In one of his statue sets, he presents the Carabinieri, the national police in Italy, but Vassura changed the stop signs in their hands to flowers.
Vassura said he is glad more people can see his work through the exhibition, and he will continue his "lonely occupation."
"The work is done for the satisfaction of the moment. As long as I live, I will continue to work. Whether people like it or not, I have to do it. It's a must in life. It's the reason for life," said Vassura.
"It seems today everybody wants their work to be easily done, wants to have more money than work can provide. Many forgot that when you work hard on something, you will be rewarded, even without money."