The long and winding road isn't just a Beatles song. It's exactly what you'll be on if you're making the drive from the southern tip of the Okanagan back to Metro Vancouver along Highway 3, the Crowsnest.
The town of Cawston isn't "blink-and-you'll-miss-it" small, but if you don't know there's a phenomenal farm-to-table restaurant off the main drag, it's easy to pass through and think the area has not much more than produce stands and ice cream cones to offer.
Row Fourteen, the restaurant venture of Klippers Organics farm, is putting Cawston on the map. Opened in 2019, Row Fourteen can definitely take a lion's share of credit for why tourism is blossoming in the Similkameen Valley town, as it has - rightfully so - become a destination for those in the know. And, frankly, more people should know about it.
The philosophy of Row Fourteen is simple: Grow it, cook it, use it all up, and make it delicious.
To that end, the menu changes daily and is influenced wholly by what's at hand, and, of course, what's in season - or in the larder.
In the Row Fourteen kitchen is chef Derek Gray, a former Vancouver chef who got to know farmers Kevin and Annamarie Klippenstein when they'd bring their Klippers Organics products to the city to sell at farmers' markets.
Gray and the Klippensteins forged a friendship rooted in a passion and respect for working with local produce and food products. Over the course of a couple of years, they developed a plan for a restaurant so profoundly tied to the land that it is situated in the orchard on the Cawston farm - where "Row 14" of the trees used to be.
Serving lunch and dinner, the restaurant is a beacon to anyone who yearns for a respite from the typical road fare - you know, when you can't stomach another bag of chips from the gas station or don't want to choose between fast food mega-chains. But Row Fourteen shouldn't be seen just as an alternative; it is, in its own deserving right, a destination.
Menu changes daily at the restaurant
Guests at Row Fourteen will ease into their seats indoors, or, weather-permitting, on the patio, and can choose the pace of their meal. The daily menu always includes smaller and larger plates, ideal for sharing, with an option to do a chef's tasting menu, called the Harvest Menu. "Sit back and let us cook for you," entreats the menu.
Certainly, if you can make the time, the Harvest Menu is undoubtedly the way to go, in order to get the best bites of everything at its peak that Gray and his team are working with. However, ordering a few plates a la carte is also a surefire option (and might be the way to go if you're on the tail end of a longer trip and have already been indulging pretty hard; a familiar scenario for many who travel to eat).
On my most recent visit, the Row Fourteen kitchen was putting to great use mid-spring ingredients, easing ever-so-slowly towards the bigger flavours of summer - lots of mushrooms and tender greens. One such green was something I'd never heard of before, a foraged "false lily" also known as "Solomon's seal." The tender stalks - akin to a mild green onion meets spinach in flavour - were served with creamy mashed beans and a robust house-made xo-style sauce with bison meat. It's worth noting that the Okanagan-based forager Row Fourteen works with is none other than the brother of a well-known Island-based forager, Top Chef Canada winner Paul Moran.
Other dishes of the day were melt-in-your-mouth tender handmade gnocchi with a meaty ragu and juicy and plump pork sausages with polenta and greens.
In addition to the must-order freshly baked bread with smoked butter, Row Fourteen has a burger that is a steady feature on the menu. I was wise to order it on a previous trip when it was made with dry-aged beef (in late May it was bison) and it was rich, meaty, and satisfying, complete with their own ketchup and a hearty potato salad on the side.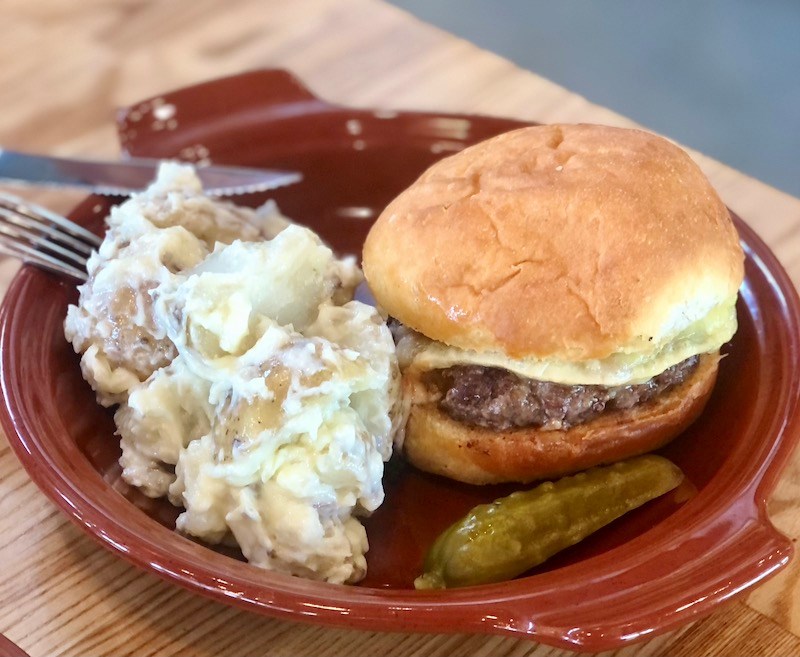 Thanks to B.C.'s wet and gloomy spring, Klippers is among those farms waiting longer than usual for some crops to come in, but that doesn't stop them from bringing flashes of seasons past to the table thanks to previous harvests and preservation. Last year's stone fruit show up in dessert, which was a tender slice of canola cake (a more Canadian nod to a olive oil cake) with ice cream, walnuts and a tangy kick of spice.
Row Fourteen also shares space with Klippers' cider tasting room, and they have jarred products from the farm for sale, like tomato jam or pickles. You can also do a cider tasting, or opt to pop into their newer marketplace and cafe down the road for more grab-and-go items, still made from their farm-fresh produce and local ingredients.
Wineries, cideries, and recreation are increasingly bringing more people into Cawston - in fact, Klippers has guest suites for rent for people looking to spend more time there. Whether you're there for a while or just passing through, Row Fourteen is more than reason enough to be in Cawston.
Row Fourteen is located at 725 MacKenzie Rd in Cawston, B.C. During the summer the restaurant is open daily, serving lunch from noon to 3 p.m. and dinner from 5 to 8 p.m.