Over the next month or so, if you see random groups of people in Richmond, clad from head to toe in colourful garb and waving their arms furiously at a TV, don't be alarmed.
If it's before lunchtime, it's highly likely you've just witnessed soccer fans from a specific country or ethnic origin experiencing the pleasure or enduring the pain of watching their team play in the 2018 World Cup in Russia.
Arguably the biggest sporting event on the planet kicks off in Russia on Thursday, June 14, with game times ranging from 5 a.m. to 11 a.m. Pacific time.
And, in Richmond, the natives of one country in particular are getting more excited by the day as the big kick-off draws near.
Case in point, Iranian-born café owner Zia Arfaee, who's hosting a special Persian-style breakfast buffet at his little eatery - in an industrial estate near No. 6 and Cambie roads - to coincide with the Iran v Morocco clash on Friday, June 15.
Neither Arfaee, nor his 32-year-old son, Sama – who helps run the family's Zia's Café & Grill – are holding out much hope of Iran getting out of the World Cup group stage (as well as Morocco, they face giants Spain and Portugal).
But they're going to make sure they and their regular customers enjoy every minute of their country's World Cup journey.
"There are lots of soccer fans around here, many of them are regulars," said Arfaee, 57, who has owned the café for six years.
"So many people here from different backgrounds and soccer is global; it's so much bigger than hockey, basketball and American football.
"So, for Iran's first game, I wanted to do something special with the full, Persian-style breakfast buffet.
"But it's open to anyone and you don't have to take part in the buffet, you can still come and watch the game and order what you want."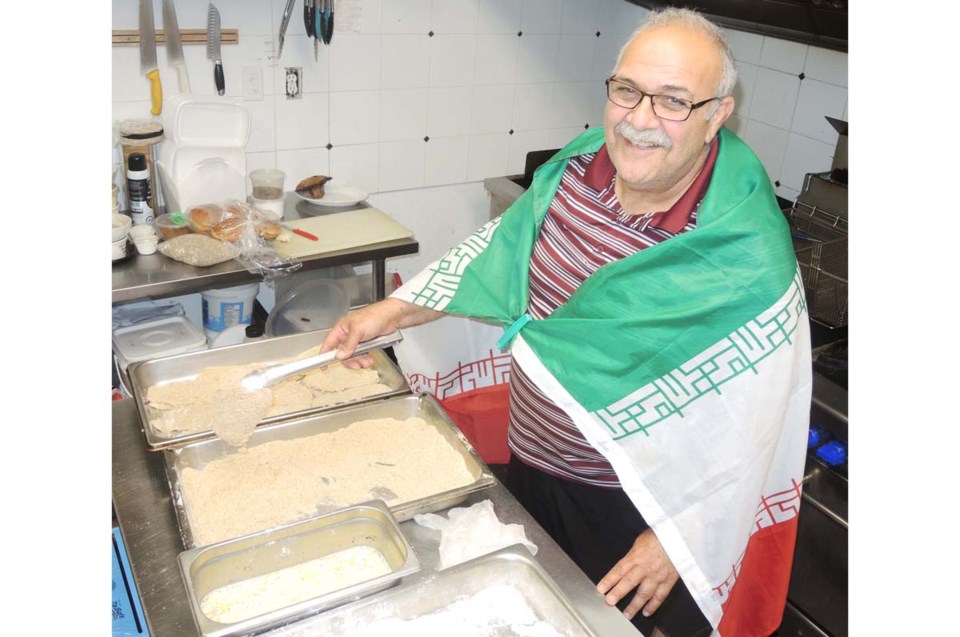 As well as Iran, the flags of Mexico, Switzerland, Germany, Argentina and Portugal festoon the walls of Zia's Café, which mainly entertains a breakfast and lunchtime crowd in the estate.
"We're hoping for lots of soccer fans to come in and enjoy the fun," added Arfaee, who came to Richmond from Nova Scotia (where he was head chef in a five-star restaurant) in 1995, after leaving Iran in 1978 to study in India.
As for Iran's chances in the World Cup?
"If we defend well, you never know, as long as we're competitive and as long as they're not star-struck against the likes of Spain and Portugal," said Sama.
A better known Iranian import to Richmond is Davood Khatami, the long-time proprietor of Davood's Bistro in Steveston.
As is the case with most World Cups, the German-loving Khatami is beside himself with excitement and, for various reasons, isn't too sure who to root for this time around.
"I always support Germany and I'm very proud of Iran for getting to the World Cup for the second time in a row," said Khatami, who's planning to open up the bistro for most, if not all, of the games.
"But it will be a miracle if (Iran) get out of their group against Spain and Portugal. I would actually love to see someone else win it for a change; someone like Mexico, Croatia, Uruguay, Serbia, England or Belgium."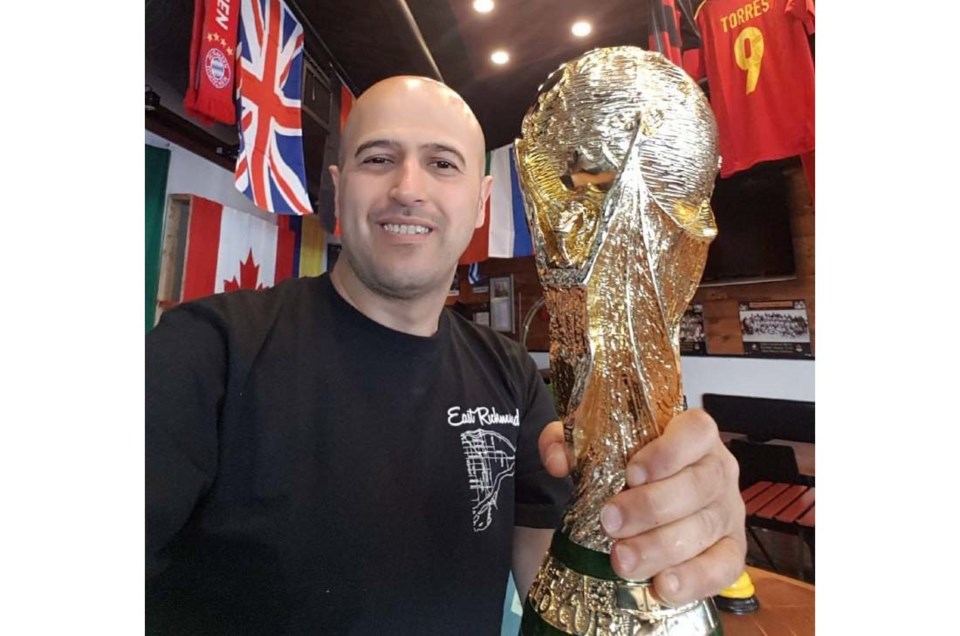 Khatami, in a jocular dig at his ethnic Dutch acquaintances in Steveston, added that he "wished Holland could win it but, wait, they're not there. Oops.
"Germany have won it so many times, I think we should let someone else win."
Two of the big days for Khatami, in terms of parties, will be Father's Day, Sunday June 17, for the Germany v Mexico game at 8 a.m. and Monday, July 2, with a potential round of 16 game for England, should it win its group.
"We're planning to go crazy for (the Germany/Mexico) game; we're going to have a buffet and prizes," said Khatami.
"It's going to be busy though, so I'd advise people to give me a shout first before they come, as we're not doing tickets or anything.
"This is the place to be for the World Cup for sure; come along and wear your jerseys and cheer on your country."
As well as World Cup entertainment in many cafes, bars and restaurants in Richmond, a local man, Dave Sommers, has organized a charity World Cup pool, with all profits going to the Canadian Cancer Society.
Entry forms, costing $20, are available and being accepted at Legends Pub, the Buck & Ear pub and the Best of British Store.
More information is available online at StevestonWorldCup.com.