Seated at the front of Rosewood Manor's enthusiastic choir were Mae Corbett and Eleanor Tucker, who were buzzing on sparkling apple cider to celebrate their home's 35th anniversary.
"It's such a wonderful place, I love it," said Tucker, with a grin as she held Corbett's hand with delight while clinking their glasses together.
The choir had gathered Wednesday afternoon for a special party that was to highlight the intermediate/complex residential care facility's foundation fundraising, as well as Rosewood's important contributions to the community.
"Over the years, the Rosewood Manor has been the standard for this kind of facility," said Mayor Malcolm Brodie at the event.
Rosewood is managed by the Richmond Intermediate Care Society, under the regulatory auspices of Vancouver Costal Health.
Administrator Deborah Goegan spoke to an audience of dignitaries, volunteers, workers, residents and family members about the continual need to raise money for facility upgrades.
When Rosewood opened in 1982 it was more a retirement home than a care home, explained Goegan. Over time, it has evolved into taking care of seniors who are nearer to the ends of their lives. Now, the average age of a resident is 87.
"We celebrate many 100th birthdays," said Goegan.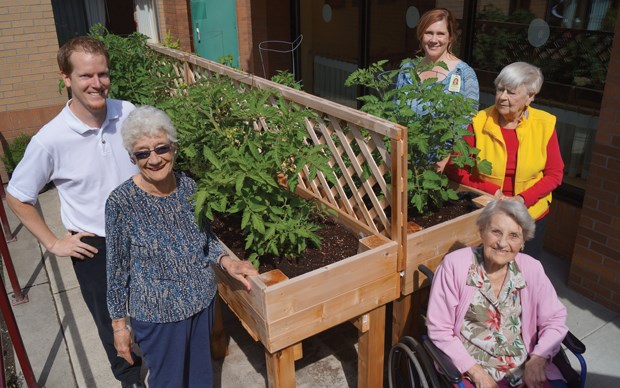 Part of the shift is aging at home policies being undertaken by the health authority and urban planners.
"Some residents lived here for 16-17 years. We know now they could have been living at home, with support," said Goegan
Natalie McCarthy, director of Residential Care and Mental Health and Addiction Services, said Rosewood's wellness outreach program has made a difference in the lives of countless Richmond residents and their families. She also noted the changes in types of care.
"Since those early days, Richmond's population has doubled and the community reflects a vibrant, culturally diverse demographic unlike anywhere else in Canada," said McCarthy. "Additionally we have the fastest growing population of individuals over the age of 75, in the province. These changes result in an increasing need for healthcare services." 
Just over 10 years ago, Goegan said Rosewood added a special care unit, which continues to evolve.
"Through this dramatic shift we have had to change our facility to care for these residents," said Goegan.
This means donations are always sought.
"Now a resident coming in, in their early- to mid-nineties, may stay six months to three years," explained Goegan. "It's made us look at our building and to redesign everything, to meet those care needs by trying to open up doorways, making it a home-like environment, building our special care unit to care for them in a quiet atmosphere where they are not having anxiety or agitation."
A recent round of fundraising has been dubbed 'Let the Sun Shine,' as it aims to fund window replacements and upgrades.
Over the years, Rosewood has added solariums, created interactive gardening, rebuilt its dining room and done a number of technical upgrades such as sprinkler systems and plumbing.
Goegan noted as residents have aged, there's been a greater need to rebuild the rooms to better tend to patients suffering from dementia. For instance, smaller individualized rooms are best for sundowning patients, who suffer from bouts of anxiety and disorientation in the late afternoon.
Goegan thanked the society's many volunteers and contributors, among them Dr. Gary Koss, who has been the residence's medical advisor since its opening.