Many are homeless, some are living in their vans, a few are new immigrants on low incomes, including single parents, while a handful are simply looking to feed on a scrap of social interaction.
Despite the gloomy picture being painted, you wouldn't know at first blush that patrons among the 120-strong crowd at St. Alban's weekly community meal were carrying the world on their shoulders.
Indeed, for the majority, the hearty two-course dinner of meat loaf, mash potatoes, carrots and bread, followed by chocolate brownies, is the highlight of their day.
Sure, not all are engaged in chatty conversation at their tables and some shuffle in and scurry out of the free, 45-minute feast, after sitting in the same place with the same people in the church hall.
But what the eye doesn't see is the most important ingredient of all – the feeling they walk out the door with that each and every one of them matters to their community.
"Some have been coming for 15 to 16 years," said Jacky D'Souza, St. Alban's Outreach and Advocacy community meal coordinator, who has been volunteering at, or organizing, the Tuesday meal since 1998.
"In the last few years, I've seen more Asian people, but we have people coming from Vancouver, Surrey, Burnaby.
"But this means so much to many of them. It's so important. We try to get them to mix a bit. We tell them it's a community meal and they need to get to know the people in the community more."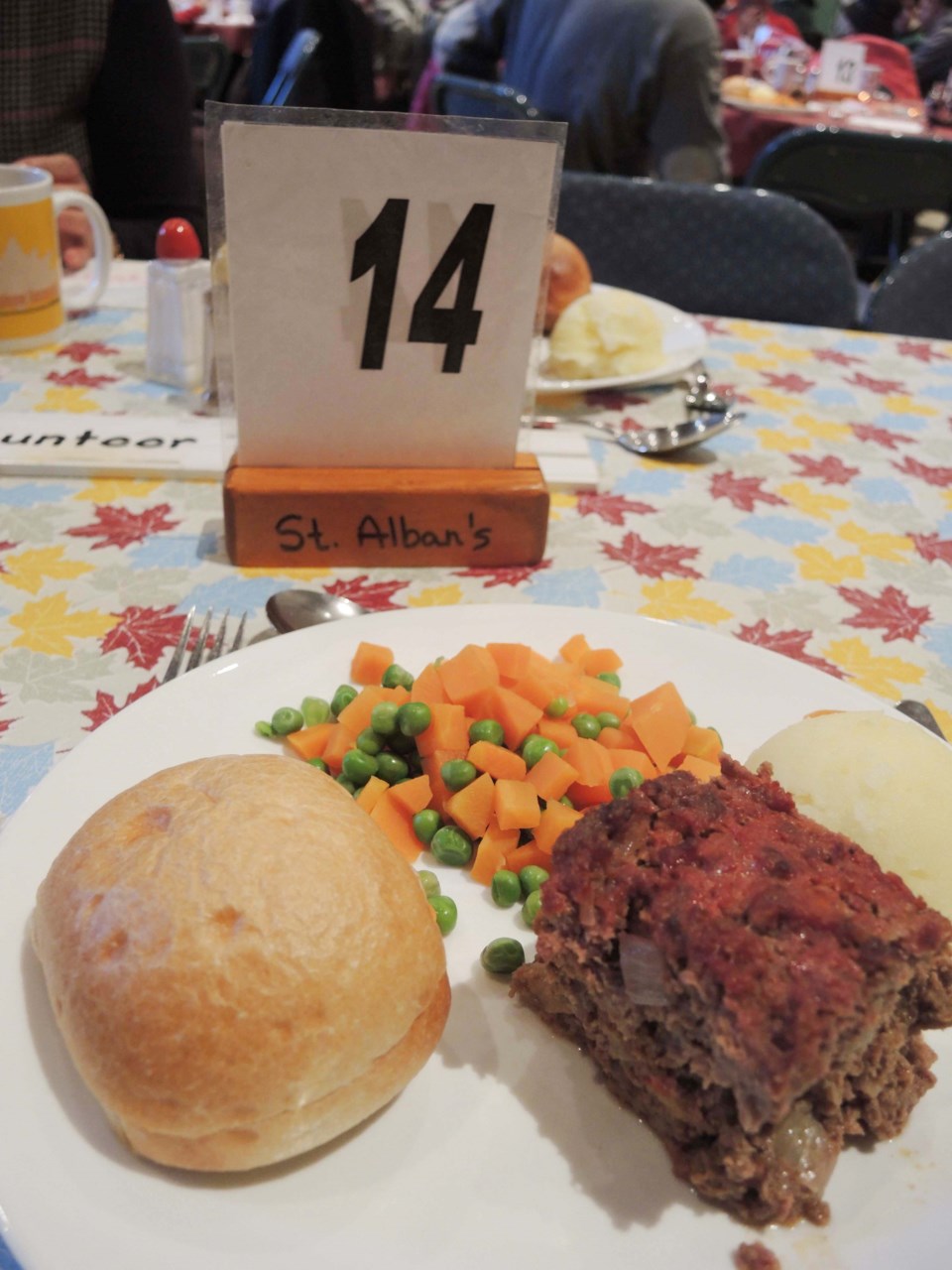 D'Souza said it costs the donation-fed program about $7 per person at every meal, with around 160 to 175 people on average every Tuesday, including 40 or so volunteers.
So with the outreach program's annual fundraising dinner a little more than two weeks away, the need for help from the community is greater than ever.
D'Souza said, as well as ticket sales, they are looking for silent auction items for the $35 a head, Nov. 16 dinner, which includes entertainment, beer/wine sales, with all proceeds going to the outreach's community meal, Friday lunch, Saturday morning shower and meal delivery programs.
For people such as Steven, who has been coming to the meal for several years and is now a volunteer, the Tuesday dinner is something he looks forward to.
"I'm single, so this is basically the only time I won't eat alone," he said with a huge smile, joking that he's the "chair-person" at meal, in so much he helps put the chairs away at the end.
"I live close by, about 250 steps. I have a full-time job in Richmond. But I used to teach sailing. I sit at the same (volunteer) table every week. I know most of these guys."
Most of them, added D'Souza, do the "community meal tour" of the town, with other faith-based organizations offering free meals on other days of the week.
For tickets, which are only available in advance, call 604-278-2770, email Office@StAlbansrichmond.org or go online to StAlbansRichmond.org.