Bursting with excitement and bubbling with anticipation, the Grade 1 students at Walter Lee elementary wait impatiently for the star of the show to enter their circle.
However, it's not Santa Claus, Mickey Mouse or even Richmond's own Charlotte Diamond that's about to make a big entrance.
Within seconds, the main attraction, in the arms of her mom, Sarah Hudson, crosses the threshold into the classroom and a hush descends over a now captivated audience.
Baby Natalie – who's not even been on the planet for nine months – is in the house and is taking it by storm in her "pretty in pink" headband and zebra-striped pants.
A few moments later, to the tune of the class's "welcome baby" anthem, Natalie is doing the royal rounds, meeting and greeting each and every student with her customary smile and wide-eyed stare.
It's all part of her monthly visit to teacher Wendy James' class, thanks to the non-profit Roots of Empathy program, which aims to connect the children to the baby, learn from them, and develop empathy and social-emotional skills through observation, conversation, drawing and reading.
"They love it; they cannot wait for Roots of Empathy days…and when it's the baby day, it's unreal, they are so excited," explained James, who has been allowing Roots of Empathy volunteer instructor Rikki Chakrabarti into her classroom for the past three years.
"Anything that engages the kids is fantastic. I think they really learn how to read body language and facial expressions.
"Throughout the program, they learn that if someone has a frown, they're likely not happy about something, and they can then transfer that into their own playtime.
"If you see someone with an upset look on their face, they might think, 'OK, what does that mean?'"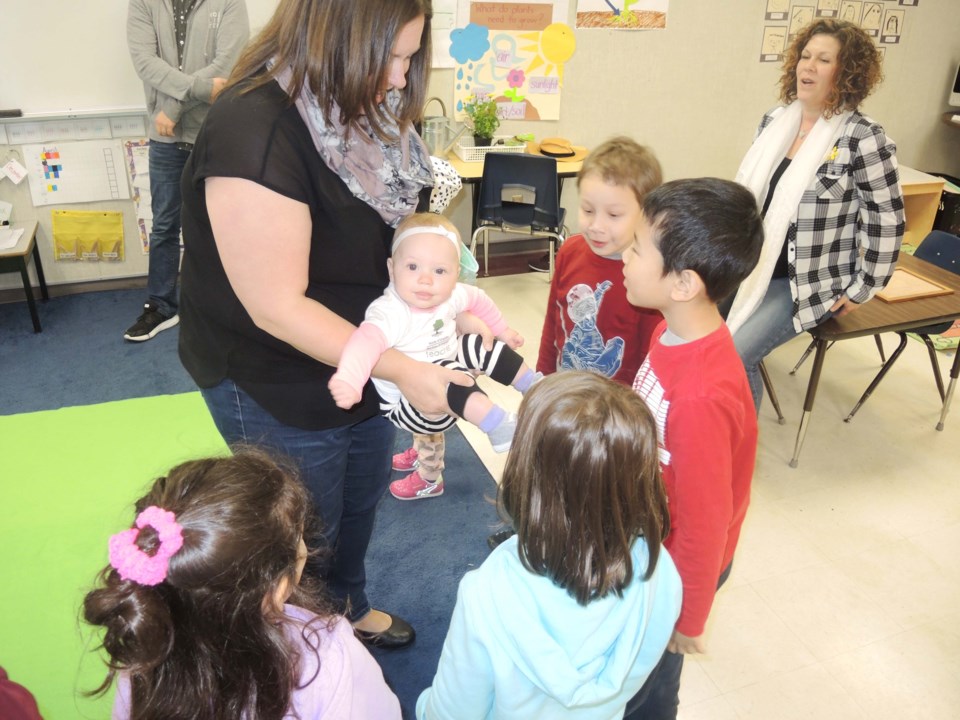 One of James' students in particular is, quite literally, feeling the love from baby Natalie, who has been rocking the Grade 1 class since October 2017.
Kelsey Chen was only partially sighted at birth, before losing her remaining sight to cancer.
Kelsey uses brail to read and, for the first time last week, read out loud to Natalie from her book.
While she's reading, an educational assistant narrates to Kelsey what kind of reaction is being solicited from Natalie.
"(Natalie is) bringing kids out of their shells and captivating them with her every move," added James.
"They're totally engaged, learning Natalie's behaviours and seeing her develop."
Moments later, Natalie started to crawl across the green mat laid out in the centre of the student's welcoming circle.
There were open mouths all around. This was the first time they saw Natalie crawl.
Peek-a-boo games with the baby, rolling of balls to her and more sing-a-longs continued to fill the precious Roots of Empathy time slot in the class.
Once it's all over, however, and baby Natalie is saying her final goodbyes, teacher James will immediately launch into a challenging subject, explains Roots of Empathy's program manager for B.C. Sarah Dunham.
"The oxytocin levels are high and the cortisol levels (produced by stress) are low; it's a great time for subjects such as math, for example," said Dunham.
Dunham explained that the non-profit Roots of Empathy started in Canada in 1996 and spread throughout the world, entering B.C. in 2000.
"It's an evidence-based program, which means we have about 18 years of research on all continents. We work from a set curriculum; we need to have that, so we can base our research on it.
"The main thing is, we need to understand ourselves as humans before we can connect with other people.
"We have all this technology that connects us, yet we are not connecting with each other because we're not reading each other's signals or misreading cues or taking time to understand each other."
Roots of Empathy, added Dunham, "creates this safe area where kids can explore what they're feeling and explore their emotions; all emotions are fine, there's no good or bad ones.
"We're allowing these kids to see, in real time, what love looks like and when they see the mom, perhaps, picking the baby up and comforting it when it's crying, they can see the love.
"We're laying tracks in their brain so that, when they get older, it's easier for them to give that to their kids. That's what excites me about this."
Aside from Natalie's clearly popular monthly visits, program instructor Chakrabarti – whose own kids attend Walter Lee - drops in more regularly to read stories to the kids and create a place "where they feel comfortable sharing."
"One theme can be communication and we talk about different ways to communicate and how to read body language.
"And when baby Natalie comes in, it's like the real-life version of that. But even if the baby's temperament isn't as easy going as Natalie's, it's actually really good for the kids to experience that, as there's more to learn from.
"The first baby (in the program) was really reserved and many kids can relate to that. Kids are free to feel what they feel."
For Natalie's mom, Hudson, who teaches Grade 6 and 7 at the school, there is only positives from presenting her daughter to a group of excited Grade 1 students.
"I'm a teacher and have a direct observation of the benefits to the students. As a parent, I also wanted to learn from my experience and for Natalie to get socialization and get an experience with other kids. She very clearly enjoys coming here," said Hudson.
"She's all smiles and makes eye contact with them and focuses on them. It's heart-warming for me to see that."