Search "lunch ideas for kids" on Pinterest, and you might be led to believe that there's a world of kindergarteners happily munching on bunny-shaped cucumbers at school. In reality, packing a nutritious lunch that actually gets eaten (that part is key) is much more difficult than mastering a heart-shaped sesame seed cracker. To battle the "I forgot to eat" or "my baby carrots were wet" or "my sandwich touched the blueberries" excuses, opt for compartmentalized lunch kits that help kids exercise choice and control over their school meals which hopefully translate to them eating at break time.
Best snack and bento-style lunch boxes for 5-7 year olds
The first few weeks of preschool can be pretty nerve-wracking for small kids (and their caregivers), but allowing them to select a couple of their favourite snacks and pack them away in this small and manageable Sistemo To Go (ideal for half-days when a full lunch isn't required) could help them feel very independent and grown-up. $9.87 at Amazon.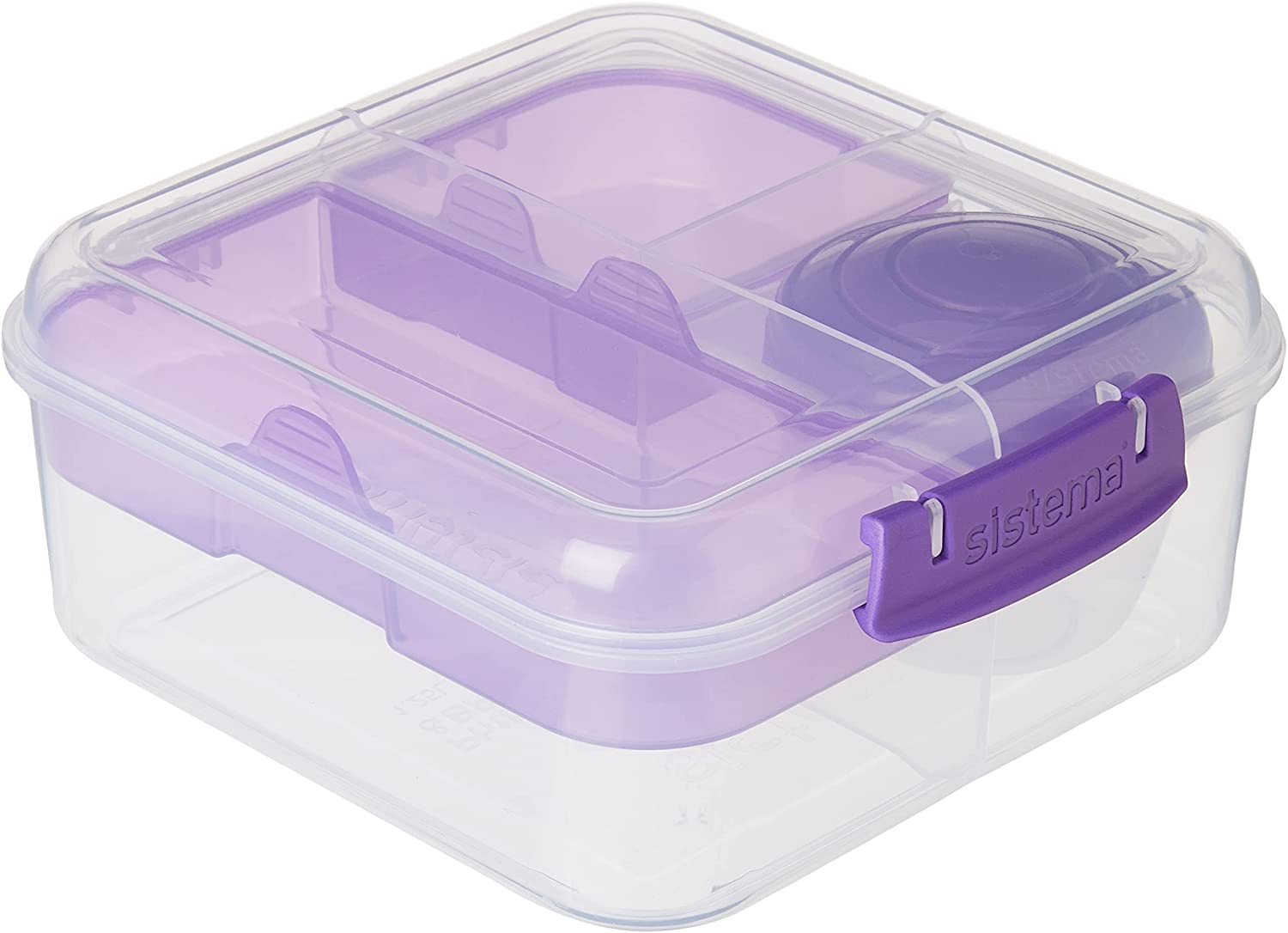 For little ones who don't like eating with their hands and prefer items like pasta or salad to a sandwich or wrap, this Munchkin Lunch Bento Box has 5 separate compartments and built-in cutlery that snaps to the inside of a lid so you can be sure that they always have a fork and spoon on hand without having to pack it separately.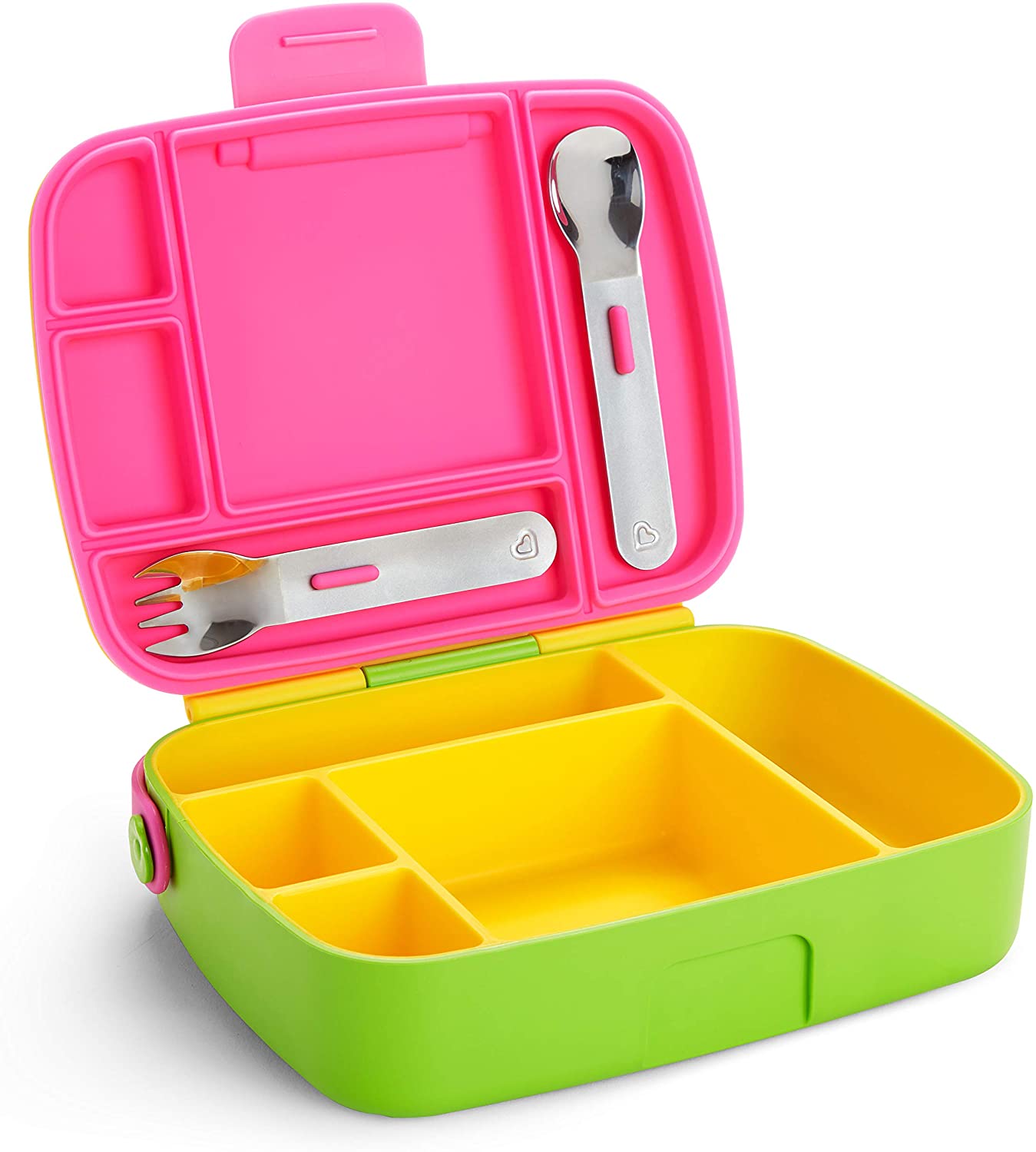 Best bento box-style lunch kit for preschoolers
Little Lunch Box Co Bento Boxes are great for small kids who warm up their food and like a variety of snacks. The simple design makes it easy for little fingers to open/close it, and there are no containers to fuss with, and dry/wet snacks can go in separate slots without fear of leakage. These are ideal for both selective eaters and small-portion grazers (with room for a bigger sandwich or wrap) with different configurations. The two-section container has a divider that can be removed, ideal for those who only need a half day's worth of food or a single big-ticket meal (like a sandwich) and one snack.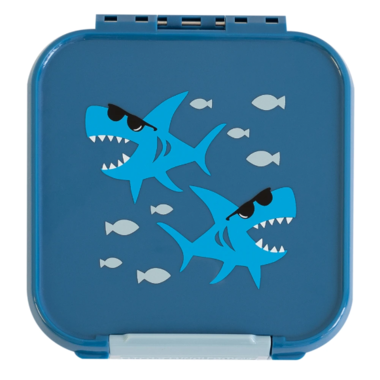 The three-section container fits a small sandwich or wrap and two snacks. As an extra incentive to actually eat their lunch, there are loads of kid-friendly themes, like puppies and paisley-print design..
Snack and lunch boxes for elementary-age children
The Thermos Freestyle Kit Lunch Box is really sturdy; the multiple compartments are great for mixing and matching an entire day's worth of food. The insert has four separate sections with removable pieces: two round containers (one medium and one small - ideal for condiments or dips) and two rectangular inserts (perfectly sized for sandwiches or carrot sticks). The snap lid has rubber dividers, so there's no spillage or leaks between compartments. (The blue is sold out, but purple is still available here.)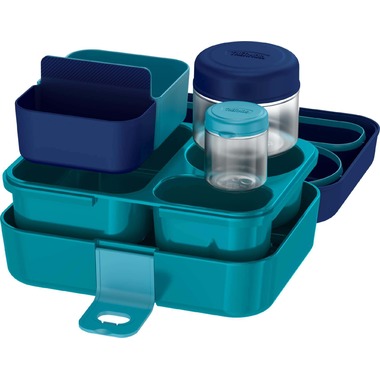 If going plastic-free is a priority, this Bentgo Kids Stainless Steel Leak-Resistant Lunch Box is both sturdy and safe. Its claim to fame is that it was the first leak-proof stainless steel bento box on the market and has a 5-year warranty (pretty handy for a product that gets carted around so much). There are three containers with a removable silicone divider, so they can be turned into 4 sections if need be. The outside is rubber-coated, and it is double latched for maximum protection in the backpack. The durable material comes with a higher price point than plastic and so it might not be a fit for forgetful kids. $59.99 at Indigo.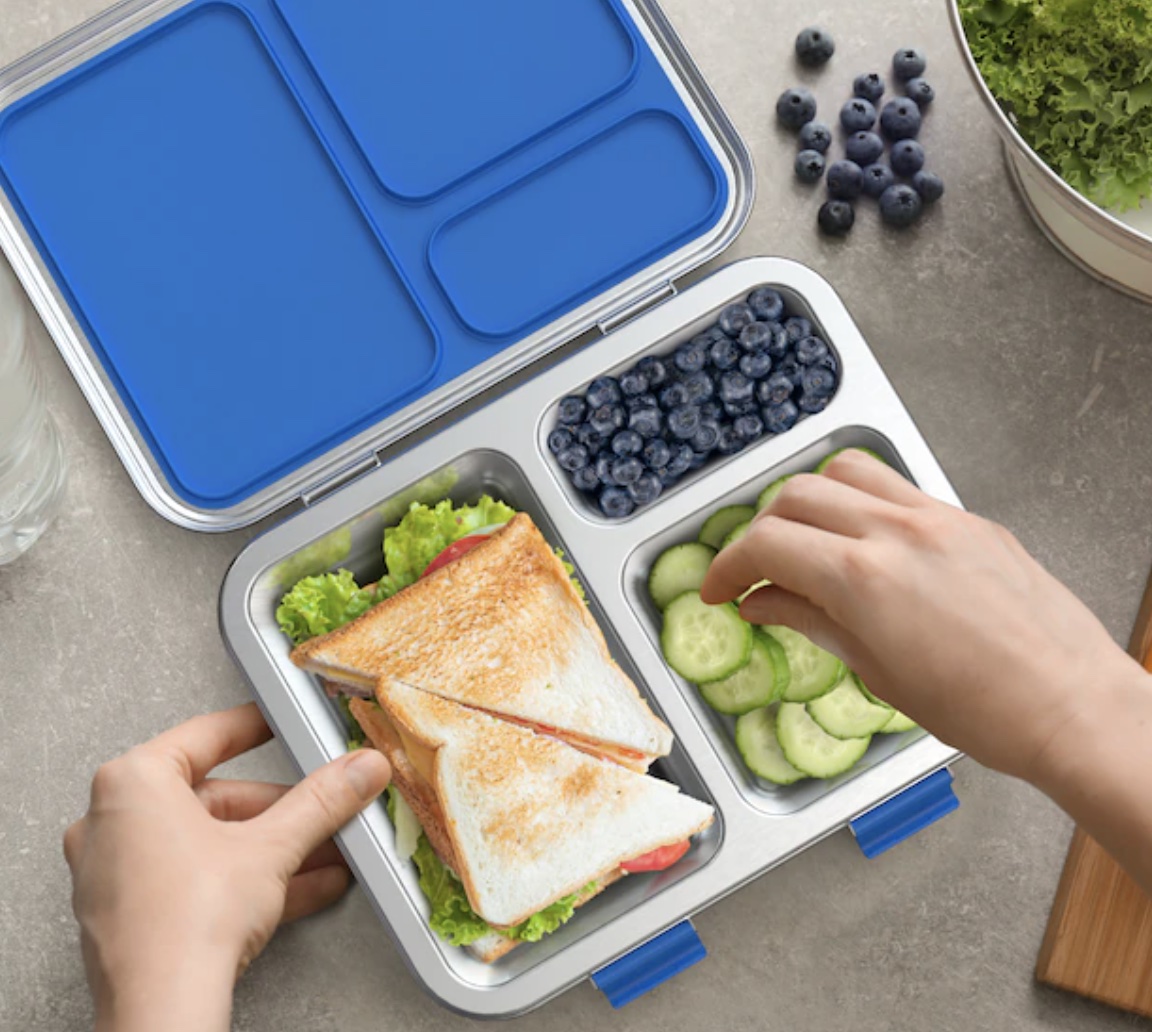 Snack storage solutions for all ages
If compartments are too constraining, this Sistema KLIP IT collection is easy to adjust into different configurations. The removable dividers are flexible enough to bend, creating different sizes and shapes for compartments - corner off a section for grapes or split it right down the middle for a sandwich. $16.52/three at Amazon.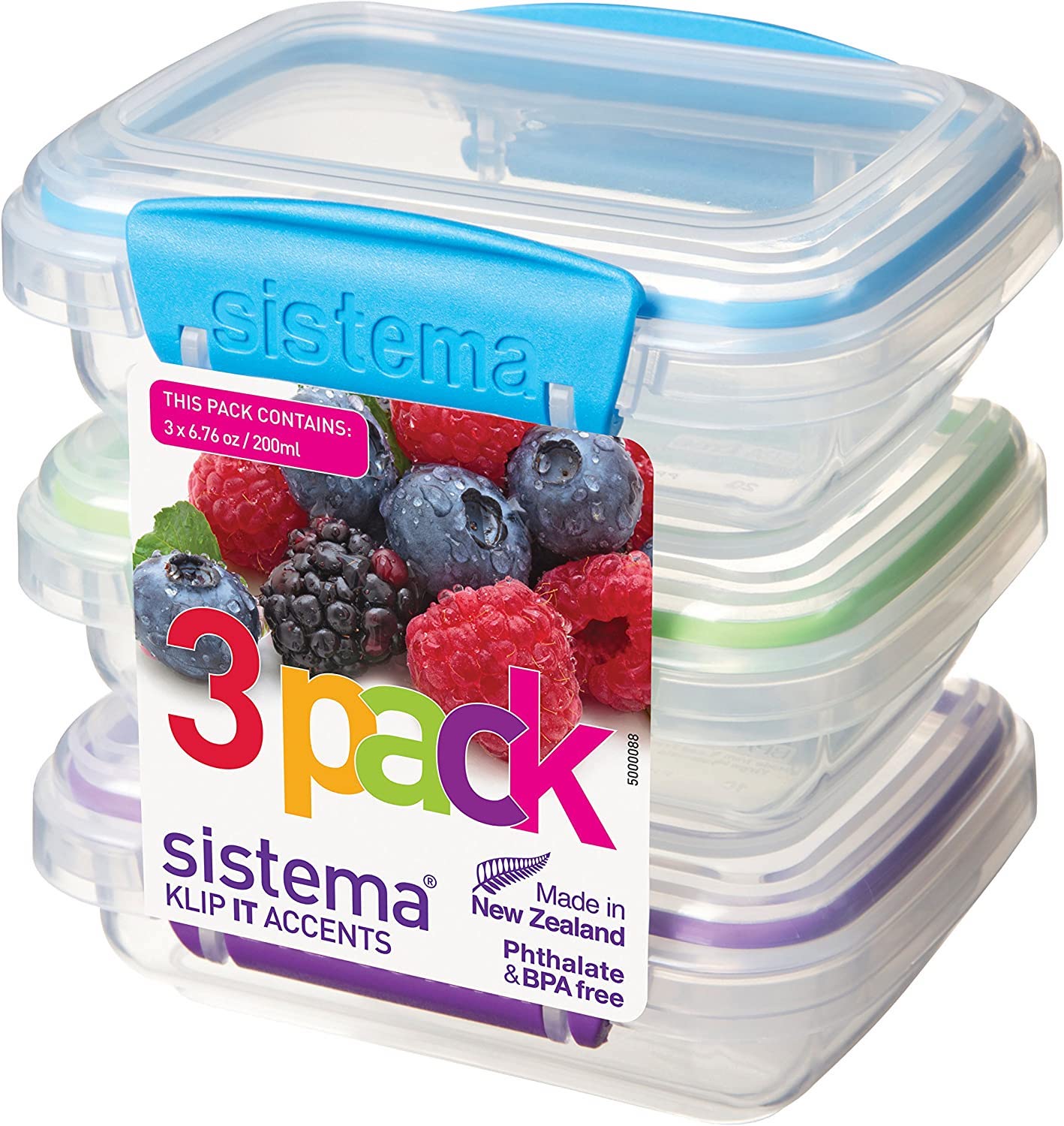 A stackable bento box bundle
For kids that can handle a more sophisticated set-up, there's the Original Bento Box bundle, which comprises two separate rectangle containers and a cutlery compartment, all held together but a thick elastic band. This is great for those who prefer an organized eating space and don't want to risk their food getting mixed. The lunch box containers are microwavable (but the partitions between them are not). $21.99 at Amazon.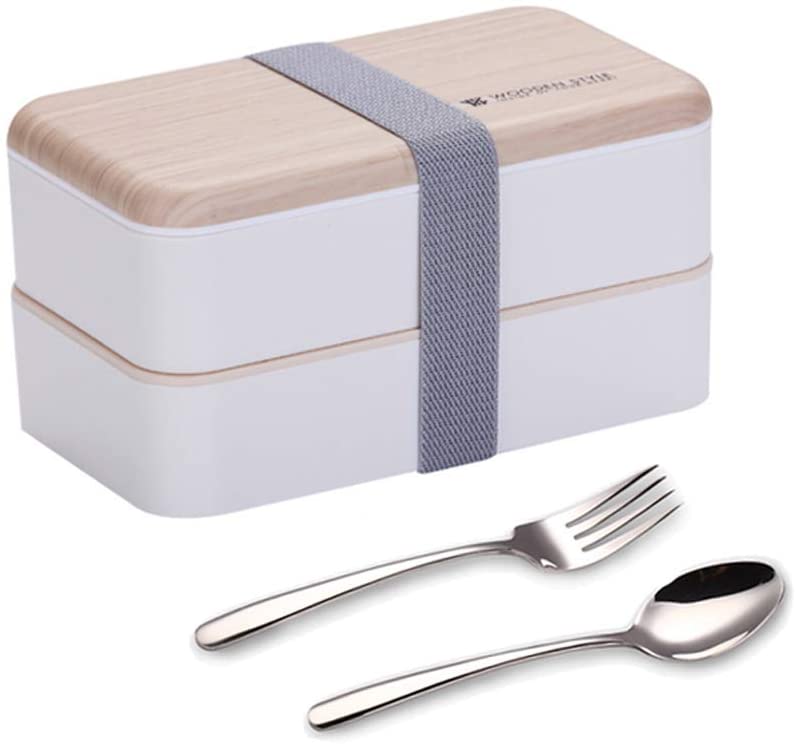 Snack and storage containers that don't cost a lot
Bento boxes are convenient, but they are also an investment (most go for $30+). If lost items are an issue for a school-age child or teen, a BPA-free Ziploc divided containers can be reused until it is ready to be recycled. If instead they get left behind on a field trip or at the library or who-knows-where, it's a manageable loss. $4.95/three at Amazon.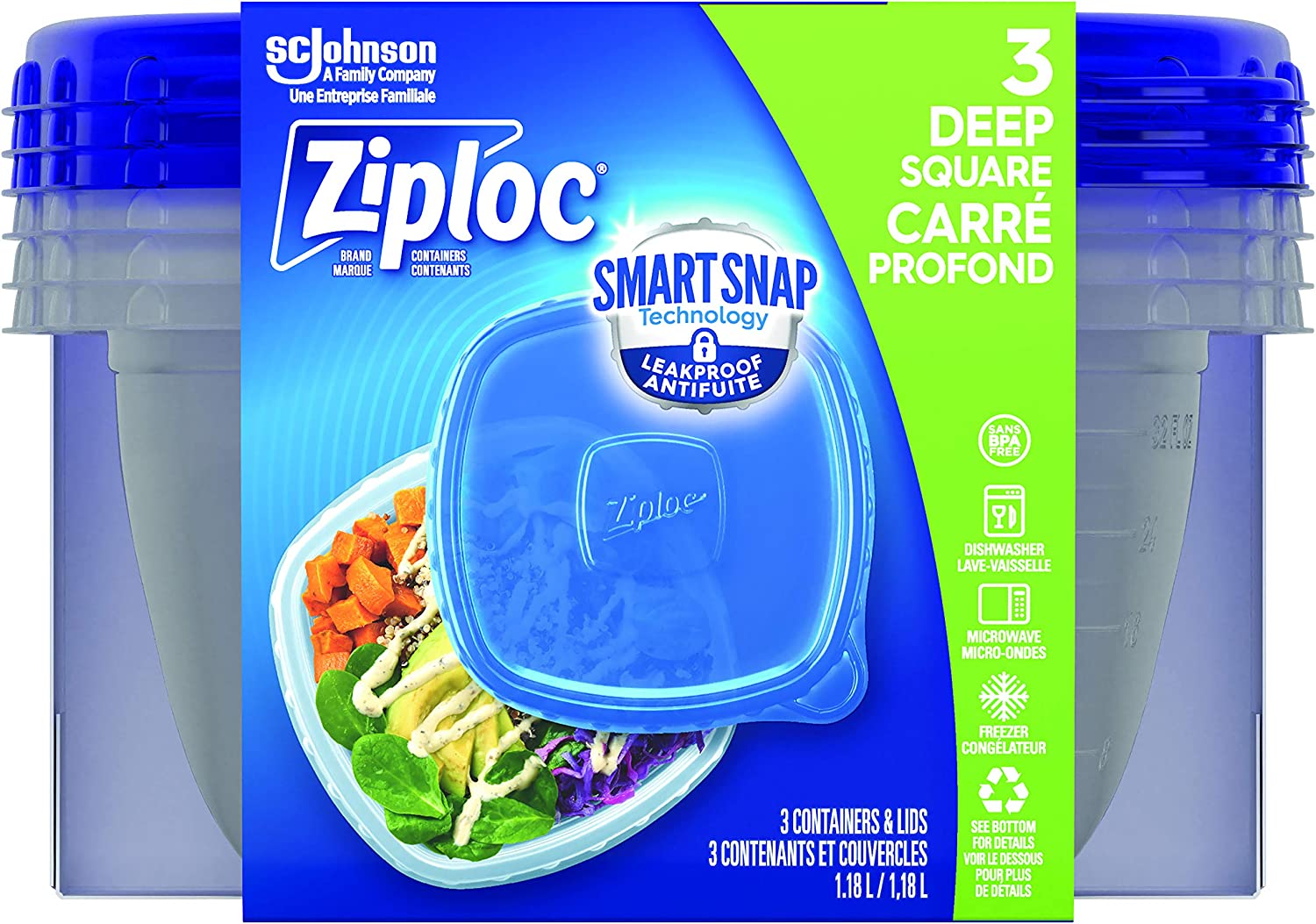 ​