There was jubilation from Richmond slates RCA and RITE, who celebrated getting two rookies and two incumbents elected to city council Saturday night.
Meanwhile, incumbents Derek Dang (Richmond First) and Ken Johnston (Richmond Community Coalition), appeared to be ousted from council. 
While a technical glitch at one polling station prevented final numbers from being posted Saturday night, this is what the total votes for each councillor looked like at publication time:
| | |
| --- | --- |
| Name of Candidate | Votes |
| Carol Day | 20871 |
| Harold Steves | 19136 |
| Chak Au | 18026 |
| Bill McNulty | 17242 |
| Kelly Greene | 16464 |
| Linda McPhail | 15521 |
| Michael Wolfe | 13627 |
| Alexa Loo | 13212 |
|   |   |
On seeing RCA and RITE, who joined forces a few weeks before election, now having four members on council, incumbent Carol Day said the "numbers speak for themselves."
"It's supposed to be our job to represent the people of Richmond, and I think some people have forgotten that."
RCA's incumbent and veteran Harold Steves won a seat on council once more, while RITE's fellow councilor, Carol Day, topped the polls with an impressive 20,871 votes, with one polling station and some advance votes still to be counted.
Fast Fact: With over 20,000 votes Coun. @CarolDayRmd has set a record for most votes in history by a #RichmondBC councillor, well surpassing @bill_4mcnulty in 2014 who had 17,417 #rmdelxn #steveston #bcvotes

— Graeme Wood (@WestcoastWood) October 21, 2018
The story of the night at the Richmond curling club, however, was school teacher Wolfe finally getting the nod from the public. This was his 10th attempt at being elected (four shots at city council, one at mayor and trustee and the rest at MLA and MP).
With every passing polling station being reported, Wolfe's lead over closest challengers Alexa Loo and Derek Dang grew, provoking loud cheers throughout the curling club's bar.
And, through no fault of his own, he may now be the man to finally convince 81-year-old Steves – who was first elected in 1969 – to retire at the end of the coming term.
Many years ago, Steves told the Richmond News that he would only consider retiring if "someone like Michael Wolfe got elected," referring to the pair of them being environmentalists.
"I would never wish that, but I'm very honoured that he would think that way," Wolfe told the News Saturday night.
Steves added, "I will keep fighting for the issues that matter for the next four years, but maybe I can now step back and finally look forward to retirement."
Steves also said he was excited to work with fellow RCA candidate Kelly Greene, who's "good on environmental issues."
The newcomer ran for the NDP in last year's provincial election, and comfortably won her seat on council Saturday.
"It has been clear to me that there has been an appetite for change and I think that's seen in the results," she said. "I'm humbled by the amount of support (I've received)."
Day, although being "shocked" to top the polls, said that now fellow councillors may have to start taking her more seriously.
"I feel fantastic. I spent four years bucking the trend; maybe now (council) will start to listen to what I have to say, instead of not even entertaining a motion I've made," she told the News.
Two Richmond First incumbents hang on to seats
Over at Richmond First's election party, the atmosphere was bittersweet as incumbents who got re-elected said it was hard to see their running-mates not return with them.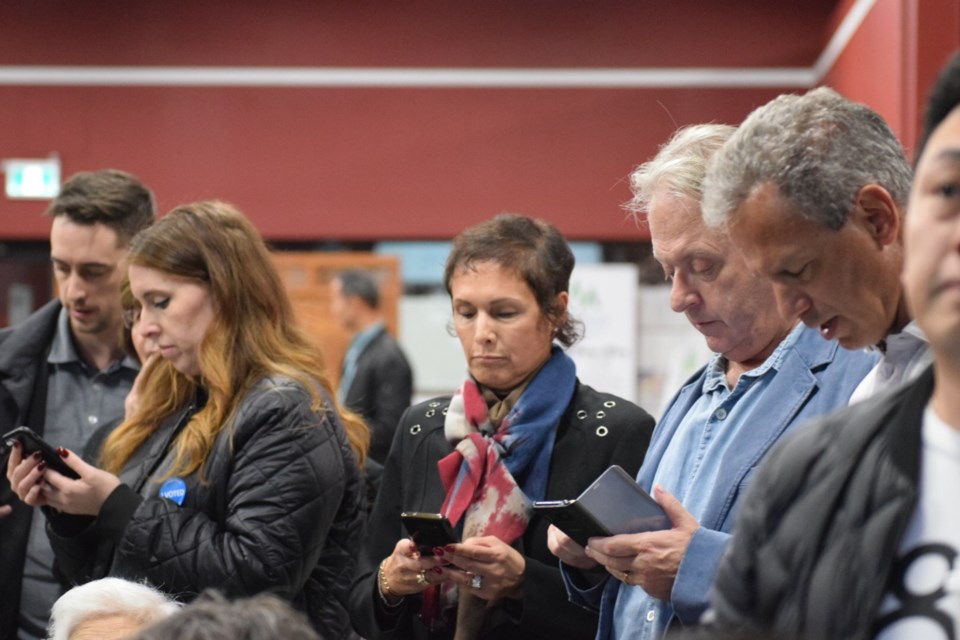 People trickled into the party with cautious optimism, entering the red-walled commercial space rented near Lansdowne Centre.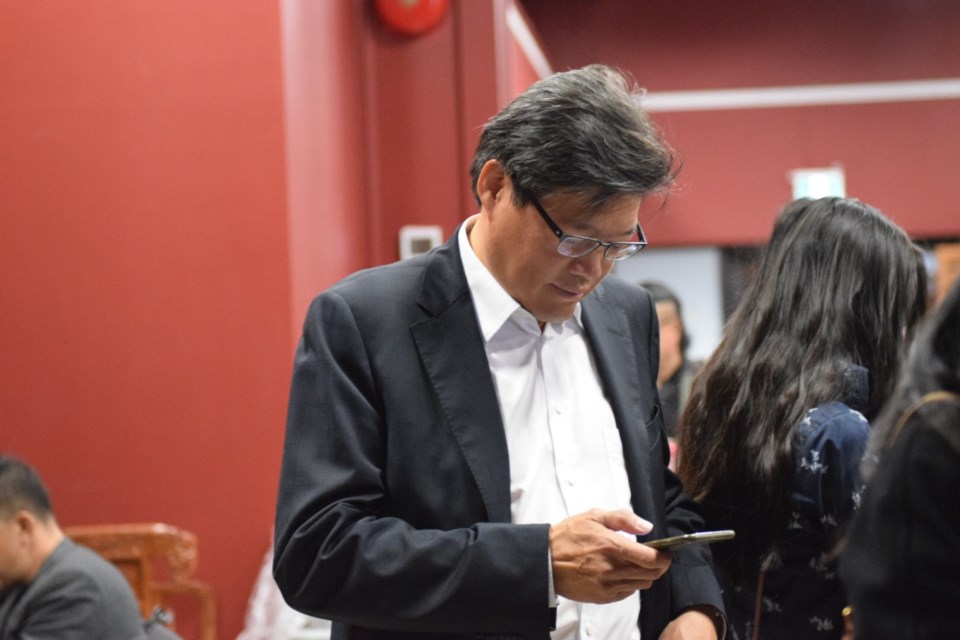 When results started rolling in just after 9 p.m., it was clear incumbents Linda McPhail and Bill McNulty would hold on to their seats. But things were dicier for incumbent Derek Dang, who trailed behind Alexa Loo by just 97 votes by the end of the night.  
Dang declined an interview with the Richmond News on his way out.
His running-mate, Linda McPhail, said she had "mixed feelings," since she's sad that more members of her team won't be joining her on council this time around. But she's still looking forward to her third term.
"I like to think that I'll be able to make the best of it. I do like to work with people and that'll be my goal," she said. "To work for all the people of Richmond."
She wants to focus on issues like transportation, affordable housing and city centre densification. 
McNulty, who held his seat, also declined an interview with the Richmond News.
Incumbent Ken Johnston ousted from council
Incumbent councillor Ken Johnston lost his seat, but his incumbent running-mate from the Richmond Community Coalition (RCC) Chak Au celebrated yet another victory.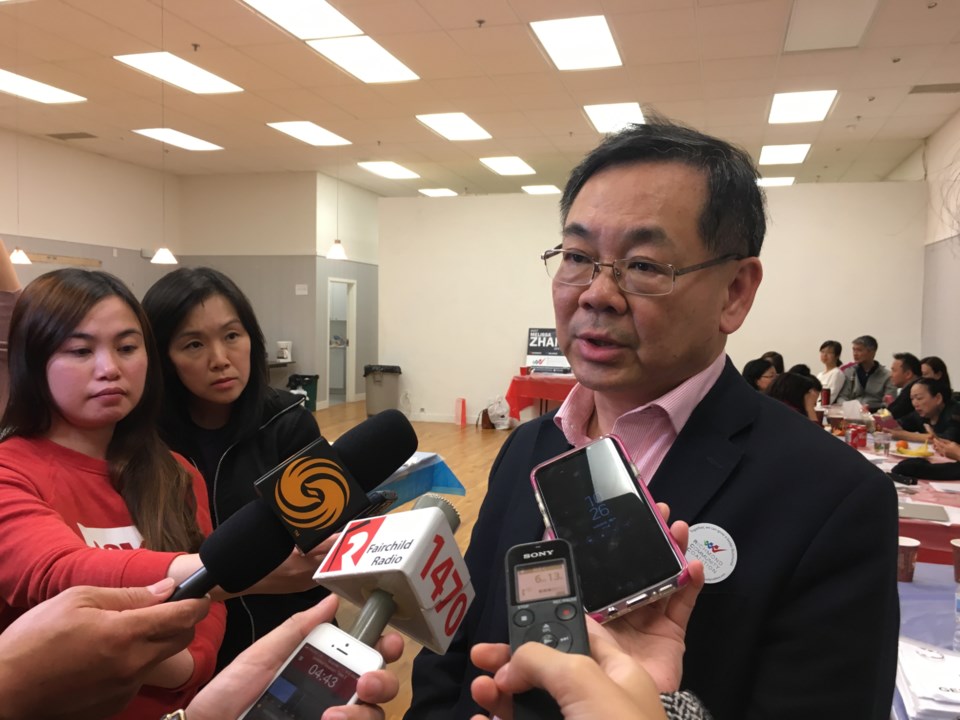 Johnston came 12th in this year's elections. He left the gathering of RCC candidates and their supporters halfway into Saturday night when his vote count was hanging around 11th place.
Rob Howard, president of the RCC, told the Richmond News that Johnston "wasn't well and went home."
"He worked hard, very hard, and it was a long week. He is going home to take a little time, be with his family and recuperate," said Howard.
It is rare for an incumbent to lose a seat, Howard said, and he believes that Johnston's vote to maintain the status quo of house sizes on farmland was a factor in the loss.
"It is something the leftists picked up on - this whole issue of 'monster homes'...I think that played a role, for sure," said Howard.
Au, on the other hand, ended up in third place and secured his third term as a Richmond councillor.
He said he appreciates people's recognition of him and the work he has done, and he believes this was reflected in the high number of votes.
As the only one of the 10 candidates from the RCC to secure a seat, Au said this election shows people's willingness for change.
"The RCC likes to provide practical solutions, however, this puts us at a disadvantage in this political era when the public have a strong willingness for change, because our platforms don't necessarily catch eyeballs," said Au.
"But I believe we are headed in the right direction."
Alexa Loo gets second term on council
Independent councillor Alexa Loo also hung on to her seat, finishing ahead of Derek Dang.
She told the Richmond News she's excited to get working on council again, adding that improving intersection safety is a priority for her.
Incumbent Alexa Loo (independent) tells me that win or lose, this campaign has fostered some great community connections

She tells me of a boy from a refugee family who's started playing in a soccer league, all because of a meeting while door-knocking pic.twitter.com/FcBFuHf9UB

— Megan Devlin (@MegDevlinn) October 21, 2018