As we enter the home stretch of the civic election race, the battle heats up in the proverbial election sign war.
Some residents are upset about election signs suddenly appearing on their property without their permission, some candidates are complaining that their signs are vanishing, while others are questioning if certain signs are even legal.
When Richmond resident Brendan Mulhall returned to his property under construction on Friday morning, he was shocked to see a large election sign for council incumbent Chak Au in front of his house.
"Someone came in last night and nailed the sign to the ground, firmly...why do they think it's okay to put it on my private property without asking me?" asked an upset Mulhall.
"I want to ask Mr. Au for his address so I can go to his home to put a sign up in front of his house. I don't think he will mind given what has happened here."
Au said the sign was put there "by mistake," perhaps by a confused volunteer. He added that, "(the home owner) can contact me and we will send someone to go to take it down," said Au.
Mulhall was not the only resident that found a "present" on his land.
Sandi Bezanson-Chan told the Richmond News last week that an unauthorized campaign sign for mayoral candidate Hong Guo appeared on the lawn of the vacant home into which her family was moving soon.
According to the city's Guide to Election Sign Placement, election signs can only be put on private property with the property owners' consent, with a maximum size of 4x8 feet for a sign face.
The guide also notes that any signs bigger than 2x3 feet cannot be placed on city-owned property, including highways, roads, bridges, parks, boulevards and city buildings.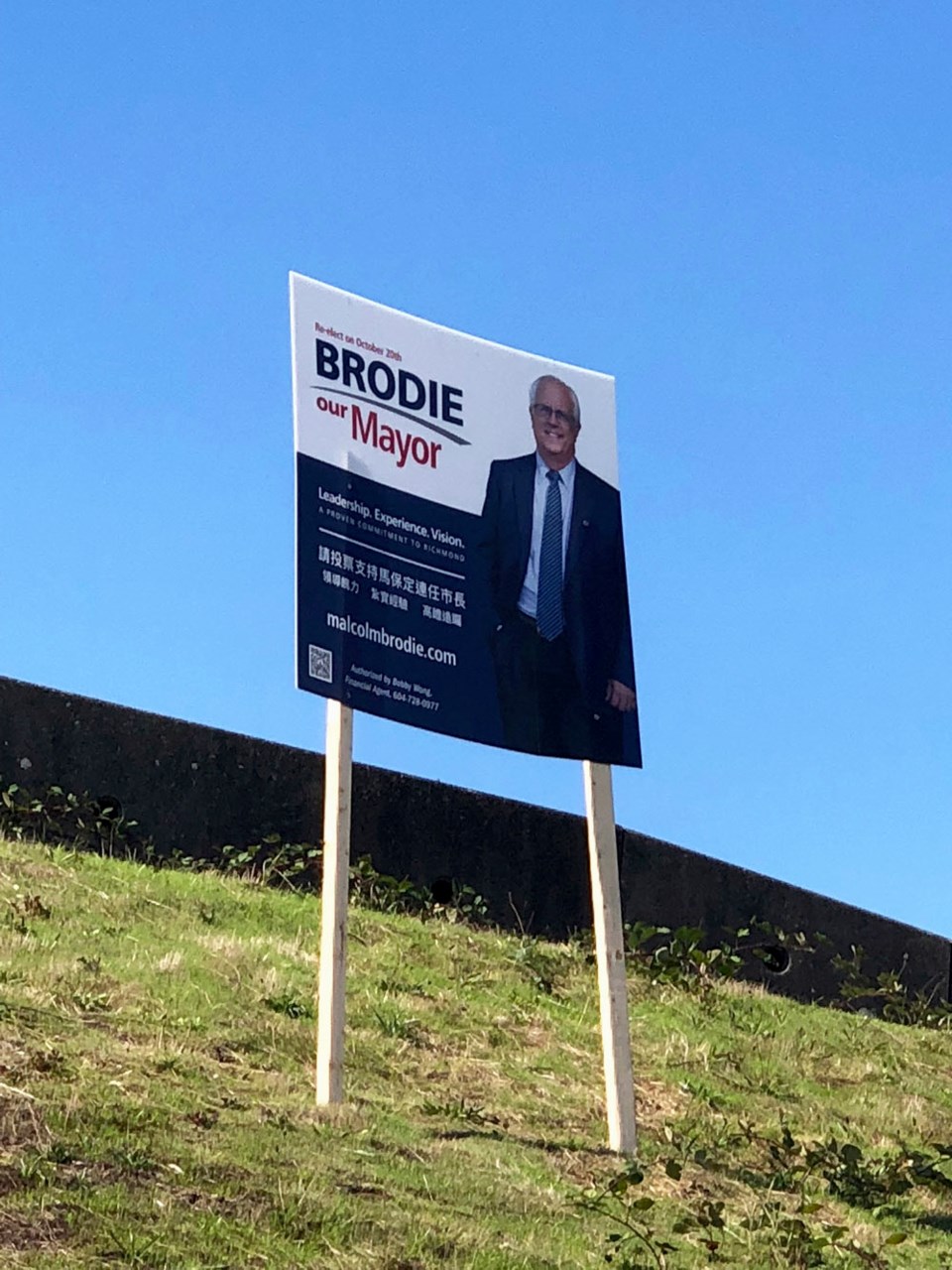 An election sign inspection report issued by the city showed that as of Oct. 1, incumbent mayoral candidate Malcolm Brodie had nine signs removed by the city, Richmond First had six, council candidate Parm Bains had one and incumbent councillor Alexa Loo had one.
Some of the signs were too large to be put on city-owned properties and some were put on private land without authorization.   
For candidates violating rules around election signs, the city will "warn and seek compliance, confiscate or remove the sign, or prosecution," said Lavino Chan, licencing and sign inspector for the city.
"In order to preserve the neutrality of the election process, we do not comment about specific candidate signs," she added.
Meanwhile, some candidates are concerned about their signs going missing or being damaged. Kelly Greene, who's with the Richmond Citizens Association, said her slate's campaign signs have been frequently damaged, stolen or thrown on to the road to be run over by cars.
She took to Facebook on Sunday to ask people to not steal or wreck anyone's signs, despite their political views.
"The person who has the sign wants to support their candidates. The sign is paid for by hardworking community member's donations," she posted.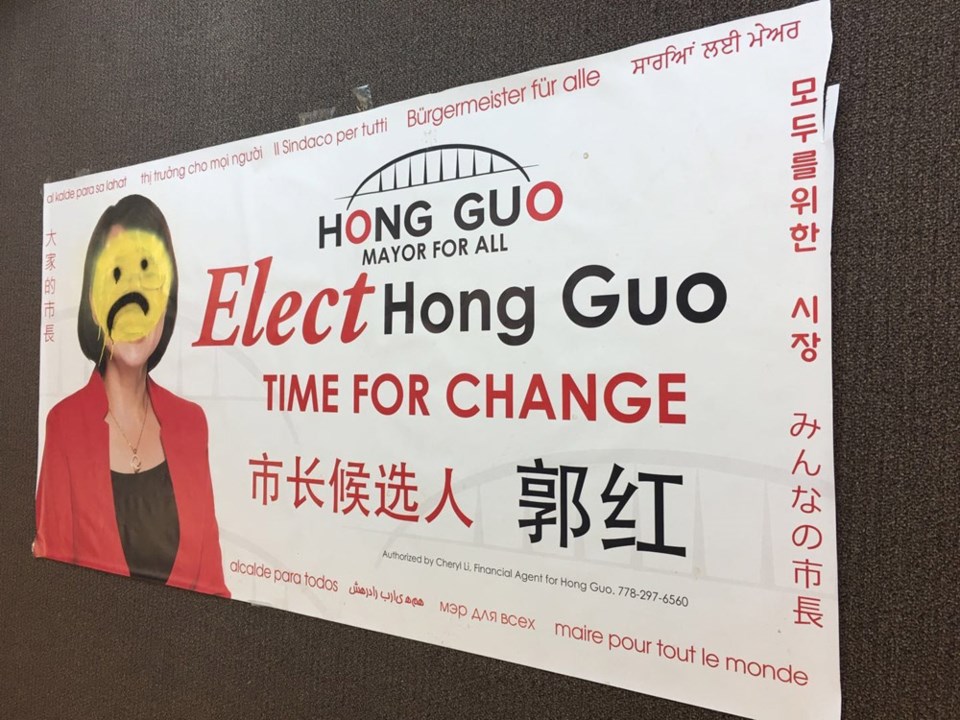 Guo also reported having her signs damaged and some of her posters in shops were torn down.
On a large Hong Guo election sign originally erected at Railway and Blundell roads, someone painted a yellow sad face (emoji) over Guo's face.
Guo said she believes the yellow face has a "racist overtones."
"I feel hurt to see someone painted an ugly yellow face over mine on my campaign poster," said Guo.
"We are living in a democratic country with freedom of speech...but this is happening. Is this democracy?!"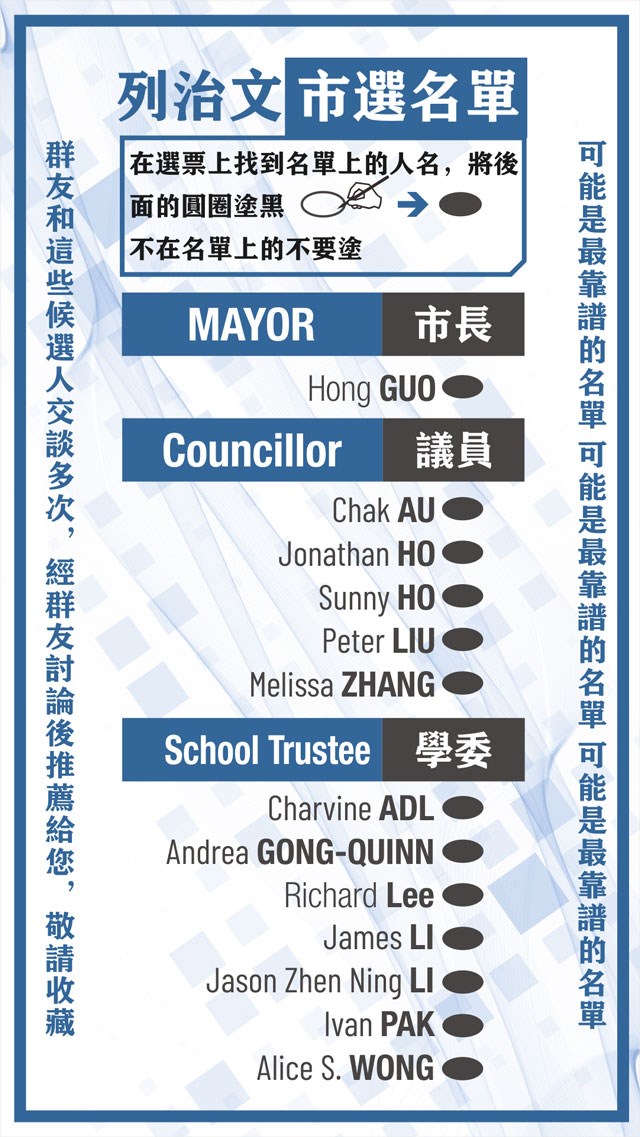 Social media is another battlefield where candidates can win votes, which also makes it ripe for election sign controversy.
A Chinese-only online poster has been questioned by some candidates. It tells people how to vote and who to vote for, but it doesn't include a name or contact info as is usually required on election advertising. 
The poster, however, doesn't contravene election laws, said Chan, because no one actually paid for it.
"Under Election BC rules, online advertisements with a placement cost must include the sponsor name and contact info," said Chan.
"If there is no placement cost. If it is an organic social media post or email blast, for example, it does not meet the definition for election advertising."