Richmond Hospital Foundation is on the brink of achieving a significant milestone in its fundraising efforts for the Medical Imaging Centre Campaign.
Thanks to generous donations from the community, including a recent gift from Dan On and his family towards a second CT scanner, the Foundation is now at 90% of its $25-million fundraising goal.
The funds will be directed to help provide new equipment and technology for the new Milan and Maureen Ilich Medical Imaging Centre, to be located in the Yurkovich Family Pavilion.
"We're thrilled to be a part of the advancement of care in Richmond knowing that our contributions will not only benefit individuals in the community but also our health care providers to diagnose health conditions," radiologist Dr. Tracy Chandler says.
In a show of support, the Brooke Radiology team, which includes all of the radiologists working at Richmond Hospital, donated $50,000 to the campaign, underlining the importance of the campaign to the medical imaging team.
"We hope our donation will encourage and inspire others in the community to follow suit and help reach the $25 million goal," radiologist Dr. Ian Wong says.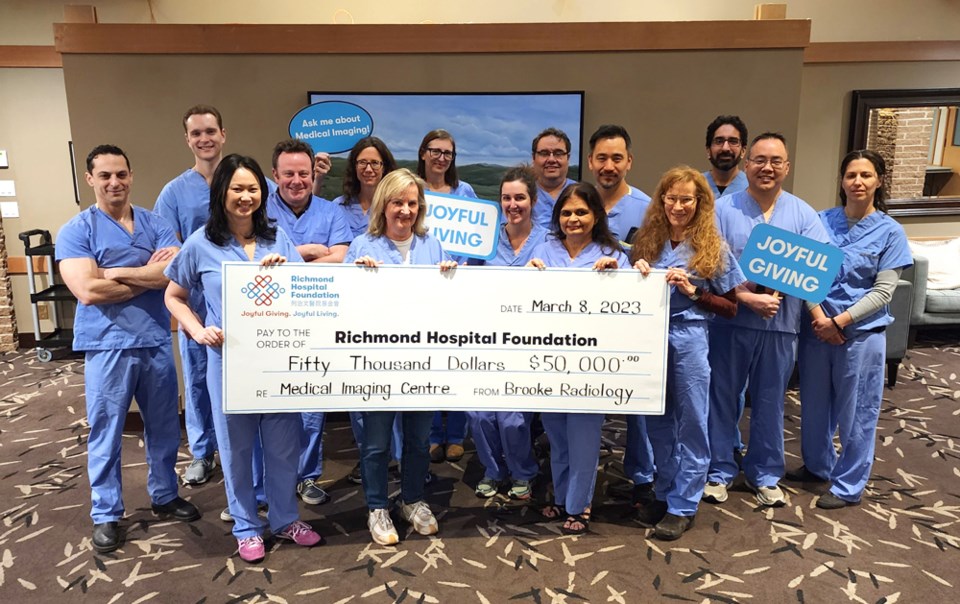 The Yurkovich Family Pavilion, a nine-floor state-of-the-art acute care facility, will serve Richmond's expanding population with a range of enhanced health care services. Features include a new emergency department, 208 single-occupancy rooms with ensuites, expanded operating rooms in the Greczmiel Family Surgical Centre, a short-stay pediatric unit, and so much more.
Richmond Hospital is undergoing significant changes, including the relocation of several programs to pave the way for the construction of the new acute care tower. The new Medical Imaging Centre is pivotal to this development, aiming to more than double its physical space to accommodate over 200,000 patient visits a year.
The importance of advanced medical imaging cannot be overstated, as it plays a fundamental role in diagnosing, tracking illness progression, and monitoring treatment effectiveness across all hospital departments. With Richmond's population projected to grow, the usage volumes at the Medical Imaging Department are expected to increase by more than 75% by 2035.
In the spirit of collective effort, community members are invited to help equip and enhance the future Milan and Maureen Ilich Medical Imaging Centre in the Yurkovich Family Pavilion.
For more information or to make a donation, please visit Richmond Hospital Foundation's website: www.richmondhospitalfoundation.com.