The Okanagan lifestyle is more than just a way of life —it's a state of mind. With sweeping lake and mountain views, sandy beaches, countless vineyards, and world class ski hills featuring the Okanagan's champagne powder, the region is a mecca for skiers, golfers, cyclists, hikers, and boaters. The city balances the benefits of being B.C.'s fastest growing CMA, with the peaceful nature of mountain and lakeside living.
Many factors are driving migration to the Okanagan from other provinces, especially the lifestyle appeal for those interested in downsizing or relocating. Vancouverites are now finding a new appreciation for life in B.C.'s Interior, representing a trend that will continue well into the future.
Marco Agostini and Gina Gabriele are among some of the former Vancouver residents who have made the Okanagan a permanent base. After retiring, they sold their single-family Vancouver home, purchased a property in the Okanagan, and moved in June. Not long afterwards, a leisurely drive led them to their future dream home in Kelowna.
A real estate opportunity unlike anywhere else in Canada
A competitive real estate market prevails in the Okanagan, with increased inventory coming to market in October. Agostini and Gabriele recognized a unique opportunity to invest in the Kelowna market and purchased a home at the beachside community, Skywater at MOVALA.
MOVALA's coveted Lakeshore Road address affords effortless access to Lower Mission and South Pandosy's best beaches, boutiques, galleries, markets, restaurants, bike paths, and the new Pandosy Waterfront Park. Bordering Kelowna's best stretch of soft golden sand, MOVALA is located directly beside Gyro Beach and minutes from dozens of waterfront parks on Okanagan Lake.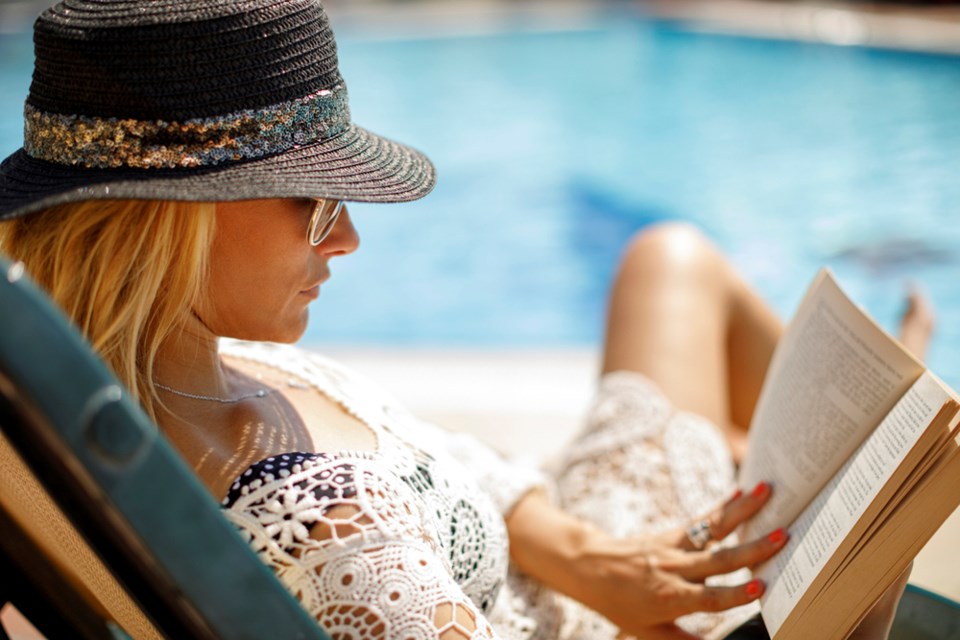 Agostini, whose background is in construction and development, was immediately impressed by the unique and iconic design of MOVALA. After visiting the presentation centre, the couple decided upon a two-bedroom, two-bathroom home on the top floor.
When asked what the deciding factor to purchase was, Gabriele enthusiastically proclaimed, "it was the view!"
"On one side, we have a view of the whole of downtown. And on the other side of our wraparound terrace is a gorgeous view of the lake," she says. "We have the best of both worlds."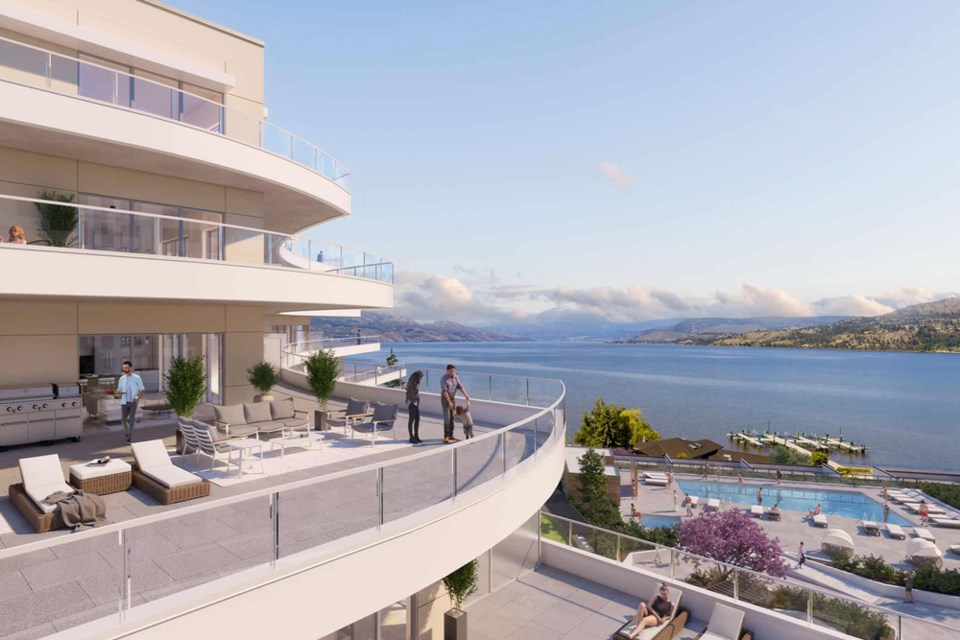 Live a resort lifestyle everyday
A vacation destination for Canadians and international visitors alike, Kelowna attracts two million visitors annually, and the weather plays a role in the overall allure of the region. The temperate Okanagan Valley sees over 240 hours of sunshine between May and August and is truly a 4 distinctive season location without the estimated 146 cm of coastal rainfall that Vancouver receives annually.
With great year-round weather, amenities are abundant in tandem with the region's microclimates. World-class resorts, including Big White Ski Resort and SilverStar Mountain Resort, surround Kelowna residents. Orchards and vineyards are also in plentiful supply, and more than 40 wineries are situated in Kelowna.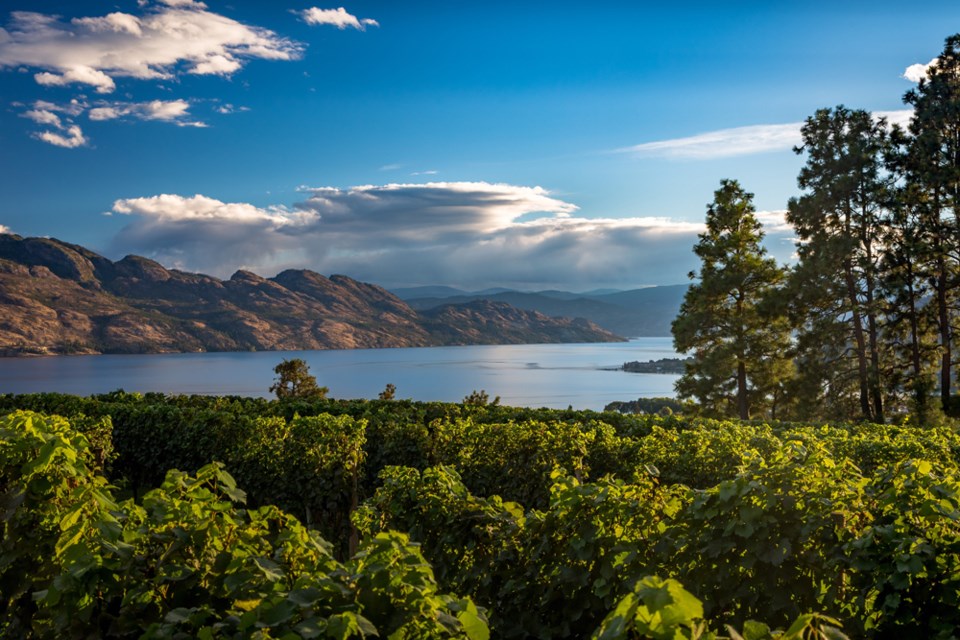 MOVALA's resort-style health and wellness amenities reflect the community's lifestyle-driven approach. The Lakeside Veranda pool, hot tub, fireside lounges, Bocce lawn, BBQs, and alfresco dining tables are perfect to relax and entertain during Kelowna's warm, lingering summers. Additional highlights include a temperature-controlled wine cellar with individual lockers, a private dining room, fitness and yoga studios, a games room and social lounge, and a visitor guest suite, perfect for family visits or out-of-town guests.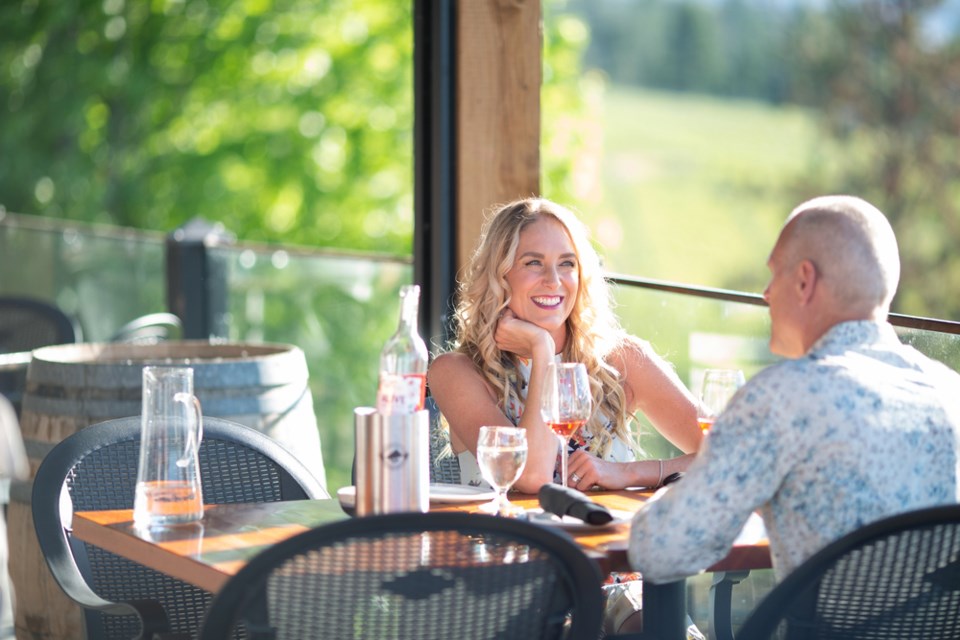 Agostini and Gabriele are especially looking forward to the lock and leave lifestyle MOVALA offers. "After we've enjoyed our current home for the next three or four years, we will be more than ready to move to someplace with all the amenities that we don't have to take care of," she says. "If we want to go away on vacation, we just lock the door, and we don't need to worry. It's just a little freer, more conducive to the retirement lifestyle we envision."
MOVALA is one-of-a-kind opportunity
"For people in my age bracket that are retiring or have already retired, it's an amazing opportunity and to get in now, I feel really blessed," Gabriele states. "We stumbled on it. Literally stumbled upon it. Even my husband, who is usually very skeptical about everything, was so excited about it, and I was like, wow, that's so unusual for him!"
With unique real estate opportunities and an appealing climate fostering an active lifestyle, it is clear why the Okanagan has and continues to attract Vancouverites. From a financial perspective, Gabriele says investing in the best location in Kelowna and in MOVALA is "an amazing investment opportunity."
For more information, visit MOVALA.ca.