Your new life awaits at Eminence, a vibrant, recreation-centric community situated on the southern slope of Kelowna's iconic Knox Mountain just minutes from downtown. Whether you're seeking a forever home or a savvy investment in Canada's fastest-growing city, Eminence has it all – an idyllic mountainside setting with endless nature trails and panoramic views, immediate access to Kelowna's bustling city centre, and a host of amenities that encourage community connections and personal wellbeing.
The striking natural backdrop of Knox is the inspiration for Eminence's upscale, modern mountain architecture and prominent streetscape, working in harmony with the prestigious, well-established neighbouring communities, Highpoint and Magic Estates. Warm wood elements juxtapose exposed cement paneling, bold black detailing, glass balconies and rooftop patios that showcase Eminence's sweeping mountain, valley, and city views. Picturesque greenspaces, tree-lined pathways, and a dog run connect the community's three buildings.
Eminence's many health and wellness offerings are anchored by the Lodge, a resident-exclusive club whose mountainside deck, outdoor pool and hot tub are perfectly placed to attract the Kelowna sunshine. Harvest tables, fireside seating and lawn games encourage community gathering, while barbecues and outdoor kitchenettes provide an idyllic atmosphere for socializing. The Lodge is crowned by an eco-friendly green roof, which supports resident wellness by absorbing pollutants, improving air quality and supporting wildlife habitats. Plus, entertaining is an option year-round with the Lodge's plush indoor space, featuring a kitchenette, bar games, and fireside lounge.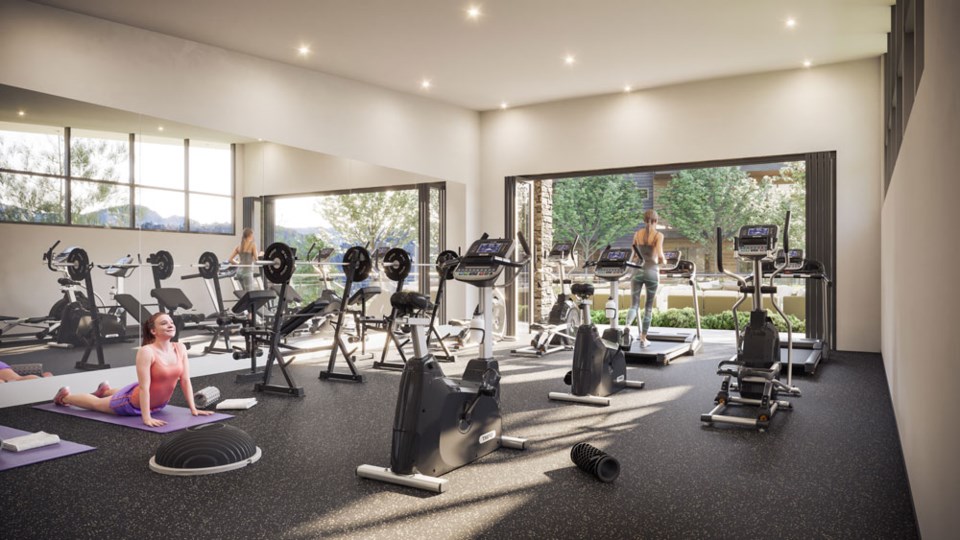 Residents eager to break a sweat have access to the Lodge's fully equipped fitness centre, complete with a zen-inducing yoga zone. The property also has a dedicated bike tune-up station and an enclosed Bark Park, where furry friends can play, wrestle and live their best lives.
At Eminence, an outdoor adventure is always an option – particularly with Knox Mountain Park in your backyard. The pristine protected area sprawls over 357 hectares, beckoning cyclists, mountain bikers, and dog walkers with an expansive network of trails. Throughout the park, spectacular viewpoints of Okanagan Lake and downtown Kelowna reward curious explorers.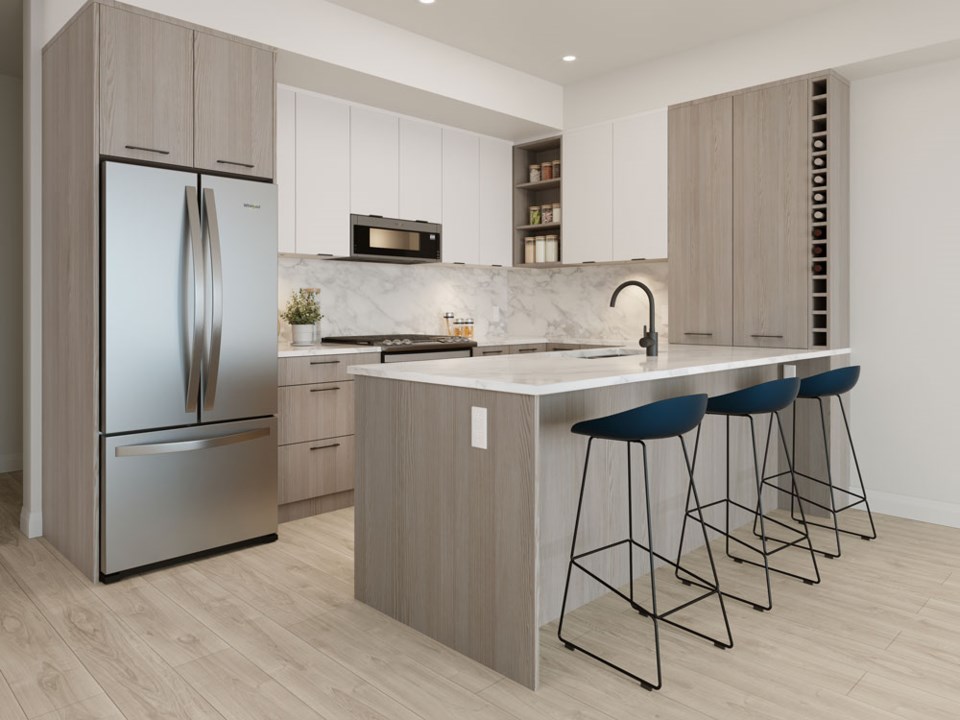 Beyond Knox Mountain, Eminence residents will be conveniently close to everything. Sandy beaches, wineries, world-class golf courses, and the scenic Okanagan Rail Trail – which links downtown Kelowna and Vernon – are a sampling of many adventures available in the area. The Ale Trail, populated by the Okanagan's top microbreweries, is just minutes away, as are plenty of shopping options, the UBCO campus, and award-winning restaurants and cultural amenities in downtown Kelowna. Bonus: there's just as much to do in the winter, with the champagne powder of Big White Ski Resort and SilverStar Mountain Resort located less than an hour's drive away.
Buyers eager to secure their place at Eminence will find an array of options suited to any lifestyle, from functional studio suites to luxurious two-bedroom and den residences. Meticulously designed interiors are available in three colour palettes – light and airy, soft and neutral, and bold and dramatic – serving as an ideal canvas for homeowners to add their personal touch.
An opportunity to live mountainside and just minutes to downtown rarely becomes available. Are you Ready for your new life at Eminence, or to invest in one of Canada's most desirable cities?
"We sold out our initial release of homes last Fall in pretty short order", said Curt Woodhall, Senior Vice President at Epic Real Estate Solutions, the marketing firm selling Eminence. "The developer, Meridian has released a limited number of homes in February, in advance of our planned Spring launch, so this is the perfect time to purchase as the market is starting to heat up here moving into the traditionally busy Spring and Summer seasons."