Do you want to make your community a better place for local kids? Now's your chance. Volunteering with kids can be a game-changer—for your life and theirs.
You don't have to be a parent or teacher to make an indelible impression on young people and improve their life experiences. Big Brothers of Greater Vancouver is re-establishing in-person connections with youth through two mentoring programs, Game On! and Mentoring with Math.
As a Big Brothers' volunteer, you can be a part of a child's success by building an impactful mentoring relationship. The simplest act can make a difference and empower children to achieve their full potential. It's rewarding, easy and fun!
When you volunteer, you help kids have greater feelings of self-worth and increased confidence and ensure every child has a strong role model to ignite their biggest possible future.
"Being a volunteer gives you a more genuine connection to the community because you're volunteering in 'your community' and witnessing tangible benefits for local kids," says Wes Martin, Manager of Marketing and Recruitment. "It's really about, 'just being part of something bigger,' which is one of our taglines."
"Any opportunity to offer consistent interaction and quality time, regardless of age, is not just good for participants, but for volunteers, too," he says. "I think a lot of volunteers get the same, if not more value out of the programs as the kids do."
According to Children First Canada, "school closures, the lack of access to sports and recreational programs, and social isolation have resulted in children being one of the hardest-hit populations during the COVID-19 pandemic. In May 2021, Children's hospitals reported a 100 percent increase of mental-health related admissions."
Moreover, a study released in September 2020 by B.C. Centre For Disease Control revealed children experienced an increase in loneliness and declining mental health during school closures, which lead to anxiety and depression during decreased connection.
As communities continue to recover from the pandemic, Big Brothers is filling that gap and building a bridge to social connectivity, safe spaces, sports and extracurricular activities, with their group mentoring programs, Game On! and Mentoring with Math.
"I see the value of what these programs provide," says Martin. "There's a tremendous amount of meaning and fulfillment."
Game On!
​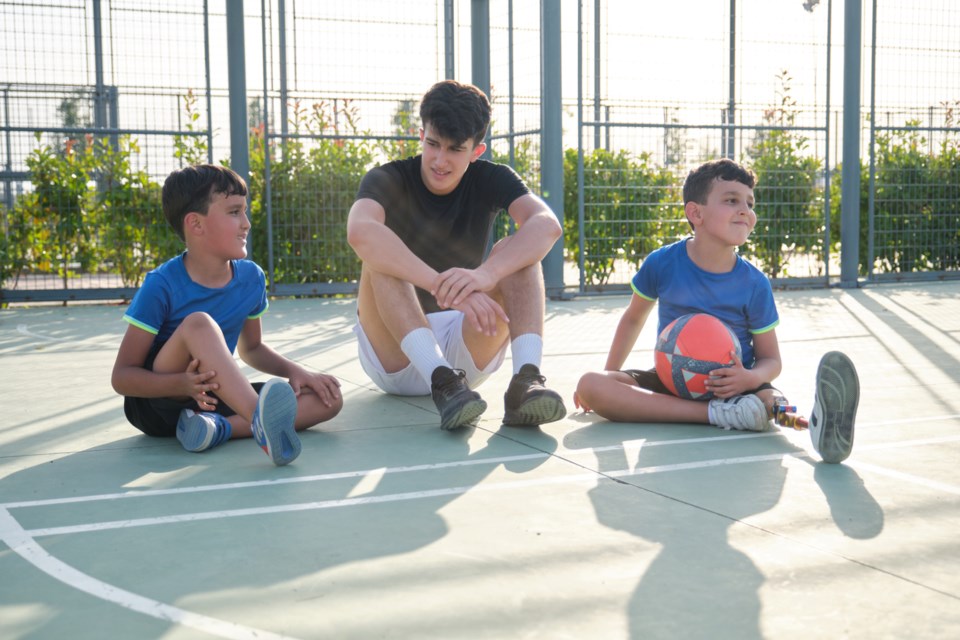 ​As a Big Brother, you'll provide sports mentorship and life skills during an eight-week after-school group program, for eight to 10 participants in grades four to seven. Game On! sessions are 90 minutes, once weekly over two school terms at community centres and schools throughout Greater Vancouver.
The program is structured around four themes: physical activities and active play, balanced eating support and snacks, social-emotional learning and communication skills. Mentors help prepare kids for life situations, including learning about winning through an approach that's ethical and reasonable.
"Typically, kids play for the first hour and have a snack and a conversation on certain themes during the last 30 minutes," explains Martin. "Conversation on topics vary but they reflect things that are relevant in kids' lives at this age."
Mentoring with Math
Math tutoring doesn't mean you need to be a mathematician. Rather, you'll be imparting a variety of techniques based on the principles of the JUMP Math numeracy program, to inspire an understanding and love of math to children in grades three to seven. Mentors will encourage kids to interact together through various games and activities in the second part of the 90-minute, weekly session.
"You're bonding through numeracy and learning, but in a group setting, so there's a lot of value to that," says Martin. "It's not just a private tutoring session, it's very collaborative."
Being a good Big Brother or Big Buddy is about consistency. "You have to show up when you say and be present," reveals Martin. "It's about being earnestly involved with the kids. There's never been a better time than now to try volunteering with Big Brothers."
For more information about how to become a mentor for the Game On! program, visit the website.