The Downtown Eastside is a community of deep struggle, and of deep strength. Recent news of violence against those unhoused, fires and displacement, and the worsening overdose crisis underscores the adversity residents face. Many are already dealing with the challenges of poverty, physical and mental illness, trauma, homelessness, and the ongoing economic impacts of COVID-19.
Still, the Downtown Eastside is resilient, and a neighbourhood worthy of attention.
That's what First United, an inclusive, low-barrier service provider in the Downtown Eastside that serves and affirms people from all walks of life, has been doing through their First Forward Building Connections Campaign.
Since the campaign launched last year, the organization has been calling on Vancouver and surrounding communities to pay attention, learn about the issues, and support the creation of dignified, purpose-built spaces for community, connection, and care in Vancouver's Downtown Eastside.
To date, it has raised over $25 million towards redeveloping its site at 320 East Hastings—a location First United has called home since 1892. Now, surrounded by fencing and hoarding, the 57-year-old former church building currently on site (which housed First's operations until services were relocated in June) is in the process of transformation.
With some of the most accessible services in the Downtown Eastside, First United serves thousands per year, providing free meals, legal advocacy and tax support, mail and phone services, an emergency shelter and more.
However, in recent years, the community's needs have exceeded the aging facility's capacity, a challenge which was further complicated when the building began to deteriorate beyond reasonable repair.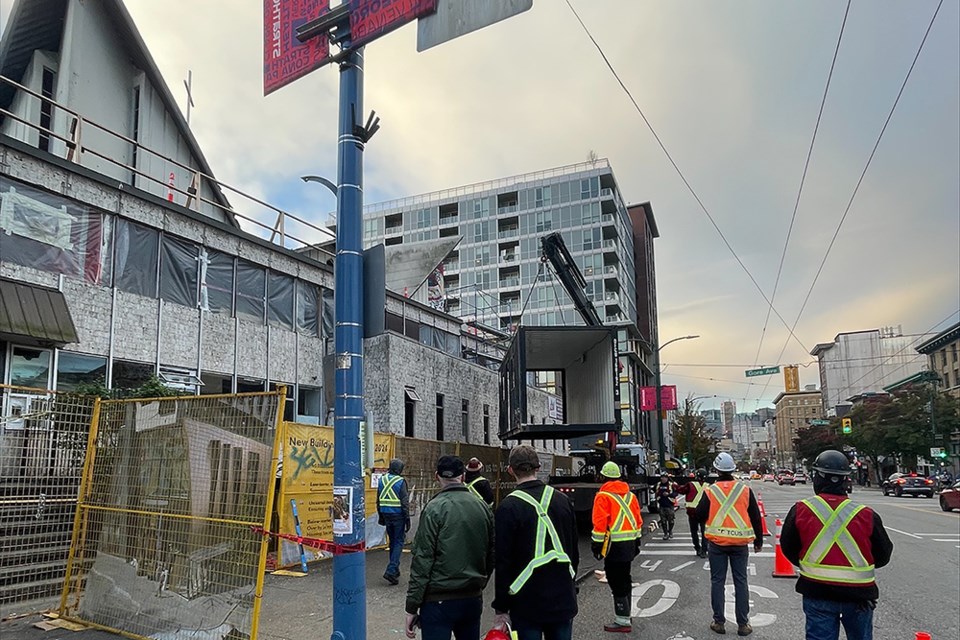 Demolition is now underway. And in 2025, when construction is complete, First United will be eager to welcome community members into a new, purpose-built, 11-storey building designed with them in mind.
"We've always responded to the needs of our community," says First United Interim Executive Director Amanda Burrows. "In consultation with Downtown Eastside community members, our community identified their top two needs: housing and healing. The best way for us as an organization to address those was by expanding our facility and services and enabling the development of housing on site."
At 40,000 square feet, the new First United will be triple the size. Across four floors of amenities, it will offer expanded access to its flagship programs and provide new services and facilities to address some of the community's (currently) unmet needs. These include expanded washroom and shower facilities, safe spaces for day sleeping, private counselling spaces, indoor and outdoor areas for community gatherings and ceremonies, and a computer lab.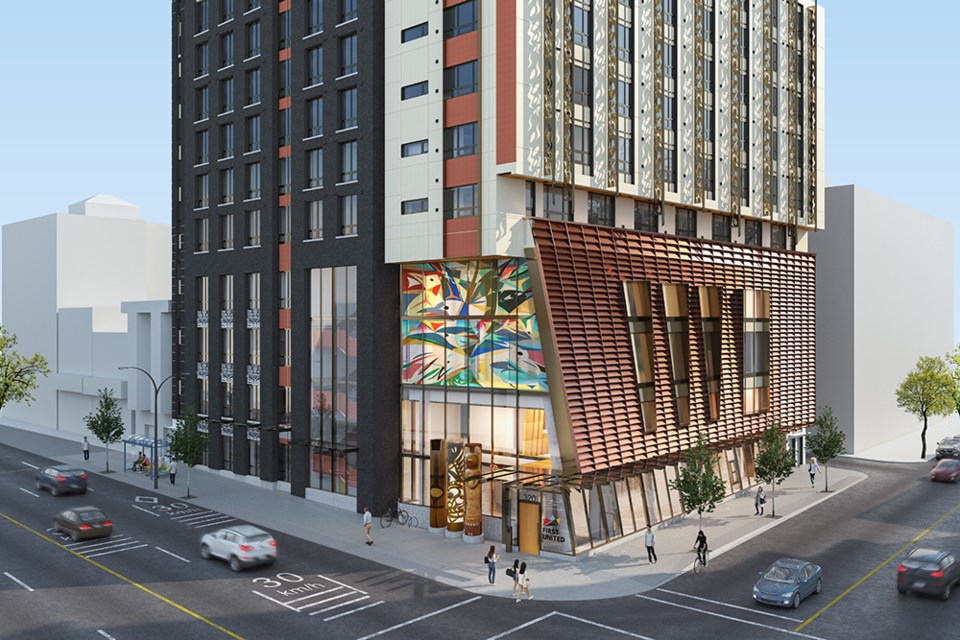 First United is also partnering with Lu'ma Native Housing Society to develop an additional seven floors (103 units) of below-market housing for Indigenous peoples in the Downtown Eastside, where 30 to 40 per cent of residents self-identify as Indigenous. Tenants will have access to all First United services.
"Regardless of circumstance, our neighbours in the Downtown Eastside deserve safe, secure, purpose-built spaces," says Burrows. "In our campaign, we say, 'You can't put a price on dignity,' because basic human dignity is something we all deserve. And every contribution made to this project brings us a step closer to our vision of a neighbourhood where everyone's worth is celebrated, and all people thrive."
With just $4.9 million left to go to reach their $30 million target, First United hopes that Metro Vancouver residents will join the effort.
To learn more about the First Forward campaign and how you can contribute, visit firstunited.ca.