Stepping inside a well-designed interior is always exciting. Although, before you cross that threshold, you'll have to undertake the process, including all the planning and stress that a design project inevitably accompanies.
However, if you forgo your DIY tendencies, you can skip the hassles when going it alone, and turn to the professionals.
Whether you're considering a complete transformation or just looking to spruce up your space, a La-Z-Boy interior designer will collaborate with you to create something inviting and functional, with an aesthetic that uniquely reflects you.
La-Z-Boy first introduced its complementary in-home design services in 1999, and ever since, they've been enhancing the everyday with good design, and providing their clients with thoughtfully curated rooms designed for comfortable living.
"We understand that choosing furniture and furnishing a room can be a daunting task," says Kenji Chik, in-home design manager with La-Z-Boy Home Furnishings and Décor of Greater Vancouver.
"We provide a stress-free experience for our clients. Not only do we ensure the furniture is right for your needs, but we show you how to use it, how to space plan and what kind of combination you should use in your home."
Steps to customize your design
The first step begins with a consultation, which can take place in-store, virtually, or at your home. This is your opportunity to discuss your ideas with your design consultant, what you visualize in your space, and most importantly, your budget.
"Sit back and tell us your vision," says Chik, "and we'll help bring it to reality."
"We ask all the right questions like, 'how do you use the room, what styles inspire you, and what colours do you love,' for example, and then provide guidance to the best solution."
If the scope of the project requires an in-home visit, your designer will measure the space to ensure fit and address any potential problems.
When you're ready to visit the La-Z-Boy showroom, you'll experience a mix of versatility and comfort that provides a lot of options. Your design consultant will guide you as you experience the styles, feel and fit of pieces that inspire you, show you fabric swatches and samples that make up your upholstery options, and answer all your questions.
Whether you're seeking a single piece or a collection, complete with home accessories, wall art, area rugs, lighting, and more, La-Z-Boy provides the convenience of a one-stop shop.
As your designer gets to know you and your tastes, they will streamline the process to create a custom room plan that reflects your personal style.
​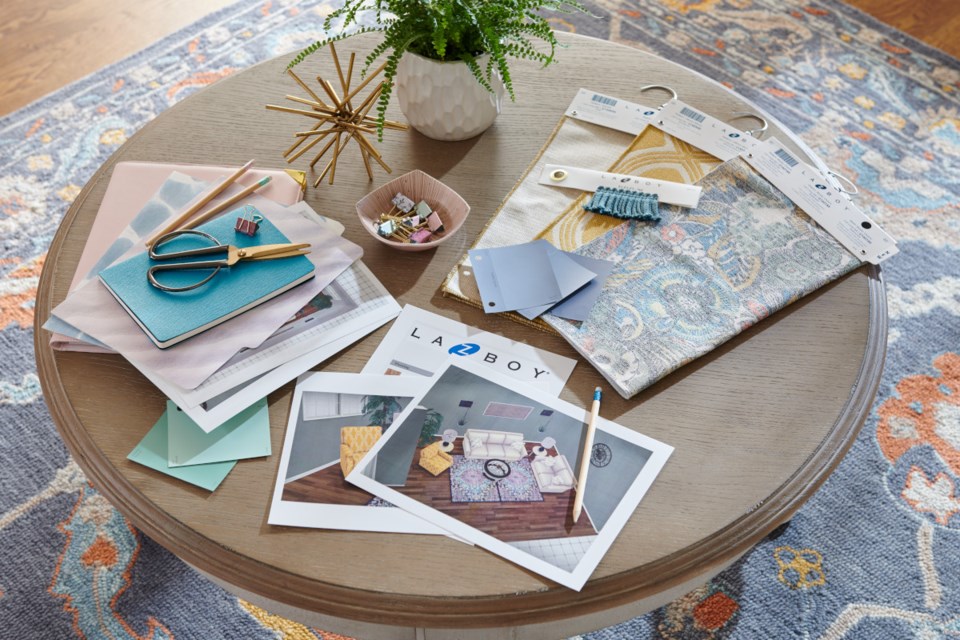 ​"We look at space planning, options, and how the furniture fits precisely," Chik explains. "Using the latest technology, our 3D room planner provides a nice visual throughout the space: your furniture selection, fabrics, and colours, which helps eliminate any potential problems."
One of the biggest design challenges is space restriction, notes Chik. "We can't change the size of the space, but we have the expertise to work around it," he says.
Also, you can generate the impression of a bigger space, simply with your furniture choice. For example, La-Z-Boy's top two selling stationary sofas, the Laurel and Coronado, both sit on an elevated leg, which gives more space between the sofa and the floor, creating the illusion of larger square footage, while maintaining a cozy feel.
Revealing your personality
Your La-Z-Boy designer's intention is to create a space that is ultimately reflective of your personality and desires.
"When a client is having difficulty choosing, we suggest they select their favourite outfit, including shoes and accessories, because it helps us understand their personality," reveals Chik.
"We can design the most comfortable space, but you might not like it because it doesn't fit your lifestyle. Your home should feel like you. Make it reflect you. That's my best advice for anyone looking to redecorate or design a room."
Having an expert who will help realize your vision and take care of everything from maintaining your budget, to ordering, delivery and setup, is all part of the service and one of the benefits of working with a La-Z-Boy designer.
For more information, visit lifestylemeetscomfort.ca or schedule a free consultation.