In front of a jam-packed Richmond Cultural Centre, Mayor Malcolm Brodie stood by his 13-year record at the head chair of Richmond City Council, denouncing challenger Richard Lee's posturing that the city can somehow afford to cut taxes while maintaining existing services.
The two squared off during the Richmond News' public forum Friday evening, the last time all council and mayoral candidates would gather ahead of the Nov. 15 municipal election.
"Mr. Lee is in favour of all kinds of projects but at the same time he says he wants to cut taxes. I think those are contrary positions," said Brodie, who maintains a minority position amongst city council candidates that the city ought to continue raising taxes one per cent each year to fund reserves.
Lee has promised fewer taxes by trying to find efficiencies at city hall, stating at times during the campaign that the city overspends. He also hopes to cut bureaucratic red tape for businesses.
Lee, of the newly formed Richmond Reform, said Brodie, an independent, has been beholden to developers.
"As your mayor I answer to you the people, not developers," said Lee.
Lee called city hall consultation, particularly on the Chinese signs issue, a "sham."
The two oppose one another on a sign bylaw, with Lee stating it may be necessary.
Calling Richmond "overdeveloped," Lee is proposing to increase development amenity charges. Brodie takes the opposite stance, maintaining the city has been well served under his tenure.
Some audience members called Lee's campaign "negative."
Former Conservative MP candidate Howard Jampolsky, a clear Brodie supporter, questioned Lee's record on Burnaby's school board, saying he was "combative."
When Lee served on school board from 2005-2008 he butted heads on at least two occasions with then trustee Kathy Corrigan (now a BC NDP MLA), according to the Burnaby Now.
Jampolsky questioned Lee's vision and whether he's "fit to be mayor," after Brodie pointed out that Lee has never attended a city council meeting.
Brodie insisted he wasn't trying to be unfair to Lee, but said attending meetings is important for context.
Lee, however, has also sat on city council in Merritt during the 1980s. He defended himself, saying his community service record is sound, noting his six years with the city's Community Services Advisory Committee.
Both men are lawyers, with Lee currently practicing.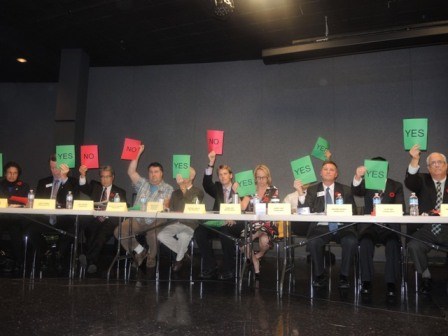 The event, organized by the News, hinged on a list of 20 questions posed to the candidates ahead of time. Each candidate had an opportunity to speak on the issues followed by questions from the audience.
While Jampolsky singled out Lee, over the past year the vast majority of non-incumbent candidates have not attended a council meeting.
In committee meetings attended by the Richmond News since January, only Carol Day and Michael Wolfe of RITE Richmond, and independent Alexa Loo have been present to address councillors on issues.
Wolfe said as much at the event, noting in the past decade he's made 48 presentations on 106 items.
"I have been bringing informed input to council for the last decade. Sometimes I feel more informed than council itself. I get this input from the community," said Wolfe, an advocate of the Garden City Lands, who addressed the need for city-funded community shuttles and a homeless shelter.
Wolfe pledged to live homeless in Richmond to bring attention to the plight of what local homeless experts call a hidden community.
Over the last 10 years Wolfe, born and raised in Richmond, has developed a high profile for environmental activism and social justice. He's gone from a wide-eyed 23-year-old independent mayoral candidate going through university to a married 32-year-old teacher at McNair secondary.
Wolfe and Day have posited that Richmond has developed too fast.
"The pattern of developers before neighbourhoods will continue unless you (voters) make a difference," said Day, whose subsequent accusations that city council endorsed a bridge, over the summer, at the George Massey Tunnel crossing infuriated Coun. Linda McPhail, who said the bridge decision was made without the city's input.
"Since we are getting a bridge, (city) staff was directed to put together a report about the city's concerns. That is what we endorsed," said McPhail, of the 8-1 council vote to support a staff report that asked the province to build an "iconic bridge" with room for mass transit and minimal impact to farmland (Only Coun. Harold Steves opposed the vote on grounds it was tantamount to paving (or dredging) the way to a jet fuel facility on the Fraser River).
On growth, independent Jerome Dickey pledged, again, that the city needs "smart growth," attacking the current rate of development.
Dickey took his moment to expand on Onni's Imperial Landing development at the Steveston boardwalk. He was the only one to do so.
"We need to get some services in there and start getting some tax revenue out of it," said Dickey, who is pushing for higher development cost charges, term limits and better public consultation.
Independent Henry Yao said housing affordability is a key issue. He cited "mega homes" as a concern within the community.
Candidates were asked if they would support fully funding a homeless shelter in the city. It garnered split votes and was a kind of test on whether a candidate would forego inter-jurisdictional funding.
Rev. Margaret Cornish, who runs St.Alban Anglican Church's emergency shelter, spoke to the need for one.
Unlike Surrey and Vancouver Richmond does not have a year-round shelter nor does it provide any land for a shelter.
Brodie noted he supports a homeless shelter in theory but the province needs to fund it as well.
Coun. Chak Au, of the Richmond Community Coalition, also said "the problem is we cannot fully fund a shelter alone."
Longtime Coun. Derek Dang, of Richmond First, noted solely funding a shelter could lead to a slippery slope.
"We as a city don't want to tackle jurisdictional issues that don't apply to us and we already have enough downloading" from higher levels of government, said Dang.
Turning to the issue of the city's animal shelter, it was noted by an audience member that the city's animal shelter is in a state of disrepair. Also, last year, court affidavits (from a case involving euthanizing two Rottweiler dogs) indicated it was understaffed.
Lee said concerns from animal rights advocates were brushed aside. He promoted pet adoption as a partial solution.
Brodie said discussions have taken place to improve conditions.
Yao is the only candidate to have publicly made a comment on the issue, having visited the shelter during his campaign. Yao wants better resources and more funding for the shelter.
On other social issues, both Ken Johnston and Sal Bhullar, of the RCC, clarified initial non-responses to a question asking if one would support a gay pride parade.
Johnston said the matter was a financial one. His running mates Helen Quan, Chak Au and Dan Baxter opposed support.
Kirby Graeme, of the RCC, and independent Dave Semple took firm stances on not privatizing existing city services as many candidates — all of them non-incumbents — suggested they would be open to exploring the possibilities. Both men are former City of Richmond employees.
"No way, Jose," said Graeme, a firefighter.
Semple, the city's former parks manager, said community resources and services — like a new animal shelter — need to be funded by reserve money and as such reserves need to be properly funded.
"Let's do the right thing," said Semple, garnering perhaps one of the loudest applause of the night from an audience that was decidedly absent of many youth.
Semple has aligned himself with independent Alexa Loo, a former Olympian and chartered accountant who is aiming to focus on healthy living and improved transportation. Semple and Loo are also advocates of community engagement with business owners of Chinese-only signs, a thought shared by independent Kristian von Schalburg.
"We need discussion with the Chinese community rather than introducing bylaws," said the Steveston resident and scientist.
Richmond First candidate Andy Hobbs spoke plainly about police services, noting the city need not necessarily raise funding. A retired superintendent who has drafted policies for the Vancouver Police Department, Hobbs noted police budgets need to be met with the full complement of officers. He said community engagement and efficiencies are equally important.
Despite a recent spike in thefts from automobiles Richmond has a low crime rate — both property crimes and violent crimes — relative to Metro Vancouver. 
Independent Don Montgomery, a real estate professional, addressed cycling safety.
"There seems to be a lack of visible enforcement for our speed laws here," he said, adding that he supports removing car lanes for bike lanes to slow people down.
The issue split many candidates.
Bhullar said she supports adding more cycling lanes but not at the expense of car lanes.
Cycling is a "green" transportation alternative, supported by none other than Coun. Harold Steves, who, at the age of 77, is running in his last election hoping to push the city further on a climate action plan.
"There's an elephant in the room and it's climate change," he said, adding support for mandatory solar panels on new developments and continued work on raising Richmond's dyke infrastructure.
And while Richmond's tax rate is amongst the average for Metro Vancouver municipalities, taxation once again was addressed.
The RCC is claiming it will "stop the tax hike," targeting the city's long-term financial strategy of raising taxes by inflationary rates plus one per cent to fund reserves.
"It need not be automatic," said Johnston, who is proposing a spending review in the first 100 days of the new four-year term.
While the city's strategy — a three per cent tax increase compounded annually — is a five-year plan based on economic projections, the city reviews it annually.
Longtime Coun. Bill McNulty of Richmond First said city council is already diligent with reviewing how it spends its money.
He criticized current RCC councillors Johnston and Au for wanting to implement a spending review, saying both sat on the finance committee and "you had three years to do that."
"We scrutinize (the budget) …as much as we can," said McNulty.
Bhullar said there is too much spending at city hall.
"Plan ahead and don't spend what you don't have. Adding taxes is not the answer," said Bhullar.
To date, all campaigns have been remarkably non-confrontational, with few, if any, shots directed by candidates at one another, save for Lee at Brodie, at first, and more recently Brodie at Lee.
Richmond First appears to be standing by its record (three incumbents on council) and has little intention to make any headlines, having emailed the Richmond News just one news release since Oct. 10. Its one page online platform highlights the need to develop City Centre, protect single-family home neighbourhoods and maintain a safe and healthy community. RCC has pointed few fingers, primarily focusing on civic engagement and city spending. RITE Richmond, riding a platform of an improved environment, more neighbourhood consultation and improved city planning, has also kept to its own, for the most part, although Wolfe has subtly asked the public a number of times, "who is taking money from Onni?" The two latter slates have made the most noise on the traditional and digital media front.
News releases and media events were few and far between for Renew Richmond and Richmond Reform.
While Richmond First and RCC have played ping-pong on how to manage the city's money, independent Garry Yuill, an instructor of accounting and finance at Kwantlen Polytechnic University, noted that taxes and services are often a trade off and voters will need to decide who is promising what and if it all adds up.
Both parties are pledging not to cut existing services and both are pledging, in some form, sound fiscal management.
"We don't think you need to cut services to keep taxes low," said RCC candidate Dan Baxter, noting the city hasn't had a spending review in the last 10 years.
Regarding casino money, only RCC mentioned it will double community grants from the gaming revenues the city gets.
But that only accounts for $800,000. After allocating $5 million annually for the next 10 years for the new Minoru pool and seniors centre, as well as money for RCMP and grants, the city is projecting to have, roughly, at least an additional $13.5 million each year for the foreseeable near future.
While Lee was in favour of using casino revenues for one-time annual refunds to taxpayers, nearly all of the candidates said they wouldn't do such a thing.
In fact, little has been mentioned about what should be done with casino revenues.
As it stands the money goes into reserves for future capital projects.
The RCC is also pledging to hire an ombudsperson to field complaints from city hall and, perhaps, oversee public consultation. While details are scant, it's part of the slate's platform to increase engagement and transparency at city hall.
Grace Tsang of Renew Richmond, who will step down as trustee for the Richmond Board of Education this year, noted an ombudsperson may not necessarily be needed but rather a citizen complaints panel, instead, could be an alternative.
Tsang is running on a similar platform to RCC and wants better financial accountability by proposing an audit committee, with outside auditors overseeing the budget.
Before more questions could be asked, an audience member fainted and paramedics were called in. Firefighter Graeme and Dickey, who is an emergency programs volunteer for the city, came to the man's rescue. After some medical attention he was able to walk away as the forum closed for the night. 
Correction: On Nov.7 the Richmond News erroneously indicated council candidate Sal Bhullar and mayoral candidate Cliff Wei favoured raising taxes one per cent each year to fund reserves. In fact, they take the opposite stance.