The past five years have been a roller-coaster ride filled with giddiness and disappointment for executives in the plant-based food sector.
Many industry insiders envisage the products eroding meat and dairy sales around the world, leading to a future where protein alternatives are widespread, and consumers' carbon footprints are slashed.
Investors, however, have proven skittish, forcing some companies to retrench to survive, while others descend into receivership.
The Supreme Court of British Columbia issued an order in mid-January that put Vancouver's The Very Good Food Co. (VGFC) (Nasdaq:VGFC; TSX-V: VERY) in receivership, and halted its shares from trading.
BDO Canada is overseeing the final bid process, in which potential buyers can seek to acquire the company's assets. That process runs until March 13.
It is a disheartening end for the company's founders, who aspired to shift people's diets away from eating meat. "We believe in butchering beans, not animals," was one of the company's marketing taglines.
VGFC failed to turn a profit in its seven years in operation. It lost more than $1.5 million in its most recent quarter, for the period that ended Sept. 30.
In the first nine months of 2022, the company lost more than $17.8 million.
VGFC "terminated" co-founder and CEO Mitchell Scott last April, according to a corporate filing. Its other co-founder, James Davison, "resigned" as chief research and development officer around the same time.
VGFC in September told investors that its new management team was seeking "strategic alternatives" to maximize shareholder value, such as a merger or acquisition.
Then, Toronto's Waygar Capital in early January called in more than $8.1 million in loans, which laid the groundwork for VGFC's receivership. VGFC unsuccessfully tried to secure capital from Utah-based Reef Capital.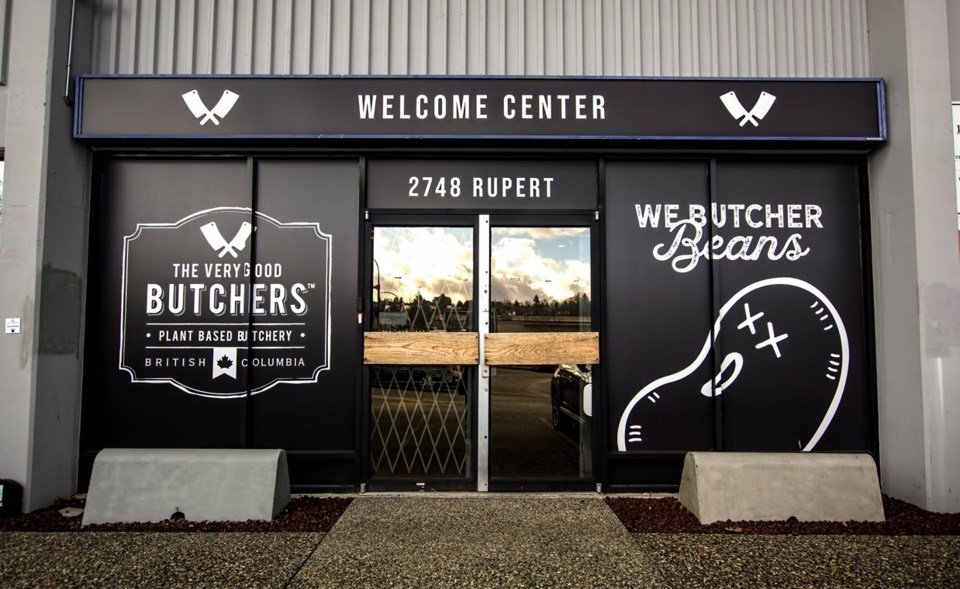 (Image: The Very Good Food Co. during the pandemic moved into new space on Rupert Street that was vacated by Daiya Foods | Chung Chow)
Despite VGFC's troubles, other B.C.-based plant-based food manufacturers – Big Mountain Foods, No Meat Factory, Wamame and Daiya Foods – have executives excited about future growth.
Those pioneering ventures follow in the footsteps of Vancouver's Yves Potvin, who put the city on the meat-alternate map by creating what he touted in the 1980s as the world's first veggie dog.
Thirty-six-year-old Big Mountain Foods operated out of a 2,500-square-foot facility in south Vancouver for decades until it expanded into a manufacturing plant twice that size about five years ago.
It then shifted production in 2021 to a 70,000-square-foot site in Delta, where workers make a range of vegetable-based foods, including Veggie Links sausages that come in styles such as chorizo and bratwurst.
Principal Jasmine Byrne, who owns and operates the 42-employee venture with mother Kimberly Chamberland, said her company is increasing revenues by more than 10 per cent annually through sales to major grocers across North America.
The duo bought new equipment for their Delta production facility that can transform fava beans into a tofu that is then altered to become sausages, burgers or a crumble.
"Our tofu has the same texture, taste and functionality as regular [soya-bean] tofu, but without the allergens," Byrne explained. "It's also higher protein."
Local upstarts in the plant-protein space include three-year-old vegetarian food maker No Meat Factory, which earlier this year raised US$42 million in venture capital to help it expand production across North America, and potentially sell products around the world.
The company makes vegan plant-based food at its 5,000-square-foot production facility in Surrey.

Over at Wamame, president Blair Bullus told BIV that his three-year-old company contracts overseas and Canadian manufacturers to make products such as plant-based caviar and plant-based beef strips. Wamame then sells those items to restaurant clients across North America.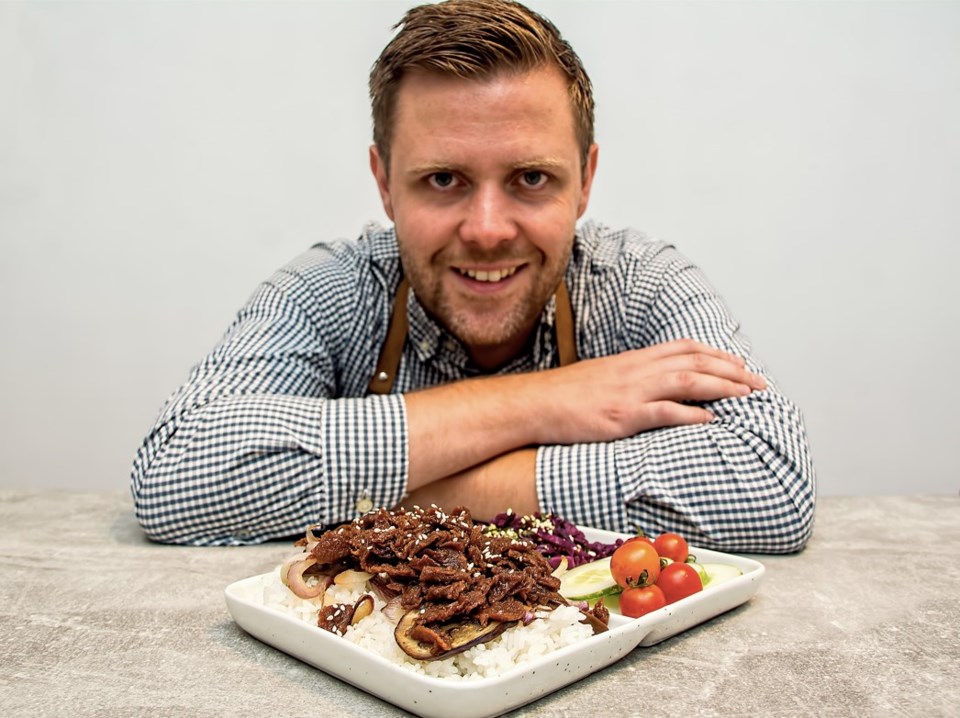 (Image: Blair Bullus says revenue growth at his Wamame is "exponential" thanks to new pacts with 7-Eleven Canada and GFS | Chung Chow)
Wamame in 2021 netted a $2.4 million investment from a collaboration with Protein Industries Canada to research how best to turn plant ingredients into various products, such as one that resembles Japanese wagyu beef.
Bullus would not reveal his company's revenue, but said sales growth is skyrocketing.
"It's exponential at this point," he said. "We've just launched with 7-Eleven Canada, and have just picked up GFS (Gordon Food Service) across North America and we're also launching at one of the largest sushi chains in Europe."
Burnaby's Daiya Foods has B.C.'s largest plant-based food facility
Daiya Foods has the largest footprint among plant-based food manufacturers in B.C. thanks to it spending tens of millions of dollars during the pandemic to rebuild what had been a nearly 400,000-square-foot Brick furniture warehouse at 3100 Production Way in Burnaby.
"It's actually the largest of its kind in North America," CEO Michael Watt said of the site. "We've completely transformed the building and it includes not just production, but our headquarters, and a world-class innovation centre, as we create the future of plant-based foods."
Daiya previously operated out of a building at 2768 Rupert Street, which was about one-tenth the size, he told BIV.
VGFC then leased and moved into the former Daiya space.
A recent surge in hiring at Daiya has meant that about 400 employees work at its site, with more than half of those people in manufacturing jobs, Watt said.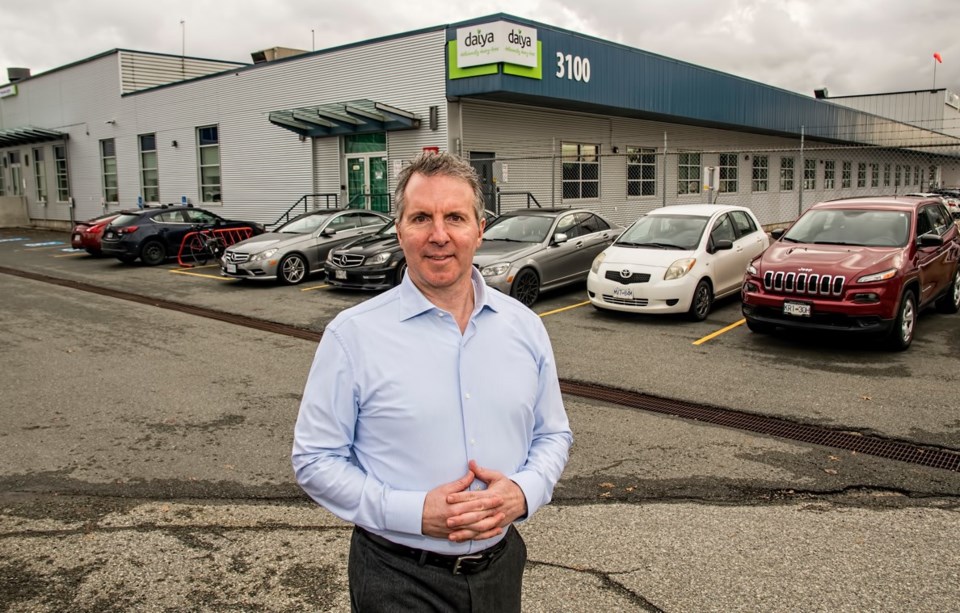 (Image: Daiya Foods CEO Michael Watt stands outside his company's new 400,000-square-foot facility in Burnaby | Chung Chow)
The company's specialty is plant-based cheese and related products, and Watt said one thing that sets the company apart is that it uses no soy, gluten, nuts or other common allergens.
"We will be launching shortly the first plant-based, chicken-barbecue pizzas that include no soy," he said.
"Our main three businesses are cheese, in all shapes and sizes, and plant-based pizzas – we have a great line of pizzas – and then a macaroni and cheese, so we make a rice pasta with liquid cheese sauce."
Daiya's plant-based cheeses include varieties such as smoked Gouda, Provolone and Swiss. He said styles such as Camembert are not made because it would require introducing to the premises mould, which could spread and contaminate other products.
Watt on March 1 announced that Daiya would spend millions of dollars to improve fermentation technology to improve its cheeses. The move is what he called one of Daiya's largest-ever investments in plant-based cheese technology.
Greg Blake and Andre Kroecher founded Daiya in 2008 and they increased sales to $79 million in 2016. In 2017, they sold the venture to Japan's Otsuka Pharmaceutical Co. for $405 million – an amount that was split among 130 investors.
Watt said that because most of the company's products need to be kept cold, Daiya's only direct-to-consumer sales are for its salad dressings and macaroni-and-cheese kits.
Much of its sales are to restaurants, such as Vancouver-based Famoso Neapolitan Pizzeria, where principal Frank Di Benedetto said customers like and ask for pizzas made with Daiya cheese.
"When most consumers are thinking about plant-based foods, they're thinking mostly about burgers, and then they realize that, 'Hey, there's other options as well,'" said Di Benedetto, whose FDF Restaurant Brandz also owns Fatburger Canada and Ricky's All Day Grill.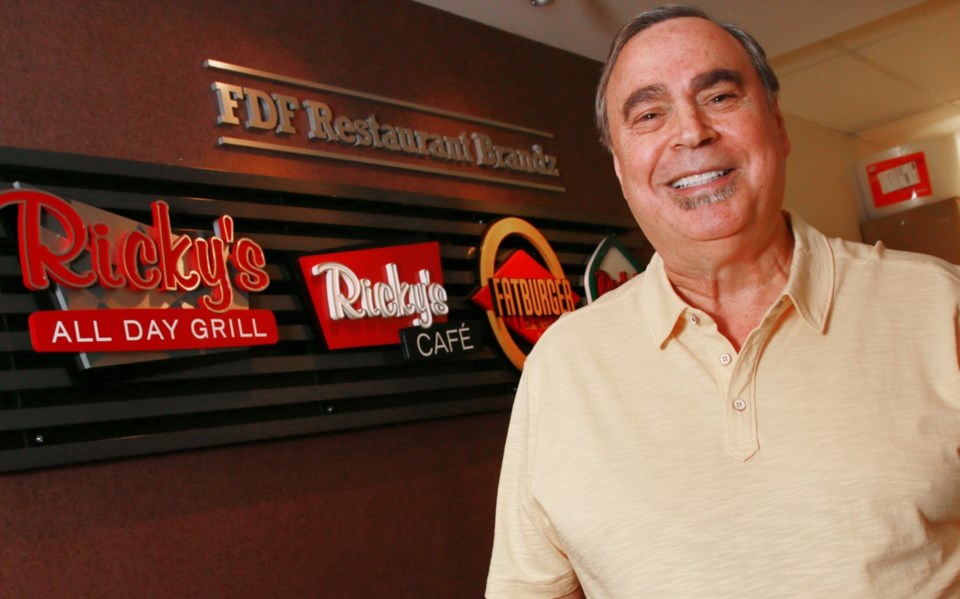 (Image: Frank Di Benedetto is a principal at Famoso Neapolitan Pizzeria as well as Fatburger Canada and Ricky's All Day Grill | Rob Kruyt)
Alternative-meat burgers attract most attention in the sector
In the past five years, most attention in the plant-based-food manufacturing sector has focused on companies that make products that aim to taste and have the texture of beef.
Los Angeles-based Beyond Meat (NYSE:BYND) created a sensation in 2018, when it struck a deal to sell its beef-like patties to A&W Canada. Other fast-food-restaurant chains, such as Fatburger Canada, started to stock Beyond Meat burgers in addition to longtime veggie-burger offerings.
Beyond Meat competitor Impossible Foods made headway in 2019 when it partnered with Burger King to launch sales for Impossible Whoppers across the U.S.
Fortunes for those companies have waned.
Beyond Meat went public in May 2019 and investors bid shares up more than 850 per cent to nearly US$240 each. Shares then traded at around US$58 during the March 2020 pandemic sell-off, and earlier this year sold for less than USD$13 each. Recent positive earnings have helped the stock price recover somewhat.
Beyond Meat executives this fall blamed inflation, and the resulting higher cost of living, for pushing consumers back to meat and away from Beyond's higher-priced products. They announced in October plans to cut about 200 workers, or 19 per cent of their global workforce.
Privately owned Impossible Foods followed suit at the end of January, announcing plans to cull 20 per cent of its workforce, or around 140 workers.
This has not dampened enthusiasm from analysts.
The research organization Future Market Insights predicts that the plant-based food market will expand by more than three times, to US$35.9 billion by 2033, from US$11.3 billion this year.
Driving that growth, it says, are factors such as increasing consumer intolerances for animal protein, a growing vegan population and a rising number of venture investments in plant-based food companies. Research and development helps too, as entrepreneurs are constantly creating new products.
Restaurant owners say they stock plant-based options to meet customer demand.
Di Benedetto said Fatburger Canada has had veggie burgers since its inception, and it still carries those burgers, which are made 80 per cent from vegetables and 20 per cent from soybeans.
Those burgers do not try to be like meat, he said. For the plant-based option that does, Fatburger Canada has switched to Impossible Burgers from Beyond Burgers, in part because they taste better, he said.
"We've had the Impossible burger for almost two years and it performs very well," said Di Benedetto. "We're pleased with it."
He said that about 70 per cent of Fatburger Canada's plant-based burger sales are for the Impossible burger, while veggie burger sales comprise the rest.
Tofu sales stable, as it is an established niche
Vancouver is also home to successful companies in a sister niche to plant-based proteins: Tofu and soya drinks.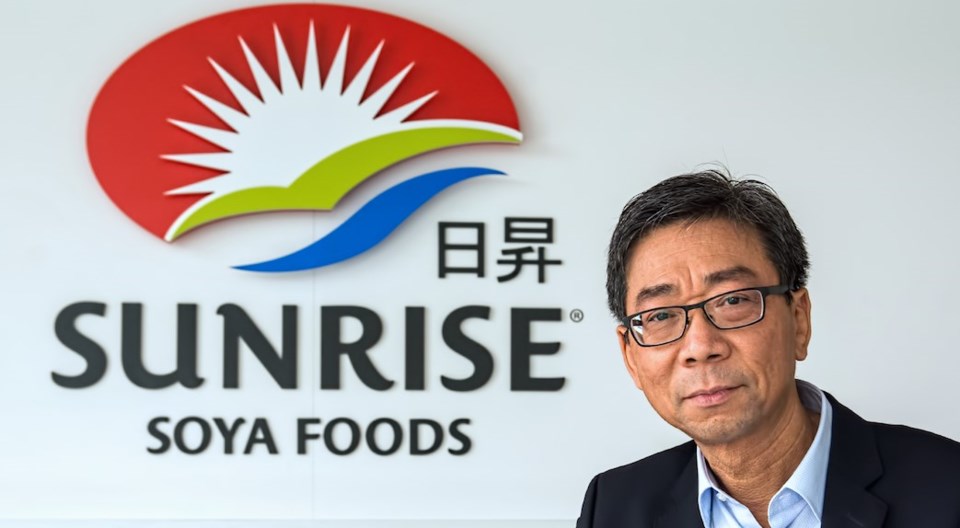 (Image: Sunrise Soya Foods CEO Peter Joe said sales for tofu is stable because it is an established product in Asian communities | Chung Chow)
Sunrise Soya Foods, for example, opened its third – and largest – manufacturing facility in 2019: An 85,000-square-foot facility in Delta, said CEO Peter Joe, whose parents founded the East Vancouver-based company in the 1950s.
Its other facilities include a 65,000-square-foot space in Toronto, and the original 55,000-square-foot manufacturing plant on Powell Street, he told BIV.
He would not share revenue details but said that his sales breakdown is as follows:
•57 per cent from plain bricks of tofu;
•19 per cent from flavoured tofu bricks;
•19 percent from soft-tofu flavoured desserts; and
•Five per cent from selling soy drinks, which a third party manufactures.
"Plant-based foods had a huge jump in sales, and growth, but we're just kind of steady," he said. "In Asian communities, tofu is a staple food so there's always that foundationally."
An earlier version of this article stated that Tojo's Restaurant in Vancouver had served Wamame products at some special events. The restaurant has since clarified it does not carry Wamame items on its menu, nor has it served the products at restaurant events. The article was updated March 24, 2023, to reflect this. We regret the error.