Now that a huge North Vancouver estate, listed for a record $36.2 million, has been mysteriously taken off the market with no evidence of a sale, we thought it was time for a check-in on the Lower Mainland region's priciest homes still available to buy on the MLS – for those with deep enough pockets.
Check out the jaw-droppers in our ranking countdown below – several of which have links to photo gallery stories on these listings.
5. Whistler lakeside "chateau": $25,900,000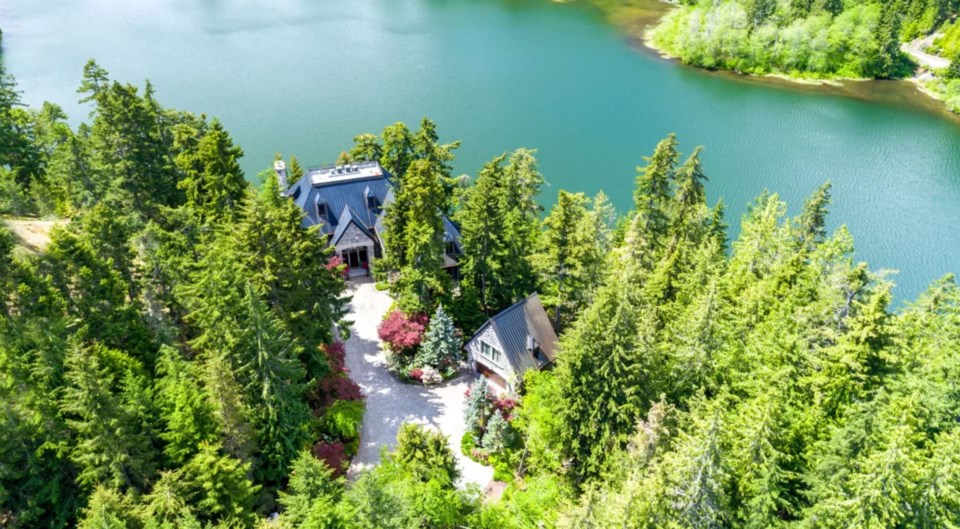 By far Whistler's most expensive listing, the sprawling estate known as Chateau du Lac on Nita Lake in Whistler was listed in January at $25.9 million, and the Courier reported on the listing here. The French-inspired chateau-style home was built in 2000 and sits on 210,307 square feet, nearly five acres (or two hectares), of wooded waterfront property. The lot, which sits on its own private road called Nita Lane, takes up one-fifth of Nita Lake's frontage at 1,000 feet of lakefront, with incredible water and mountain views. Nita Lake is one of only four residential lakes in Whistler. The house has 5,570 square feet of lavish, chateau-inspired interior living space plus a separate coach house with loft bedroom, as well as garages and extensive outdoor living spaces – totalling more than 10,000 square feet of living space.
4. Point Grey grand residence: $28,000,000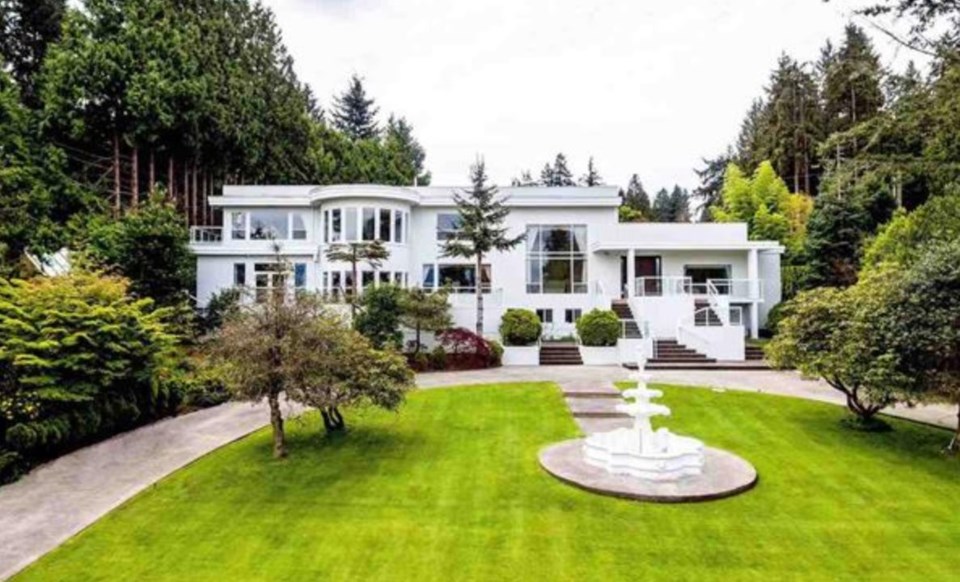 This large, 103-year-old home on "Billionaire's Row" – Belmont Avenue – in Vancouver's prestigious Point Grey area was listed in January this year for $28 million on the nose, and has seen no price drops. The house sits on a massive 35,500-square-foot ocean and mountain view property with manicure gardens, and inside there are more than 8,000 square feet of living space. This includes a grand foyer and double-height living room with huge windows, large entertaining and dining spaces, eight bedrooms, eight bathrooms, plus an indoor pool with hot tub and conservatory area. Downstairs there is also a nanny suite and recreation room. The interior could use some modernizing, however, so we guess $28 million doesn't buy you a renovated home on Billionaire's Row.
=2. Michelle Pfeiffer-linked log mansion: $28,800,000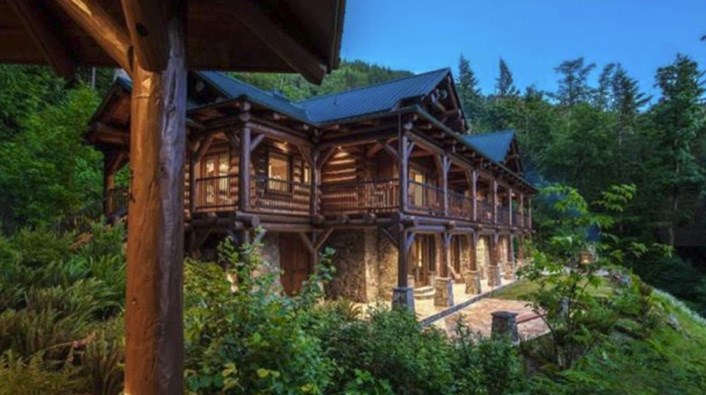 This $28.8 million, 340-acre estate property in a remote area of BC's coastline that is rumoured to belong to movie star Michelle Pfeiffer and her TV producer husband David E Kelley, listed on September 26, 2017, is still for sale with no price drop as yet. The owner is listed on public land title records as 1 Wilderness Realty Inc., a small Los Angeles-based real estate management company that applied to the province for moorage at the site in 2006. The jaw-dropping log-and-stone cabin-style house, which was built in 2007 as a "private sanctuary" and had more than $35 million dollars spent on it, is located at the mouth of Bute Inlet. Neither of the co-listing agents was able to comment on the family behind the property's ownership.With a surprisingly few three bedrooms, there are nevertheless many rooms in the 3,979-square-foot home, which boasts massive cathedral ceilings in the living areas, plus a recreation room and a loft.
=2. Vast Surrey "Tuscan" villa: $28,800,000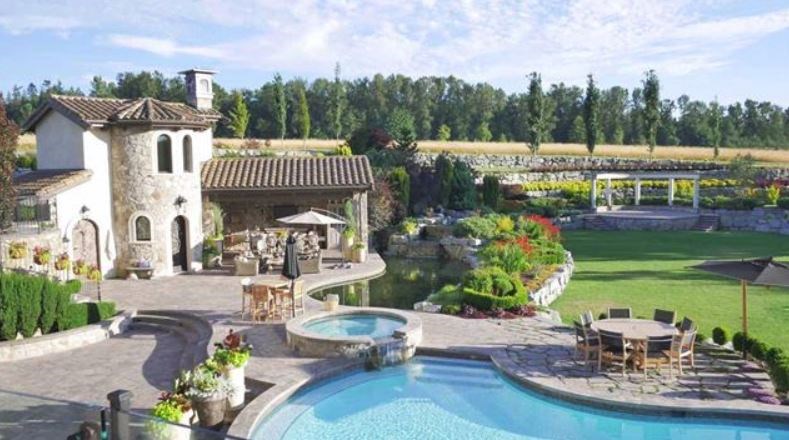 After hitting media headlines last summer, this massive, resort-style "Tuscan villa" in Surrey "Villa di Ponti" was re-listed March 19 for $28.8 million, nearly 10 times its assessed value, which we reported on with photos last week. Built in 2014, the multiple-construction-award-winning home is truly jaw-dropping. It sits on nearly 77 acres, around a 15-minute drive to White Rock, and has a 10-acre vineyard, two "docked and stocked" private lakes with a white sand beach, a golf putting green, a helipad, an amphitheatre, an infinity pool plus hot tub, a koi pond, and parking for more than 50 cars. The hotel-sized home itself has more than 13,000 square feet of interior living space, with eight bedrooms, at least eight bathrooms, eight fireplaces, yoga studio, home theatre and massive living and entertaining spaces.
1. Palatial Shaughnessy home: $35,000,000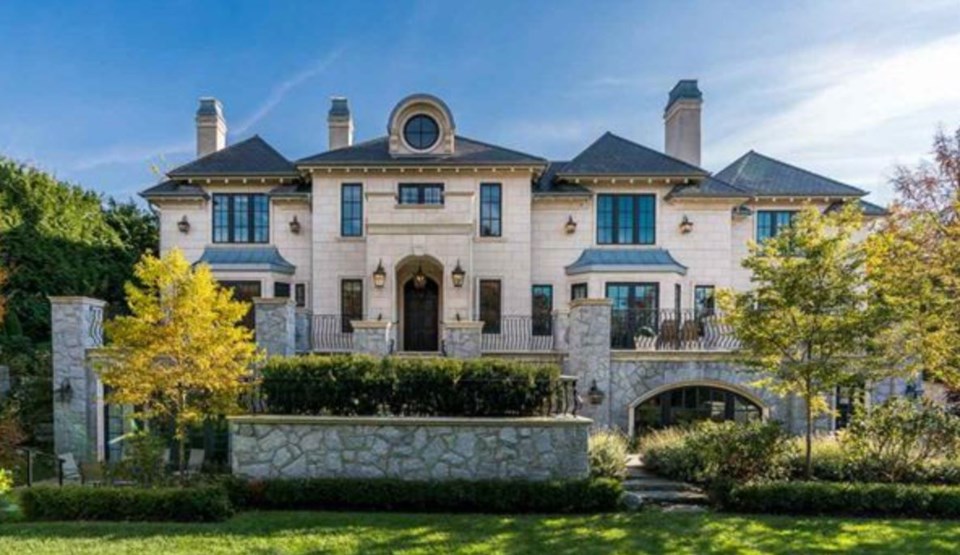 The extravagant, six-bedroom, eight-bathroom Shaughnessy house was listed in late November 2017, and the Courier reported on the listing here. It was built in 2016 with super-luxury finishings throughout, including a lot of Italian marble and bespoke millwork. It has a grand two-storey lobby with sweeping staircase and a vast, double-height formal living room, as well as a stately library, a 700-bottle wine cellar, eight (count 'em) wet bars and an indoor swimming pool with hot tub. Upon completion, the home was listed by a different agent in April 2016 at an even higher price — $38.9 million — but did not sell at that time. Records also reveal that the property, which originally had a Tudor-style house, was sold back in 2000 for $1.8 million.