A new study from UBC on eviction rates across Canada is shining a light on the need for more rental supply throughout the province.
B.C. has the highest rate of eviction, with 10.5 per cent of renters in the province reporting being evicted within five years. The national average for evictions is 5.9 per cent, according to the report.
Characteristics such as being aged 45-54, living in B.C. and having a shelter cost-to-income ratio above 50 per cent are identified as risk factors for eviction, after controlling for other socio-demographic characteristics.
Approximately 85.4 per cent of reported evictions were no-fault evictions, compared to 64.7 per cent nationally.
Vancouver also has the highest rate of eviction, 10.4 per cent when compared to other census metropolitan areas like Toronto and Montreal.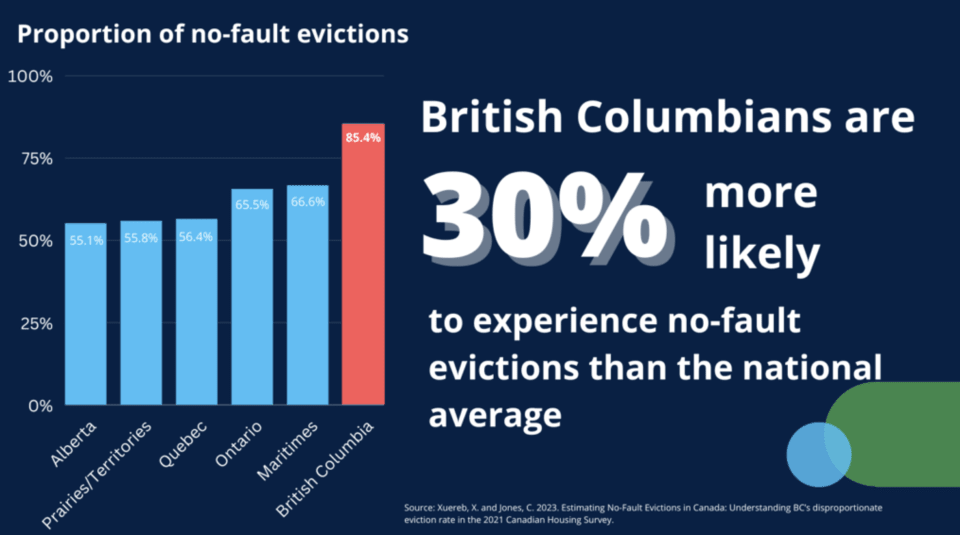 The big takeaway from the study's findings is the need to push for more rental stock in Metro Vancouver and B.C., said Craig Jones, one of the authors of the study. He acknowledged that progress is being made when it comes to adding more rental supply but more needs to be done.
"There's a silver lining to this story: this data is a couple of years old but it shows we really need to keep this in mind, that we do have an issue in B.C. But, I do think that with the really promising signs of more purpose-built rentals getting built and also the changes that the BC NDP made to the Residential Tenancy Act, are signs that this issue is being addressed. We still have more work to do," Jones said.
In Metro Vancouver, there are just under 15,000 rental units under construction at the time of publication, according to Eric Bond, housing and real estate economist at Canada Mortgage and Housing Corp. (CMHC).
This breaks down to 5,500 units in Vancouver, 1,841 in Surrey, 2,103 in Burnaby and 1,593 in Coquitlam, among other municipalities in Metro Vancouver, he said.
"We actually have a record number of market purpose-built rental units under construction in Metro Vancouver at this time and that's a trend that started since about 2015," Bond said.
For existing rental supply, there are 118,500 market purpose-built rental units in Metro Vancouver, he said.
Approximately 52 per cent, or 61,000, of the total units are in Vancouver. The second highest total is New Westminster, with 11,000 units, according to Bond.
"Vancouver, far and away, has the most important concentration of existing rental stock. That's largely a function of what was built many, many decades ago in this region. Most of that rental apartment construction took place in the City of Vancouver at that time and the city has continued to create important quantities of rental stock for the region," Bond said.
Over 11,000 homes are currently under construction in Vancouver with 47 per cent being rental, according to CMHC data gathered by the City of Vancouver. In comparison, Surrey and Burnaby have dedicated 21 per cent and 13 per cent of construction to rental supply.
Previous research from 2021 shows that suburban cities around Vancouver have higher rates of evictions. Cities mentioned are Surrey, Port Coquitlam and Maple Ridge.
Jones said that this is a relatively new area of study in Canada and more needs to be done to understand the regional breakdown of evictions.
"All of this comes down to there being a shortage of supply that's leading to escalating prices that then lead to things like evictions; and also more interest in creating a policy environment that promotes rental construction over other types of housing in order to kind of meet that demand and address the shortage," Bond said.