As the debate on house sizes on Richmond farmland continues to roil, Ian Paton, a Delta councillor and BC Liberal MLA for Delta South, says speculators are walking away from his city after learning it has house size restrictions on the Agricultural Land Reserve (ALR) that are in line with residential neighbourhoods.
"I'm proud of Delta's record on quickly adopting the bylaw standards for home sizes on the ALR," Paton, opposition critic for agriculture, told the Delta Optimist this month.
It is largely accepted that larger house sizes contribute to increased land value and therefore speculation. Also largely accepted is the fact overpriced farmland due to speculation imperils commercial viability for farmers, especially younger ones —across Canada and in Richmond, where farmland is now frequently listed for about $1 million per acre.
A recent Senate Committee on Agriculture and Forestry report notes "rising farmland prices threaten the viability of the family farm."
In Richmond one may build a farmland house roughly three times larger than in Delta. City council is reviewing, again, whether house size on farmland should be more in line with nearby residential properties.
As council collectively delays its decision whether to reduce farmland house sizes there has been a rush of applications (61 in total) to get building permits for redevelopment on the ALR, according to the city.
Meanwhile public comments on a review of the Agricultural Land Reserve, including house sizes, by the Ministry of Agriculture concludes this week, just after Metro Vancouver regional government resolved to ask the provincial government to create legally binding house size standards across municipalities.
Exemplifying the difference in land values between Richmond and Delta are blueberry farms presently listed on MLS. Whether, or how much, house size regulations is a factor depends on who answers this question.
In Delta, where house sizes are limited to about 3,600 square feet, an 80-acre blueberry farm at 5606 96 Street is listed for $9.8 million, or $122,500 per acre. In Richmond, where houses can be built up to about 10,800 square feet, a 25-acre blueberry farm at 9331 Sidaway Road is listed for $9.7 million, or $388,000 per acre.
According to the late land use economist Richard Wozny, any size limits greater than neighbouring residential areas boosts the price of farmland. As such, Wozny penned an analysis to the City of Richmond last year stating any limit above 4,200 square feet will overvalue farmland.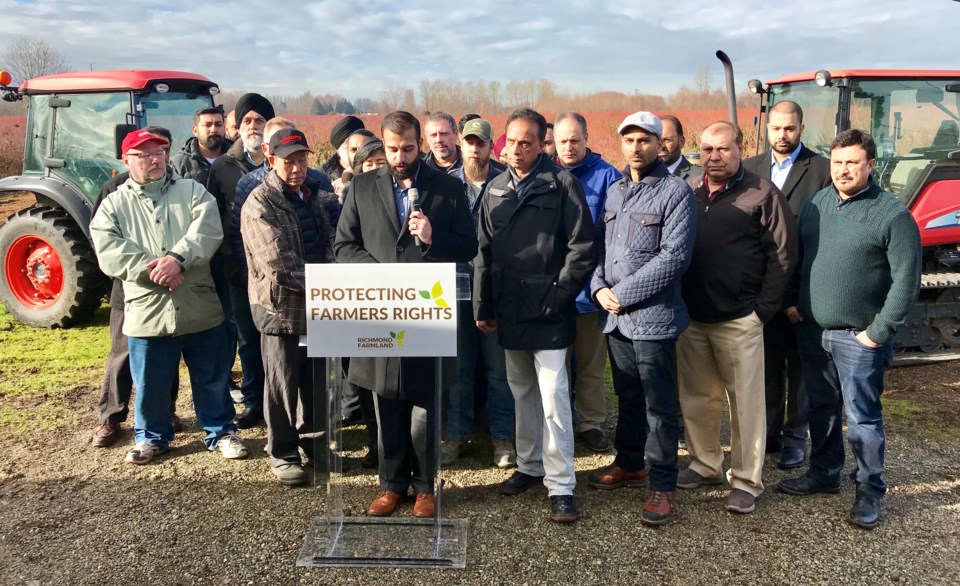 But spokesperson for Richmond Farmland Owners Association Gunraj Gill said house size is not necessarily a factor in rising land values (he said could not speak to specific examples of these listings as properties may differ). Gill said proximity to an urban core, in addition to land improvements, may be factors.
Bill Li, the realtor representing the Delta property, said the farm is in excellent condition with many upgrades and the listing is priced competitively. Realtor Layla Yang who advertised the Sidaway listing did not reply to questions from the Richmond News.
Li said he cannot conclude that larger house sizes in Richmond play a factor in higher prices. Although he noted a 10,000 square foot mansion could cost $500 to $1,000 dollars per square foot to build.
The association is at odds with advocacy group Richmond FarmWatch, which wants to see the city reduce ALR house sizes to 4,200 square feet, but appears to be willing to accept ministry guidelines of about 5,400 square feet.
Laura Gillanders of FarmWatch says most ALR listings in Richmond rarely mention farm capacities. For instance, realtor Patsy Hui has a 10-acre farm at 12331 Gilbert Road listed for $9.8 million, or nearly $1 million per acre.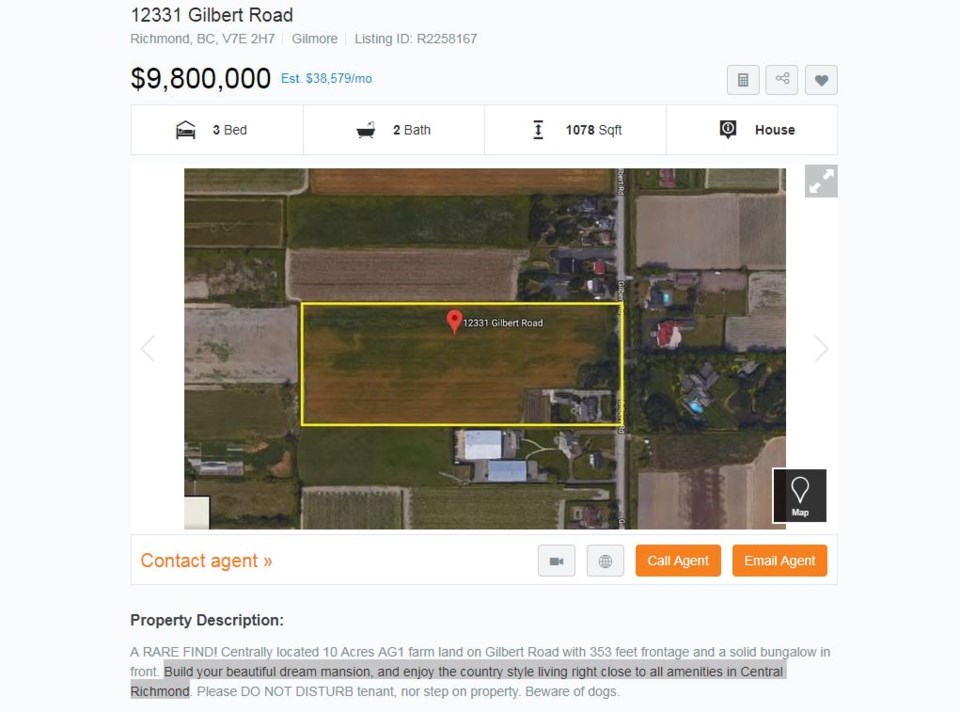 "Build your beautiful dream mansion, and enjoy the country style living right close to all amenities in Central Richmond," the listing notes.
The two groups, the association and FarmWatch, do agree council is delaying the process unnecessarily. Gill said the rush of applications is because there is uncertainty from the city. Gillanders says speculators are snapping up the permits.
"These are not farmers. If farmers need a big house they always have the option of applying for a variance," said Gillanders.
But Gill wants the city and province to focus on policy tools to bring more farmland into production. That could mean tax reforms or lease incentives, he said.
Gillanders also agrees with such measures, in addition to curbing mansions and applying the foreign home buyers' tax to the ALR.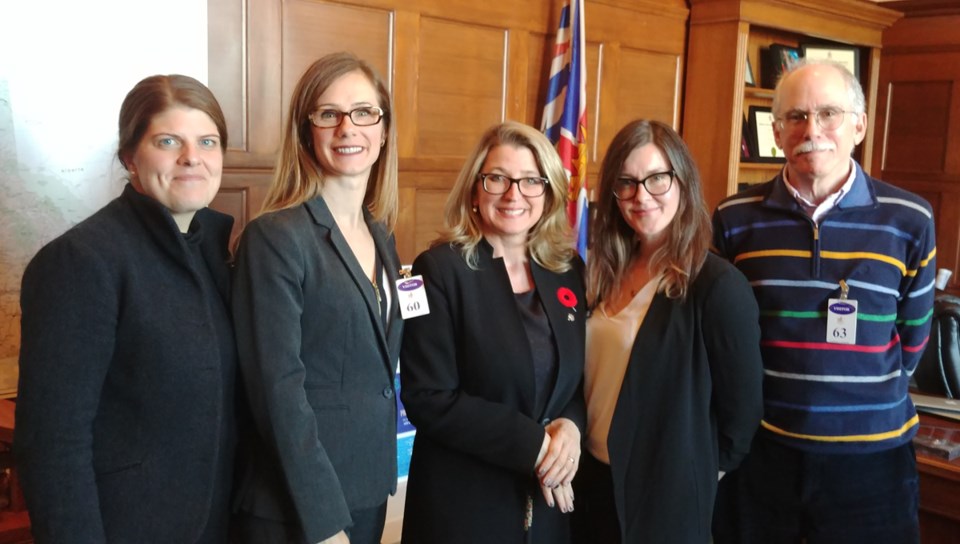 As it stands ALR properties only need to produce $2,000 to $10,000 in food sales (a relative pittance according to farming experts) to qualify for thousands of dollars of property tax exemptions.
Gill maintains there is no proof high land values makes farming less accessible (the ultimate goal of the city), noting farms can be leased. And, in fact, leasing of farmland is widespread in Richmond, said Gill.
In Richmond 18 per cent of Richmond farmland is farmable but not farmed, according to Metro Vancouver (2014). In Delta the rate is 12 per cent. Both in Richmond and Delta, 29 per cent of farmed land is leased.
FarmWatch contends leasing is not ideal for career farmers as there is hesitation to invest in improvements (irrigation, greenhouses etc.) to land that is seemingly lying in wait for redevelopment.Gillanders hopes the ministry puts an end to the debate at city hall.
"It's clear municipalities cannot manage themselves," said Gillanders.
Another wrinkle in the debate in Richmond appears to be with home plate restrictions.
Land owners have generally opposed such restrictions, which limit the area buildings and septic tanks can be constructed.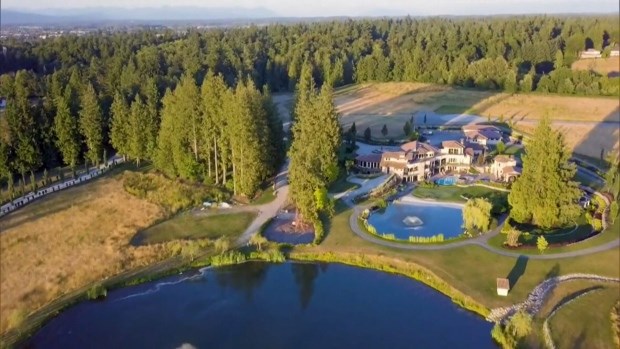 Gillanders says council is boasting that it has greatly limited its home plates but notes there is a trend developing whereby estate developers are utilizing farmland to expand landscaped gardens. A property on No. 4 Road in south Richmond appears to be digging up a pond and planting a small orchard, said Gillanders.
"Even though Richmond council has boasted a strict home plate, there's nothing the city can do from landscaping the field. In this case we suspect they're planting fruit trees so they can say they're farming. And they need to dig the pond for drainage. They pay very little tax for that 23,000 square foot house for selling a bit of fruit."
This trend is exemplified in Surrey where ALR house sizes are not restricted but home plates are. There, the 76-acre Villa di Fonti features ponds and landscaped fields to compliment a house presently listed for $28.8 million.
As such Gillanders calls the home plate debate "smoke and mirrors."