After months of debates on reducing house sizes on Richmond farmland, the majority of Richmond city councillors said they wanted to keep status quo.
Councillors voted Monday to not only keep the maximum farmhouse size at the current 10,764 sq. ft., but also to allow an additional house to be built on the land without rezoning, at the general committee meeting.
Further discussion and a full council vote is expected to happen at next Monday's council meeting, followed by a public hearing.
All councillors except Carol Day attended the meeting, along with more than 60 residents in the audience.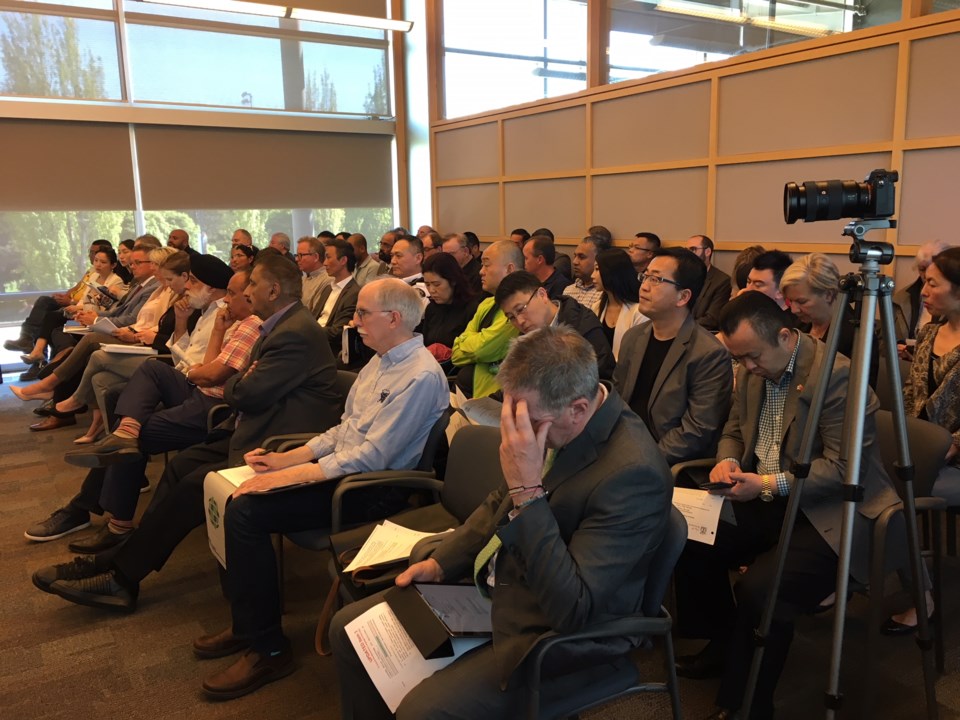 Staff recommended 12 options for maximum farm house sizes to councillors, ranging from 5,382 to 10,764 sq. ft.
Coun. Bill McNulty put forward a motion to keep the maximum size at 10,764 sq. ft. and allow the house to be up to two and a half storeys high.
The motion was supported by Couns. Alexa Loo, Chak Au, Ken Johnston, Linda McPhail and Derek Dang, but opposed by Mayor Malcom Brodie and Coun. Harold Steves. It was carried forward to the next council meeting.
A second vote took place on whether farmland owners need to apply for rezoning if they want to build additional dwellings on their land – rezoning is required in the current policy.
McNulty put forward a motion to allow one additional dwelling unit – up to 3,000 sq. ft. – on the farmland without going through rezoning, as long as the land is big enough and the owner can prove the dwelling is for full-time permanent farmworkers' use.
This motion was passed again to be carried to the next council meeting, with Brodie, Steves and McPhail opposing.
Loo, who voted for it, said she prefers allowing up to three additional dwelling units to be built on farmland without rezoning, but she didn't put forward the motion.
Currently, 61 farm lots in Richmond meet the size requirement to apply to have a second dwelling unit, according to the staff report.
"The reason that I put [the house size] forward, you know, it's interesting that people are trying to embarrass council, and everybody is focusing on house size, and nobody is focusing on the crops and farms," said McNulty.
"We are sitting around and say we support agriculture, (but) we wanna hammer the hell out of farmers. We are missing the point. I'm tired to say, we want it to be farmed, let's get them farm…Let's get this done and go from there."
But Steves expressed his disappointment with the result.
"If you go down the roads, you will see huge mansions, more are coming, and they are not farms; people living in those are not farmers," said Steves.
"That's why there is no doubt that the house sizes on farmland should be no more than the maximum size of a normal city [house], otherwise the inflated price puts farmland out of reach of real farmers. So, I don't support the house size."
In addition, councillors agreed on sending a letter to B.C. government to request that the province "review their policies on foreign ownership, taxation, providing greater financial incentives for farmers, and strengthening the … enforcement actions for non-farm uses."
Correction: The story has been updated to reflect the change of Coun. Derek Dang's vote. Dang voted for the motion to keep the maximum farmhouse size at 10,764 sq. ft.