Richmond Centre sits on a pre-zoned site and as such its massive redevelopment will not be subject to the usual demands made by municipalities to ensure developers and new residents have contributed fairly to the community's growth.
"This is not normal. It's very unusual because it was pre-zoned in the 1980s," explained Coun. Linda McPhail, chair of city council's planning committee.
The Richmond Centre South Redevelopment Plan will add about 2,000 new dwellings in roughly a dozen new towers between No. 3 Road and Minoru Boulevard. The old, brick Sears building and mall parkade will be demolished, as will the southern-most parking lots. Park Road will be extended through the development, which will neighbour Richmond City Hall alongside a new east-west road.
"The City's ability to secure community amenities, such as affordable housing, is severely compromised because Council does not have the discretionary power of a rezoning application," notes a staff report to city council.
However, despite the pre-zoning — which is somewhat of a question mark to McPhail, as its roots are not explained in a staff report to council — the site will be subject to amendments to the City Centre Area Plan and, as such, city planners are nevertheless able to negotiate some community amenity contributions from developer GBL Architects, which has several projects on the go in Richmond.
For example, according to the report, GBL Architects proposes "approximately 150 dwellings for low-income, workforce households (e.g., retail sales employees, teachers nurses, etc.) in two purpose-built rental buildings suitable for operation by non-profit housing providers."
This, however, represents only five per cent of dwelling space, not the 10 per cent now required (as of July 2017) under a rezoning application of similar magnitude. Considering nothing was required initially, McPhail called the contribution "significant."
These rent-fixed-to-income dwellings will be made possible by the city lowering costly parking space requirements, from 1.5 spaces per dwelling to one space per dwelling.
Typically, for social aspects, city planners promote mixing such housing with market dwellings, but they appear to be separated here as part of the negotiations.
The development proposes 50 per cent "family-friendly" housing, meaning half the dwellings will be two or more bedrooms. Because a pre-zoned development does not require consultation with the Richmond School District, the application will only be forwarded to the Board of Education as a courtesy.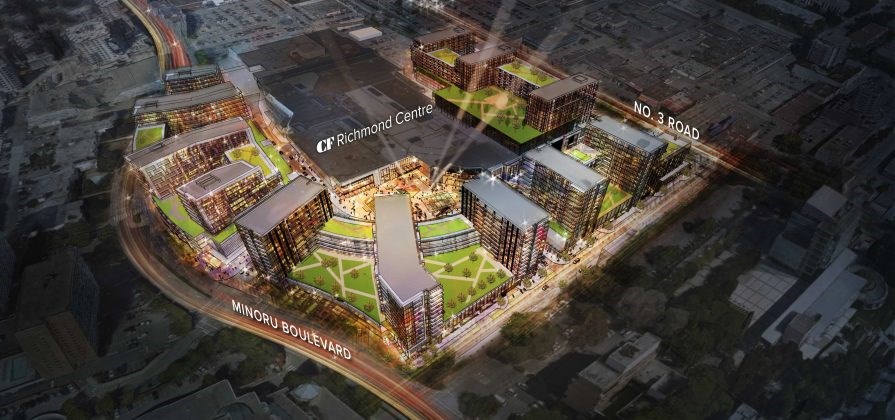 Nearby City Centre schools are already bursting at the seams and there are no plans yet announced by the district and Ministry of Education as to how to accommodate such growth.
Schools are paid for through general tax revenue and modest contributions from new developments. A high density development, such as this one, is charged a "school acquisition rate" of $463 per unit. With 2,000 new units that is close to one million dollars for the district, which has admittedly struggled to parlay the 2013 $41 million sale of Steveston High into a City Centre school, as intended.
"Population is increasing at a rate faster than we thought," said McPhail.
"This is something that came up in planning. You think, with about 2,000 units, how many more children will there be?" asked McPhail, a former school trustee herself.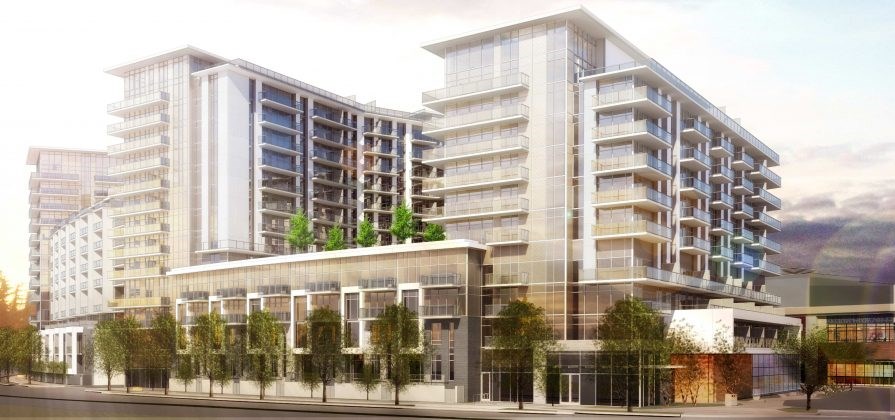 Much of the area plan amendments are required to accommodate new and improved roadways, which will feature new bike paths along "pedestrian oriented" streets with ground-level retail.
A major feature includes opening the mall's galleria (the linear blue glass dome) to the public during transit hours outside of the mall's usual opening hours. This will allow residents to flow easily from Minoru to No. 3 Road, where the Canada Line is.
Due to population growth, the Canada Line is already nearing maximum capacity and additional federal and provincial funding is set to add more trains by 2020. The line is single-tracked to Brighouse Station, however, which also hampers train frequency to the area. There is no funding plan to expand capacity in that respect, according to TransLink, which also requires no consultation, in part because the development is not immediately adjacent to the station.
Most developments near Capstan Way were part of rezoning applications and as such have contributed nearly $25 million for a new Canada Line station (a per-unit fee).
The Richmond Centre development will add a new, half-acre public plaza, however it will not add any new park space, as occurs in many other developments requiring rezoning. As such, new residents could depend on nearby Brighouse and Minoru parks for green space. More green space will, however, come by way of new rooftop courtyards and gardens that will replace the vastly concrete landscape of today.
There will also be "greenway improvements along No. 3 Road and Minoru Boulevard," which is presently lined with mature maple trees and bike paths.
The development is set for public consultation led by GBL Architects in May. Construction could begin as early as next year.