Metro Vancouver's turbocharged residential real estate market is showing signs of slowing, with sales plunging, prices edging down and a large swath of properties hitting the market.
It is enough to temper the enthusiasm of some longtime boosters of the market.
Chip Wilson, for example, has for years been bullish on the region's residential real estate market, which in October saw the benchmark price for all homes in the region up 76.8% compared with five years earlier.
His own home at 3085 Point Grey Road is the priciest in the province, with an assessed value of more than $78.8 million – up more than 124 per cent in the past five years. Wilson also owns rental-apartment buildings through his Low Tide Properties.
When Business in Vancouver asked Wilson on October 24 whether it is a good time to buy Vancouver real estate, he did not skip a beat before answering, "Absolutely not."
Wilson's comment came four days after the most recent civic elections and he did not sound pleased with the result.
"We have three levels of left-wing government," he said. "Money will go to where it is most loved, and investment here is very, very, very difficult right now."
Wilson does not plan to sell his residential real estate holdings, and he expects to develop some of his commercial properties, but he said Vancouver is "not an environment where a smart person would invest."
Housing-policy watchers, however, say there are bigger forces at play in determining the region's home prices than who sits in the Vancouver mayor's chair. They include new home supply, mortgage rates and the level of foreign-buyer interest in Metro Vancouver as a safe haven for investment in the face of such measures as B.C.'s tax on home purchases by foreign buyers, which rose to 20 per cent in February.
It is also unclear how different new mayor (and former NDP MP) Kennedy Stewart's real estate initiatives will be compared with those of former mayor (and former NDP MLA) Gregor Robertson.
"I don't know that Kennedy Stewart's policies sound much different," said real estate analyst Tsur Somerville, a professor at the University of British Columbia's Sauder School of Business.
"If you look at what he is proposing, there are some changes, but they're not radically different changes. City council is interestingly split, with a larger NPA [Non-Partisan Association] presence, but then you've got a more fractured left-of-centre [faction]. I think it's hard to figure out what is going to happen there."
Somerville said most housing-related discussion among the three levels of government will centre on how to fund social housing. 
"The biggest threat to the sustainability of Vancouver is not whether the [city's] empty-homes tax is one per cent, two per cent or three per cent, but whether people in Vancouver feel that they can earn a living and have housing that they want. That's a much more fundamental issue for where Vancouver is going forward."
Sales, prices declining
The Real Estate Board of Greater Vancouver's (REBGV) statistics for October show that prices for Metro Vancouver homes have started to decline in the wake of sluggish sales and a generous supply of residences listed for sale.
"Home prices have edged down between three per cent and five per cent, depending on housing type, in our region since June," confirmed REBGV president Phil Moore in early November.
Prices for a basket of comparable, or benchmark, homes across the region stood at $1,062,100 in October – up 1 per cent compared with a year ago, but down 3.3% since July.
To explain the price declines, Moore pointed to the number of homes in the region that sold in October, 1,966, noting a 34.9 per cent decline compared with the 3,022 homes that sold in the same month a year ago.
He noted that the 12,984 homes listed for sale in Metro Vancouver in October represented nearly a four-year high.
"We're clearly at a point where prices are adjusting right now," said Somerville. "We're in our form of a declining market. You see that in the drop in transactions and the drop in prices. This can play out in different kinds of ways, depending on what investors do with the units that they've purchased."
He suggested that investors who have signed presale contracts for condominiums under construction might decide after they take possession of their units that they have already made a sufficient gain on their investment and that if the market appears to be souring, they may be enticed to sell.
That, he added, would add supply to the resale market, and would likely put downward pressure on home prices.
Other economists say the supply of homes for sale in the Metro Vancouver market will almost certainly rise.
Housing starts hit all-time high
Eric Bond, Canada Mortgage and Housing Corp. (CMHC) economist and principal of market analysis, told BIV that this is because the number of homes under construction in the region hit an all-time high of 43,684 in August.
That number has dwindled slightly, to 40,911 in October, Bond said, citing CMHC data.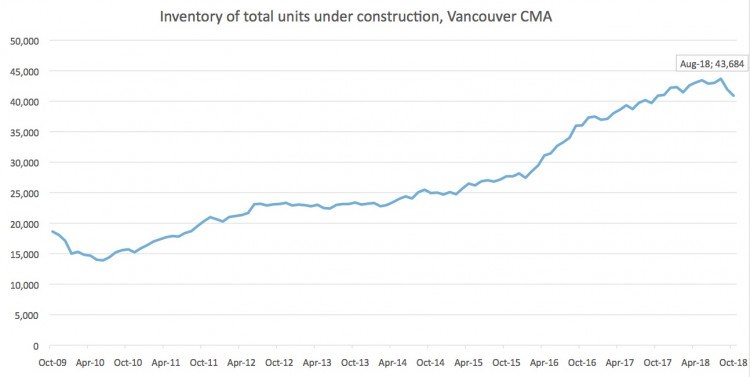 "We have been building homes [in Metro Vancouver] at a pace that exceeds the rate of household formation for a number of years, but demand has been such that we haven't seen inventories of unsold homes rise over that period," he said.
"We are expecting those inventories to rise over the next two years. That has started in the last few months."
The number of home starts in Metro Vancouver has been falling, and that is an indicator that should eventually translate into fewer homes under construction, and therefore provide a moderating influence on prices in the future, he said.
"We expect the average MLS [Multiple Listing Service] price to decline seven per cent in 2019, and then a further four per cent in 2020," he said.
That calculation is for average sale prices, however, and not for benchmark prices for comparable homes, Bond clarified.
He expects some of the price depreciation in future home sales to be driven by a higher proportion of sales of lower-priced condominiums and townhomes, compared with sales of pricier detached homes.
Still bullish
Some developers, however, remain unfazed.
Panatch Group president Kush Panatch, for one, is excited about his company's 50 Electronic Avenue condominium project in Port Moody, which opened its sales centre in mid-October and held two weeks of previews before brokers started to write sales contracts on November 2 for the project's 138-unit first phase.
"In three days we sold 55 units," he said.
He said sales may have been higher had his company not kept its promise to Port Moody city council to restrict early sales to buyers who either live or work in Port Moody.
He said that his confidence is tempered by the current market, where home sales and prices are falling, but added it remains high, in part because there are not many newly built homes for sale.
He estimated that about 95% of the buyers so far at 50 Electronic Avenue are people who intend to live in the homes and not to flip the units.
Panatch predicted that his Port Moody's first phase could sell out by the end of the year and that sales for the project's second phase would then launch in February.
"We have no brand new standing inventory," he said of the housing market across Metro Vancouver. "There aren't hundreds of brand new, finished apartments sitting out there. That's what gives me confidence."