The Real Estate Board of Greater Vancouver says that home sales returned to more "historically normal" levels in 2017.
Sales of detached, attached and apartment properties reached 35,993 in 2017, a 9.9 per cent decrease from 2016 and a 15 per cent decrease from 2015. Despite the decreases, sales were still nearly 10 per cent higher than the 10-year average, according to REBGV.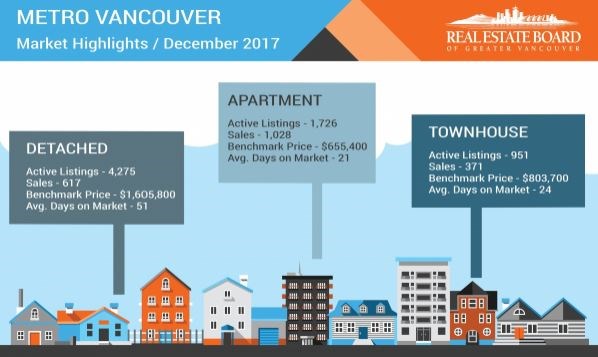 "Metro Vancouver home sales were the third-highest we've seen in the past 10 years while the home listings total was the second-lowest on record for the same period," board president Jill Oudill said in a news release.
That lack of available listings put pressure on housing prices, the board said, noting the benchmark price for all residential properties rose to $1,050,300, a 15.9 per cent jump from December 2016. The same rang true for condominiums and townhomes, which saw prices increase 25.9 per cent and 18.5 per cent, respectively.
"Strong economic growth, low interest rates, declining unemployment, increasing wages and a growing population all helped boost home buyer demand in our region last year," said Oudil.
"As we move into 2018, realtors are working with their clients to help them understand how changing interest rates and the federal government's new mortgage qualifications could affect their purchasing power.
Oudil said "only time" will tell what impact the new mortgage stress tests will have on the market.