Greater Vancouver office sales are remaining strong amidst an overall lag in commercial sales value, according to a new 2019 Q1 investment report.
Sales value are down 49 per cent in the first quarter of 2019 as compared to the same period last year, totaling $1.58 billion. Sales velocity also slowed considerably, down 36 per cent from the year prior. Three hundred and twenty-two transactions mark the lowest sales volume in 18 quarters, according to Altus Group's report.
"The lowest transaction volume since Q1 2013 is reflective of the gap between vendor and purchaser price expectations, the lack of product and has resulted in decreased market activity," said Paul Richter, director of data solutions at Altus Group.
The industrial sector posted the strongest sales value decline, down 54 per cent from the fourth quarter of 2018 to $228 million.  Just 40 sales took place, versus 70 last quarter. The decline is more to do with a lack of availability rather than a decline in sales or prices. Prices increased 5 per cent over the quarter, to an average of $399 per square foot.
Retail saw its second consecutive decrease in investment, posting 35 sales worth $136 million in Q1 2019, down 47 per cent in dollar volume from last quarter and 78 per cent year-over-year. However, Altus reports that despite the two-quarter slump, capitalization rates are expected to level out moving forward following a period of flight compression.
Vancouver's office sector remains the outlier, recording the only increase in sales and dollar volume this quarter. Twenty-six sales took place this quarter, up from 16 the quarter prior and 13 during the same time last year. Two suburban office transactions accounted for approximately $303 million of the $395 million traded in the office market, vaulted the sector's dollar value by 639 per cent from the previous quarter and 221 per cent year-over-year.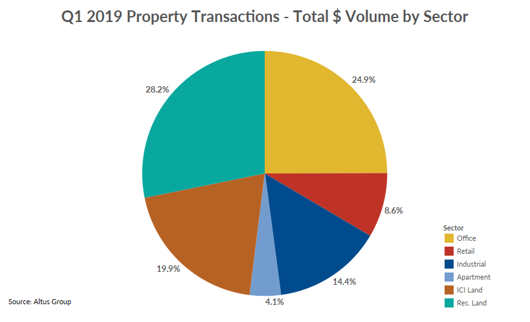 "This was the strongest quarter for Vancouver's office market since Q1, driven by key transactions as well as new, centrally-located, high-end strata projects," the reports reads.
Typically Greater Vancouver's strongest performing sector, residential land market sales dipped under the $1 billion mark for the first time in 13 quarters to $446 million. This was the sector's transaction volume since Q2 2014. This represents a decrease of 68 per cent in dollar volume from the previous quarter and 66 per cent year-over-year.