It's a moment Pastor Stuart Appenheimer has thought about during the past decade or so, but one that appears to now be coming sooner than later — if all goes according to plan.
Appenheimer will temporarily depart the existing Brighouse United Church building — an old, musty utilitarian relic of the 1960s — that's served as his second home for three decades, but is now scheduled to meet the wrecking ball in order to build an apartment complex with up to 165 rental homes, half of which will be rent-fixed-to-income.
The development is part of a unique, province-wide deal struck between the provincial government (B.C. Housing) and the B.C. Conference of the United Church of Canada. To date, four ageing United Church properties in the Lower Mainland, including Brighouse, will be redeveloped.
Say what you will about the exterior of Brighouse United Church on Bennett Road, Appenheimer maintains a cozy atmosphere inside for his congregation. Mid-twentieth century ball pendant lighting hanging above wooden pews lined with bibles provides a homely setting for sermons held in front of a rotunda, featuring small stained-glass windows — an add-on of the portable-like structure, during the church's era of growth.
"A lot of us are sad. I've been the Minister here for 30 years. But I think there's some excitement around having a new facility," said Appenheimer, now seeking an interim place of worship.
But with congregations such as Appenheimer's shrinking and old facilities such as his nearing the end of their lifespan, many churches in B.C. are having to find creative ways to stay open.
And to do so, even God, it seems, must acquiesce to the economy's booming real estate sector.
"To be frank, the church has a lot of property but not a lot of money," explained Terry Harrison, property resource organizer for the Conference.
"It's not a surprise that in an increasingly secular world people aren't going to church. We have to figure out how to function in that context. The number of churches peaked in the 1950s or Sixties and many are ageing out; the congregations are ageing. So what do we do? They don't need these huge, mammoth buildings with big parking lots. What does the world need? It needs affordable housing. And we have property. So let's make that part of our strategic way going forward," said Harrison.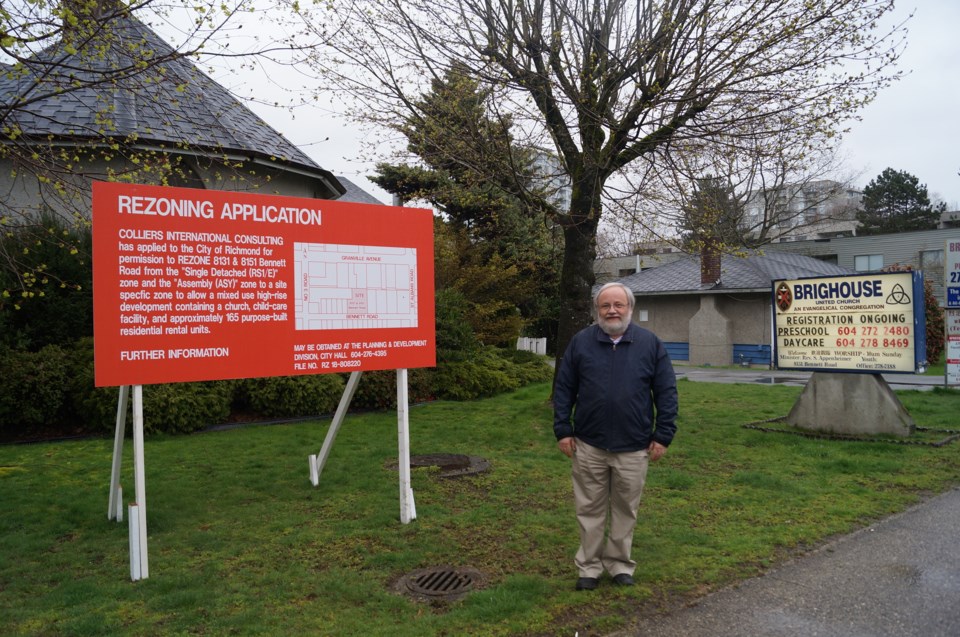 The provincial government will loan the church money to develop properties. With no land purchase required, the church will be able to build affordable, rental housing and use the rent payments to pay off the loan. The development will also include a new childcare centre and a new church hall, both of which will be rolled into the cost of the development, to be managed by the United Church's new non-profit society Three Point Housing Society. The church retains ownership of the land, gets a new church hall and helps people in need. Meanwhile, the government adds to its lofty goal of building 114,000 new housing units over the next 10 years.
The project will see 51 per cent of units be rent-fixed-to-income based on Canada Mortgage Housing Corporation guidelines for affordability (paying 30 per cent of gross income on housing). The remaining units will be market rentals.
"There is a lack of purpose-built rentals in these marketplaces at large," noted Harrison.
According to Metro Vancouver housing data, Richmond has added an average of 84 purpose-built market rental apartment units annually, over the past 10 years (excluding secondary suites (93 added to new detached homes in 2017) and subsidized housing).
The only matter left standing in the way of the United Church development is a pending rezoning application.
The Brighouse United Church property is a lot comprising the church itself, two detached homes, a childcare centre and three parking lots — all a stone's toss from the rear lots of the No. 3 Road McDonald's and Value Village on Granville Avenue. It is zoned for medium-density residential but sits on the border of the City Centre Area Plan, which allows for 15-storey apartment buildings. To fit 165 units into the space, the church is proposing to build a 14-storey tower at the rear of the re-zoned lot. To either side will be low-rise apartments that will flank the townhouses next door. A childcare centre and church hall will face Bennett.
"We have spent the last year working with the City of Richmond and preparing our application so we go into the application process with both parties well informed," said Harrison, who claims neighbours are on board with the plan.
It is hoped city council can approve the plan so construction can begin next year. If council does, the development will be one of the largest rental housing projects the city has seen in decades. While the development is not unlike to the new Kiwanis Towers on Minoru Boulevard, it will not require municipal funding.
So far, Harrison said BC Housing has provided about $12 million for development plans of the four sites. Once approved by municipalities, the construction loans will be issued to pay the development teams (in Richmond, VIA Architecture and Colliers International have been hired).