In a bid to strike something off his bucket list, Newsreporter Alan Campbell enlisted the help of Yolanda Blommers, of Richmond's Blue Meadow Farm, to teach him how to ride a horse.
Over the next few weeks (or maybe months), at her three-acre riding school in rural, south-east Richmond, Blommers will be digging into her 30 plus years of coaching expertise to get Campbell competent in the saddle.
Follow his progress weekly in his Horsing Around column
DRIVING back up Highway 99 after my fourth horse riding lesson at Blue Meadow Farm, I strangely found myself making clicking noises with my mouth.
Thankfully, no one witnessed this vocal phenomenon, which wasn't sparked by a twitch or the proximity to lunchtime.
Nope, this particular audio delight was me trying to compose a more effective "click" to motivate my lesson horse to keep putting one hoof in front of the other.
In my defence, I was on a new horse for the first time in four weeks, a deliberate tactic from instructor Yolanda, so one doesn't get used to a certain mount.
But if Yetter — an intelligent, 14-year-old Appaloosa – got any slower under my charge, moss would have formed on his saddle. Clearly, "C'mon Yetter" and "trot on" do not suffice.
Even the introduction of a riding crop for the first time, which I would gently flick off his shoulder, wasn't doing the trick.
All I had in my locker to keep him on the trot was that clicking sound riders make to "talk" to their horse.
I'll be honest, my clicks are pitiful. A single grasshopper stuck in a soundproof booth would have more impact.
As such, the onus to get Yetter to go a gear faster was on my legs and feet, which were weary after playing 90 minutes of soccer the day before.
Perhaps sensing my inexperience, Yetter, the considerate beast that he is, performed the slowest trot likely ever carried out in equine history…and it was all caught on video.
Prior to breaking the aforementioned record, I had been extremely excited to finally get to groom and tack up the horse prior to the lesson, which also involved cleaning the hooves.
Tacking up included fitting a standing martingale, (which prevents the horse's head from getting too high), saddle blanket, pads, saddle and lastly, the bridle and bit.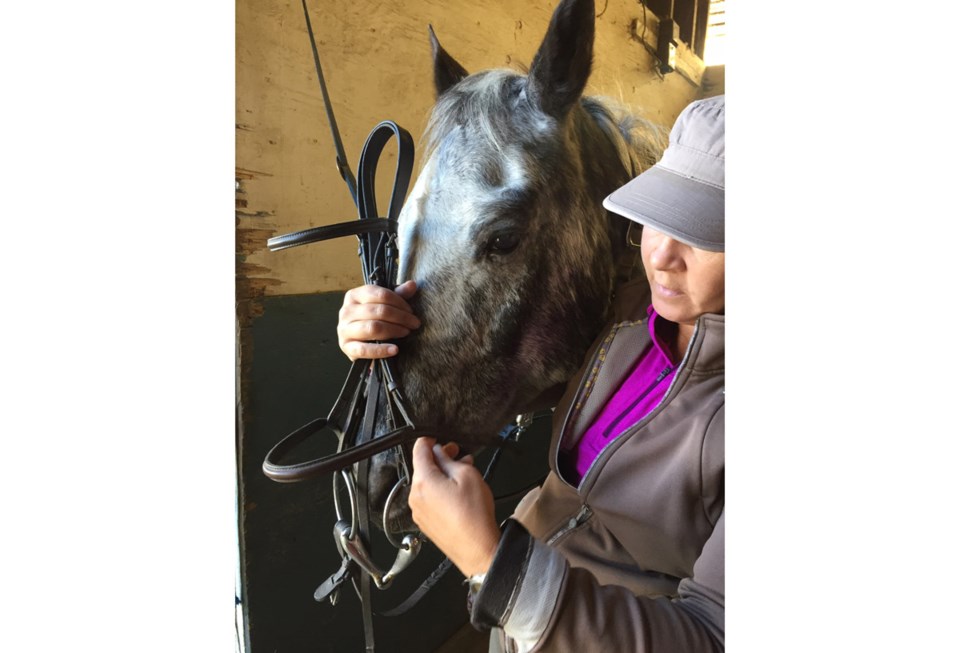 A quick check of the stirrup length (finger tips to armpit) before I led him to the outdoor arena.
I walked him around a little to get acquainted, talked to him, re-assured him that everything would be OK and that I'd done this before (I didn't say it was only three times).
Up I went and then Yolanda handed me a riding crop. Is this for me? Maybe to get my own butt off the saddle quicker?
We did more subtle and sharper turns this time, progressing to a 20-metre circle in both directions, alternating between the left and right reins, all while trying to "post" on the trot.
It felt like it was coming together…the slightest tug on the inside rein and pressure with the outside leg and Yetter immediately responded, the clever lad that he is.
Keeping him on the trot and posting in the tighter circle was tough, though, but I think I managed it a few times.
It is possible that I'm slowly (emphasis on slow) getting the hang of posting the trot and keeping the horse going at the same time.
Another lesson was in the books, however, and still no U.R. (unseated rider). Although, we have been going so slow that the world's most unbalanced person wouldn't fall off...