A bomb threat and subsequent plane crash sparked a large-scale emergency at YVR recently.
Thankfully, the "drama" — which involved 600 participants from 24 different, local and national agencies — was merely a mock-up of what could happen at the airport.
YVR was hosting an airport-wide training exercise to simulate a security threat and an airplane crash to practise emergency response plans with business partners and the airport community.
"YVR's Emergency Management Plan focuses on three principles: Prevent, Prepare and Practice," said Steve Hankinson, vice president, Operations and Maintenance, Vancouver Airport Authority.
"This is the first year we have held two separate, but coinciding, incidents which allowed us to test the plan in extreme conditions.
"The scenarios today were chosen to involve as many responders and business partners as possible and I am pleased to say that we effectively and efficiently worked together in response to both incidents."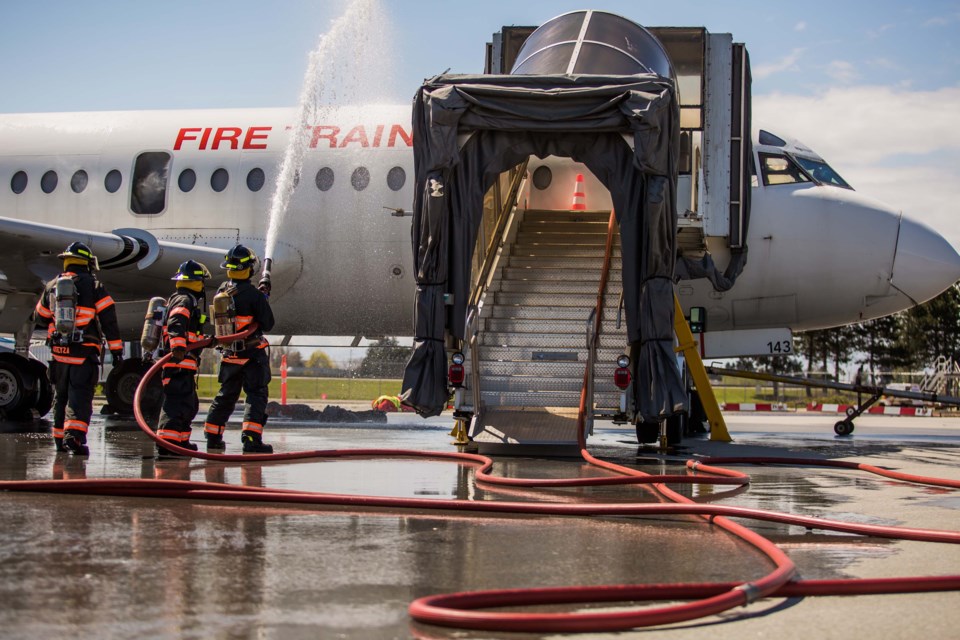 The exercise included two separate components, the first being a mock bomb threat, which was designed to test the threat assessment response, coordination between agencies and the communication handover between incidents.
The second exercise was larger in scale, focused on a mock airplane crash and involved the scenario of a passenger aircraft landing short of the south runway before hitting the dyke on Sea Island.
The force of the "impact" caused the airplane to break in two; one part of the airplane landing in the Fraser River, close to shore, while the other half ended up on land.
The simulated aircraft wreckage was attended to by emergency responders in both areas. A family and friends zone was also set up to simulate the care and dissemination of information needed during an emergency.
More than 180 volunteers played the part of injured victims, passengers, family members and mock media, giving everyone involved a realistic experience.
YVR's Emergency Management Plan deals with all emergency situations including aircraft incidents, natural disasters, medical emergencies, security threats and biological hazards.
Emergency exercises, says airport staff, are a key part of the Emergency Management Plan and are performed on a regular basis.
Agencies taking part included: Air Canada; BC Ambulance Service; BC Coroners Services; Canadian Coast Guard; Canadian Border Services Agency; City of Richmond; London Air Services; RCMP; Salvation Army; Transport Canada and United States Customs and Border Protection.