Metro Vancouverites looking for a less expensive place to live may finally have some options this month, although they won't exactly be cheap.
For the first time since July, rent prices in the Lower Mainland have dropped. This month, the average cost to rent an unfurnished, one-bedroom unit is $2,227, down $90 from November when the average was $2,317, according to Liv.rent's latest rent report.
While this is only the second time this year that rent prices have fallen across Metro Vancouver, the company notes that prices may continue to drop.
"Depending on the outcome of the upcoming [Dec. 7] announcement [about interest rates] from the Bank of Canada, this could be the start of a return to normalcy for the region's rent prices," note the report's authors.
But it's not all good news for renters in the region.
Folks looking to reside in the City of Vancouver will face the most expensive prices in the country, with prices climbing to an average of $2,612 from $2,594 for monthly rent last month.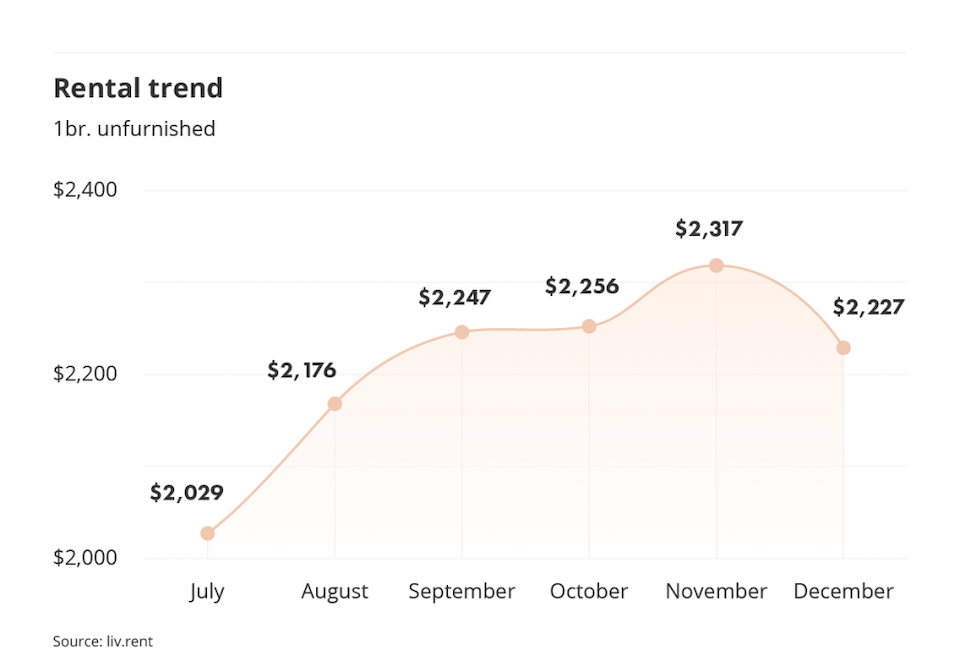 Metro Vancouver apartments for rent: Average rent by listing type
While Vancouver is the most expensive city in which to rent this month, North Vancouver isn't far behind, with prices for one-bedroom, unfurnished units averaging $2,587 monthly. That said, its prices actually dropped 6.28 per cent this month from $2,760 in November when it was Canada's most expensive city to rent in.
West Vancouver also saw its larger-than-life prices fall this month, dropping by a whopping 13.76 per cent to $2,290.
Surrey's average rental prices for newly available units also fell this month, dropping 7.21 per cent to $1,698. It is the cheapest city to rent in this month.
Liv.rent highlights that "only two cities saw rental rates increase this month: Langley (+2.36%) and Vancouver (+0.71%)."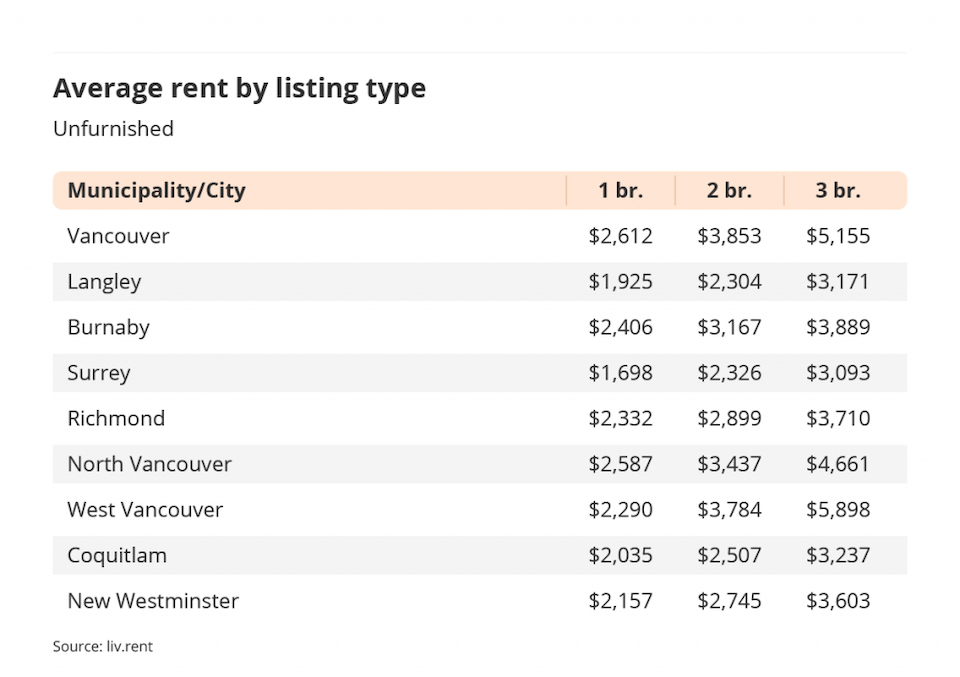 On average, the company notes that costs about $309 more to rent a furnished unit in Metro Vancouver than an unfurnished one.
In Vancouver, for example, the price of an unfurnished, one-bedroom unit is $2,612, while a furnished one jumps up to $2,970. Prices for furnished units in the city have only increased by a modest 0.27 per cent, however.
In other cities, prices have increased by drastically higher amounts for furnished units this December. In Langley, renters can expect to pay $2,433 for a one-bedroom unit, up a staggering 29.76 per cent from last month. Other notable increases include Coquitlam (+15.38%) and North Vancouver (+11.19%).
New Westminster was the only city that saw prices for furnished fall this month, dropping by -17.61 per cent this month-over-last.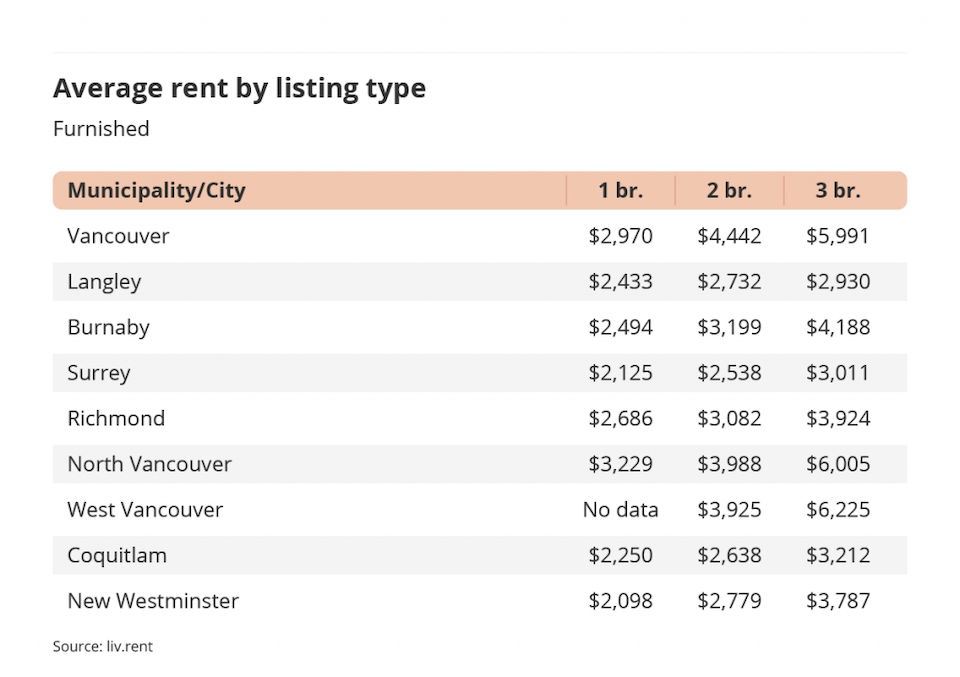 Vancouver rent by neighbourhood in November
This December, Vancouverites face the highest rent in Canada -- and they don't have any low-cost neighbourhoods to choose from, either.
The cheapest neighbourhood in the city, Renfrew, has increased by $143 to $2,151 for an unfurnished one-bedroom unit, up from $2,033 last month.
Prices climb up from there, with Kitsilano units averaging $2,291, Point Grey/UBC units averaging $2,441, and Mount Pleasant units averaging $2,450.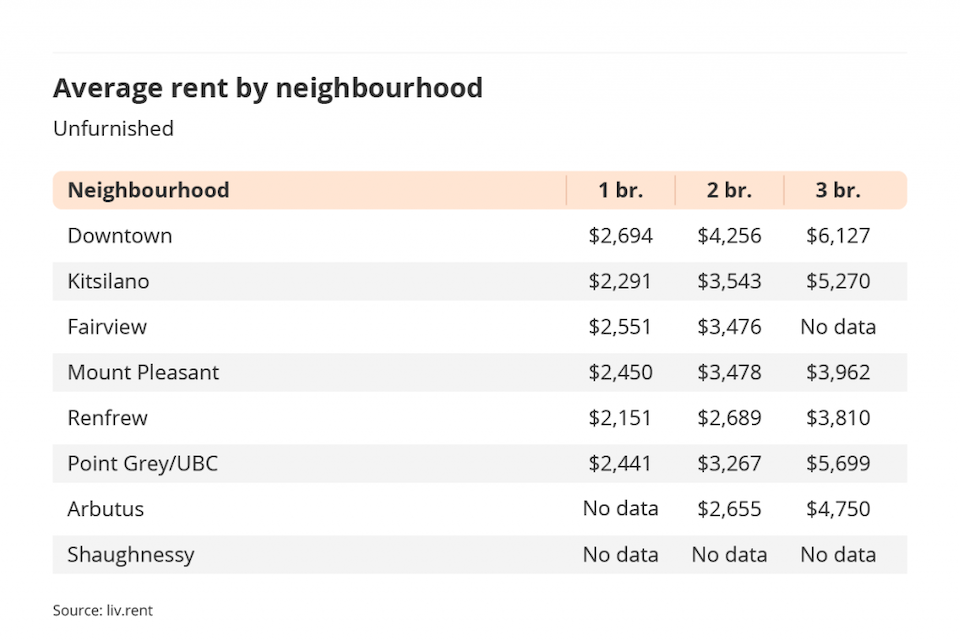 Another four Metro Vancouver cities claim the top spots on the list of the four most expensive ones to rent in across the country. Following Vancouver at $2,612 is North Vancouver with its prices averaging $2,587. Burnaby ranked third overall, with prices averaging $2,406. Richmond rounded out the top four, with prices averaging $2,332.